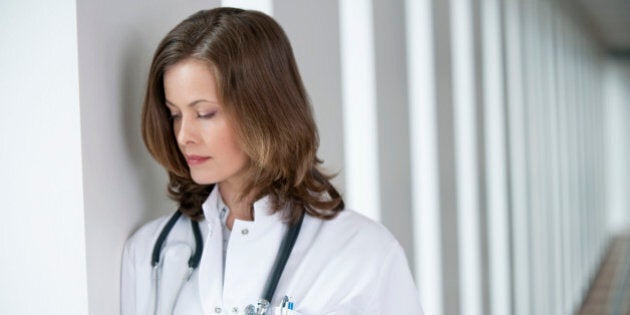 I am a resident physician in family medicine in my last year of training. Throughout my 13 years of postsecondary training I have had the opportunity to work closely with many different physicians in a variety of specialties, from many different backgrounds, with very different personalities, and at different stages in their lives.
One thing they all had in common was their unshakable commitment to their patients and their professional responsibilities. They routinely work 24 or more hours with few or no breaks to speak of, often neglecting their physical and mental well-being and families to help their patients who need them. As a resident, I aspire to care for my patients as well as my teachers and mentors do.
Unfortunately, it seems the current government does not share my respect for the commitment of Ontario physicians. It is no secret that our current health care system is suffering, but the actions of our government will only contribute to the problem: more people without a family doctor, longer wait times, more physician burnout.
The way to fix the system is to enlist the help of those on the front lines, engage the public in truthful dialogue about the issues and bring to light the wasteful and inefficient practices that have led us down this dangerous path to begin with.
Will physicians need to make some concessions to help to bring things back on track? Absolutely. But this will need to take place in the context of much larger societal changes around expectations of healthcare and personal responsibilities to the system, and will need to be a collaboration with physicians, not ultimatums imposed on them.
In the media, you have seen testimonials from my colleagues about their frustration, fears and concerns for the future of medicine in Ontario (examples here, here and here).
The situation for new doctors in family medicine is particularly frightening. Family doctors are at the centre of Canadian health care. They help patients to avoid disease through health promotion and preventative care, unclog our busy emergency rooms by offering after hours care for non-emergent issues, manage a wide variety of complex diseases to keep wait times to specialists shorter for those who really need them and coordinate care for complex patients with many specialists involved in their care.
Residents have trained in group-based practices where physicians work in collaboration with each other and allied health professionals, however many of us will no longer have the option to work within these models. The payments that used to help us defray start-up costs for a practice have been discontinued without warning and without consultation. The government will make us pay back an undetermined amount of our yearly remuneration through looming clawbacks with no warning, no negotiations and no information about what additional changes are around the corner.
In light of this, many residents who had dreams of returning to their home towns to care for patients are now planning to leave Ontario. They are scared, frustrated, confused and have lost faith in the promise of being an Ontario physician.
Over the past two weeks we surveyed the Family Medicine residents in Ontario to see if and how the government's actions would affect their plans for practice. The results were incredibly concerning. With input from nearly 350 residents (approximately one third of all residents in the province), representing all training programs and years of study, their answers tell us it is clear that Ontario patients will lose as a result of our Provincial Governments' actions.
Only 33 per cent of family medicine residents currently training in Ontario maintain their intent to practice here after graduation. In addition, 17 per cent say they are planning to, or have already put plans into motion to leave the province. The remaining half are unsure about where they will practice. In contrast, at the start of their training, almost 90 per cent said they were planning to stay and practice in Ontario, while only three per cent had intentions of practicing elsewhere.
When asked if the Wynne government's actions had an effect on their decision, 90 per cent said yes, with 68 per cent citing this as a major factor. Because of the Provincial Liberals' actions, 57 per cent of the family physicians-in-training have changed their minds about working in Ontario.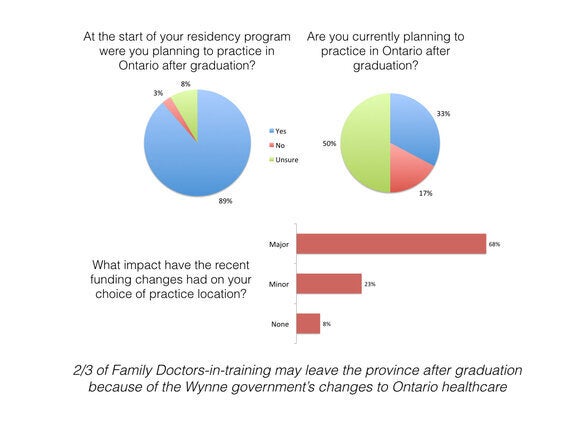 When we asked residents to elaborate on their decisions, they said:
"The recent cuts are making me very apprehensive about the future of family medicine in Ontario. Several of my colleagues and I have already begun thinking about getting locum and/or permanent licenses in other provinces, and my husband (a professional engineer) has begun looking at getting licensed in other provinces as well."
"The recent cuts to primary care make me doubt the future of family medicine in Ontario. I do not feel confident that I can provide the care that my patients need within this system. Patients will ultimately suffer because of these continued cuts [...]. Our government's unwillingness to reconsider [them], despite widespread warnings from family doctors, makes me doubt that things will ever get better. How can we hope to have an effective healthcare system without consulting front-line physicians? [...] Every week I get job postings from my home province and it makes me feel like I would be more valued and useful as a family doctor in Saskatchewan or Alberta [...]. I wish things were different, because I still want to practice in Ontario. I hope that the government will reconsider these cuts and work with physicians to devise a plan that works for all of us and serves patients better."
"[These cuts] easily have persuaded me to pursue options in other provinces. I was on the fence before but these cuts make very little incentive to open a new practice in Ontario."
"It is a shame that so many changes have been placed by the government unilaterally. Physicians are more than happy to negotiate and develop compromise. [...] The real issues in terms of the province's financial shortages need to be addressed with long-term solutions, not short-term Band-Aids. It seems as if the government does not wish to be responsible for a high front-loaded cost for a solution that likely won't materialize until after the subsequent government takes office."
"I am seriously rethinking my plans for after graduation. I have lived in Ontario since moving to Canada as a child, and my plan has always been to stay in this province and give back to the community that welcomed my family. [...] I still would prefer to stay and care for patients in Ontario, but I'm now unsure about my future. More than the cuts, I'm hurt by the attitude of the public and the government towards physicians. This adversity is not what I imagined in medical school. I'm feeling more and more that doctors do not receive respect and trust here. I am shocked that the government is painting the picture that doctors fees are the cause of increasing healthcare cost, instead of the aging and growing population. And more upset that some people are believing it!"
Ontario currently has over 800,000 patients without a family physician. The government is reducing the number of training spots for family physicians in the coming years. And now they are implementing cuts and clawbacks that are not only resulting in established physicians packing up and leaving the province, but our new grads are planning to leave in droves.
Residents have spent many years and made many sacrifices to train to become competent to care for Ontario's patients. We strive to provide the highest level of care for our patients but we see the downward trajectory of health care in Ontario. The future isn't as bright as we once thought, and if something isn't done to prevent the loss of our physicians in training, it will only get much worse.
Link to the full survey results can be found here.
An alarming number of our future family doctors are seriously considering leaving the province as a direct results of the Wynne government's actions over the past year. Unlike other public sector workers, doctors cannot strike or work to rule to protest these unfair, disrespectful and borderline illegal changes.
We need help from our patients to protect the future of healthcare in Ontario. Call your government representatives and ask them to return to the bargaining table. Talk with your family, friends and neighbours and ask them to do the same. Together we can make this an issue the Wynne government can no longer ignore.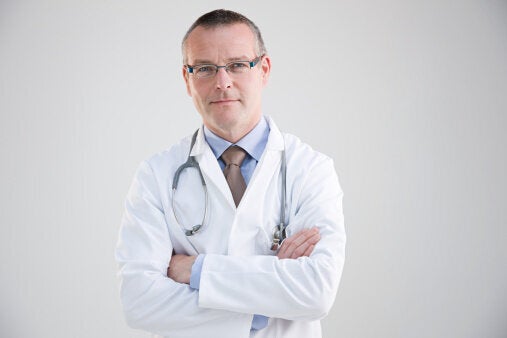 9 Things Your Doctor Wants You To Know