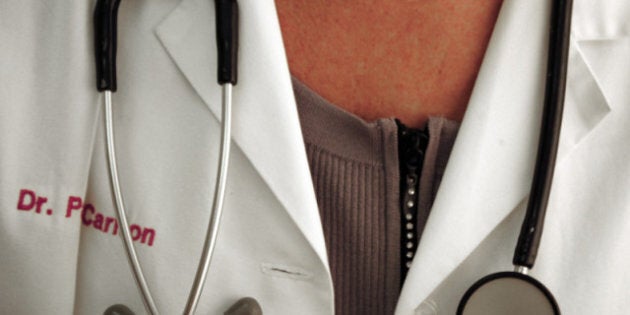 In Rip Van Winkle, the protagonist falls asleep and wakes up many years later. He finds himself in a different world -- he doesn't recognize anyone and everything has changed.
This is my Rip Van Winkle moment. I've woken up -- but the health-care world seems pretty much the same.
In 1999, my first book was published, a critical look at Canadian health care. I wrote Code Blue in medical school. I saw a world of waiting lists, chronic shortages, and government planners all to eager to push even more government initiatives. The problem, I suggested, wasn't the doctors or nurses in the system, but the system itself.
In recent years, my time and energy has been spent on clinical work, on other writing efforts, and on a young family. Outside of the occasional article, I've rarely put the pen to paper about the health-care system in the country of my birth.
For a variety of reasons, I'm spending much time as of late studying (again) the Canadian system. A dozen years later, and the problems are too familiar. The politicians have changed, of course, but practically nothing else has. Judging by the campaign speeches here in Ontario, the promises and proposals certainly haven't.
Health care, according to polls, is a top concern for Ontarians -- a Nanos poll suggests that more than one in four rate it as the biggest issue; expect much discussion at tomorrow's debate. But, in this election -- as is so often the case -- voters are offered little more than the choice between the status quo and an echo.
The party positions? The Liberals promise house calls, a smattering of mini-proposals, and like to emphasize their record of increased spending. The Tories offer up an end to "waste, fraud, and abuse," an empowered health committee to pay for health outcomes, a few small initiatives -- and a big promise for more spending.
These promises are vague. The Tories, for their part, have little to say besides platitudes. "Waste, fraud, and abuse" is a great line, but a second rate policy. Sure there is abuse in the system, but that isn't what fundamentally bedevils it. Paying for outcomes sounds wonderful but it's impractical when outcomes are so difficult to measure.
House calls? Over a million Ontarians lack a family doctor. While boosting funding may result in some more GP visits to people in major cities, the reality is this: the doctor shortage is pathetically real and many Ontarians -- too many Ontarians -- lack the most basic access to primary care, never mind the fantasy of a doc on the doorstep.
Consider the predicament of Gloria Galloway, a Globe and Mail journalist, who moved to Ottawa in 2005. She looked for a family doctor for years. She finally found one this August after an injury.
"When the man in the plaid shirt took my registration papers and said "congratulations, you have a family doctor," I confess I had to hold back a few tears.

I had just spent three hours of my Saturday standing in line with hundreds of other people outside a community centre in the Ottawa suburb of Barrhaven to enroll with a new family medicine clinic that is opening at the end of August."
Her full story can be found here.
While Ms. Galloway finally found her man or woman, so to speak, many don't. The Canadian Medical Association estimates that five millions Canadians don't have a family doctor.
The reality is probably worse. Consider that in 2010, 38 per cent of Canada's physician workforce was aged 55 or older -- so, many aren't working full hours. (It also suggests, as an aside, that the physician shortage will get worse in the coming years as doctors retire.) Putting the doc shortage in an international context: Canada has 2.3 doctors for every 1,000 people -- a ratio that ranks our country 26th out of 28 developed nations with publicly funded health care.
Why focus on the doctor shortage? While the Liberals are promising to address it with home visits, and the Tories imply that things will be better with their spend-spend promises, this problem is very much a government-created problem.
Back in the early 1990s, faced with ever rising costs, provincial governments across the country agreed to cut back on the number of medical students. Fewer medical students, the reasoning goes, would result in fewer medical doctors, who in turn would order fewer tests and order fewer follow-ups -- and less money would be spent overall.
It's beautiful logic if you're a government official tasked with restraining costs. But what if you're a patient? Managing -- really restricting -- the supply of health care has been the principle method of cost containment for provincial governments across the land, regardless of ideological stripe. The result has been long waiting lists for practically any type of care.
But costs still rise. Ontario is a case in point. Under the McGuinty Liberals, spending rocketed up $18.2 billion from $29.4 billion between 2003 and 2011 (see this graphical summary to 2010), an increase of roughly 63 per cent (not adjusting for inflation).
The party argues that the money has helped reduce waiting times for key procedures. They focus on five areas and -- by their statistics -- people wait less. But, of course, it's all how you measure it. There are more cataract surgeries than half decade ago. But, by making some surgeries a priority, there is evidence that people wait longer for other procedures (consider the data from the Wait Time Alliance).
But even drawing on government statistics -- which are often inconsistent from province to province -- Canadians wait too long for everything from surgeries like knee replacements (several provinces fail to meet the benchmark wait times) to MRI scans (a majority of provinces aren't even collecting proper data yet). In other words, we're falling short, even after massive increases in spending, even by the governments' own standards and data.
The problem isn't a lack of government efforts. It's the opposite: a system designed for political popularity, not smart policy. We make health care "free" -- resulting in ER overcrowding and system overuse. We then cut back on the supply of services, making it difficult for the sickest in society to get the care they need.
We boost spending, but push it into a system filled with perverse incentives, allowing nurses' and doctors' salaries to soar, but doing little to change the quality of care.
Quick question, Mr. Premier: is Ontario health care 63 per cent better than when you were elected eight years ago? Quick question, Mr. Hudak: do you really think the system will be 12 per cent better after your first mandate?
But then, what would we expect them to say? Vote for me: more money for worse health care.
The more things change, the more they stay the same, even after a Rip Van Winkle moment.