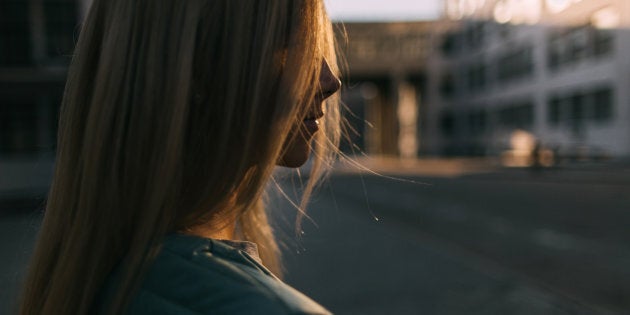 A Toronto teenager says she is elated that the Ontario Human Rights Tribunal awarded her $75,000 for sexual harassment she experienced as a 15-year-old intern.
The young woman, who is now 19 and can only be identified as G.M., was thrilled to accept an internship at a tattoo parlour owned by a family friend in 2014.
"It was kind of like a dream come true for me," G.M. told HuffPost Canada in an interview. "I find tattooing to be one of the most beautiful mediums of art that I've seen. I think it's pretty amazing that people trust you to do a custom piece of artwork and put it on their skin forever."
Her dream morphed into a two-year nightmare when the shop's owner, and husband of her mother's best friend, started making sexual comments while she was working.
Offered tattoo in exchange for sex
The tribunal's decision says that the man asked G.M. questions about her favourite sex positions and what sexual activities she enjoyed. G.M. testified that she made excuses to avoid his questions and reminded him that he was married and she had a girlfriend.
His harassment eventually escalated into assault. On a summer night in 2014, he touched her buttocks and breasts, showed her his penis and inserted his finger into her vagina, according to findings of fact from criminal proceedings. G.M. also testified that he offered her money and a free tattoo in exchange for sex.
The man pleaded guilty to criminal charges of sexual assault, invitation to sexual touching and sexual interference. The charge of sexual assault was stayed, but he was sentenced to probation and jail time.
I ended up losing two years [to criminal proceedings] and he was in jail for like two months. I felt like I had been robbed.G.M.
G.M. says that the tribunal's award provides justice that she didn't receive through the criminal trial.
"It made me feel that for the first time I had achieved something, within this whole case, that didn't leave me extremely disappointed or even felt like I had been ripped off by the judicial system," she said. "With the original charges that were laid against him, I didn't feel like it was enough ... I ended up losing two years [to criminal proceedings] and he was in jail for like two months. I felt like I had been robbed."
She called the tribunal's decision, "a small light at the end of this dark tunnel."
G.M.'s lawyer Beth Walden, who works at the Human Rights Legal Support Centre, said the award of $75,000 is significant.
Damages for sexual harassment tend to be quite a bit lower, Walden told HuffPost, but this amount "reflects the seriousness of his conduct."
There is a chance G.M. won't actually receive payment if the offender files for bankruptcy. His tattoo shop is no longer in business, according to tribunal submissions.
G.M. says she stopped making art for years after the incident. Her social life and relationships were seriously affected, she told HuffPost. She found it hard to trust male authority figures.
"It made me feel that there was no male figure that would find it out of bounds to try and get something out of me," she said. "For a long time it made me feel like even the most innocent relationships I had couldn't be trusted at all."
The tribunal's adjudicator called the shop owner's conduct "a cruel betrayal."
The ruling said: "Prior to her experience with the respondent, she had a love of drawing, and the joy she derived from it has now been taken away from her."
She had her dream taken away from her by the respondent's actions.Ontario Human Rights Tribunal decision
Before her internship, G.M. was excited about the prospect of a career in tattooing.
"While many teenagers may be expected to change their minds," the adjudicator wrote, "... the applicant did not have the opportunity to change her mind through a process of discernment: rather, she had her dream taken away from her by the respondent's actions."