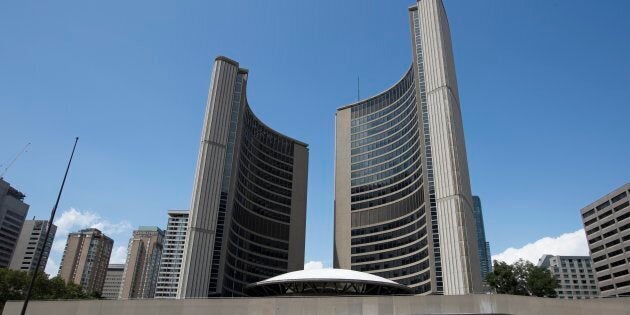 An Ontario judge delivered a scathing ruling Monday to strike down the provincial government's plan to slash almost half of Toronto's city council.
Superior Court Justice Edward Belobaba said in his decision that Ontario Premier Doug Ford's government "clearly crossed the line" with Bill 5, the Better Local Government Act, which would have cut the number of municipal seats from 47 to 25.
The government announced the plan in July, during the city's municipal election campaign — a move that Belobaba said "cannot be demonstrably justified in a free and democratic society."
In one paragraph, Belobaba asks several rhetorical questions to point out how the provincial government had given little evidence to back up its arguments for the council cuts.
"If there was a concern about the large size of some of the city's wards ... why not deal with these six wards specifically? Why impose a solution ... that is far worse, in terms of achieving effective representation, than the original problem? And, again, why do so in the middle of the city's election?" he writes.
"Crickets," Belobaba adds, describing the government's response.
Several reporters covering the ruling and others on social media were surprised by Belobaba's choice of words.
Some users on Twitter seemed impressed with Belobaba's word choice.
But For Emmett Macfarlane, an associate professor in political science at the University of Waterloo, the judge's wording came across as unprofessional.
"I don't object to rulings being sarcastic or spicy if they expose the flaws in particularly government thinking when a right's at stake, but this is basically bringing in Twitter snark into a judgment and it did nothing to add to the judge's logic," he told HuffPost Canada Monday.
He said the use of the word "crickets" could be fodder for opponents of Belobaba's ruling.
"I think critics of the judge might use that type of snarky, unprofessionalism to question whether or not this was a fair or just decision," Macfarlane said.
Crickets aside, Macfarlane said he had issues with the ruling itself. He said Belobaba's decision used arguments on Section 3 of the Charter of Rights and Freedoms — which covers democratic rights — to strike down the government's act on the basis of it violating Section 2 rights, which cover freedom of expression.
"It's not to say that these different charter rights can't be related or they can't inform each other, they do, but the judge did not do an effective job at explaining how freedom of expression is anything but tangentially impacted here."
Macfarlane said he expects the government to appeal the ruling, though he's not sure if it would be able to win that way because many aspects of Bill 5, he said, are "so manifestly unfair."
Speaking to reporters after the ruling, Toronto Mayor John Tory said he welcomed Belobaba's decision.
"Democracy does not belong to a few of us, it belongs to all of us," said Tory, who is seeking another term in office.
"No law should ever fail to take that into account and all of us as lawmakers, regardless of where we're carrying out those responsibilities, should always remember that.''
Monday's ruling marks the second defeat in the courts for the Ontario government since it took power in late June.
A judge ruled last month that the government had treated Tesla Inc. unfairly after it announced it would be cutting an electric vehicle rebate program.
With files from Emma Paling and The Canadian Press
Popular in the Community