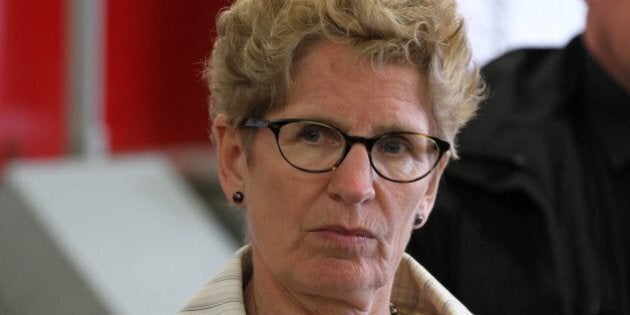 One year ago, my book Liars: The McGuinty-Wynne Record was released, on how the McGuinty-Wynne Liberals run Ontario. It is the only book on the market -- positive or negative -- that seeks to define and explain the Ontario Liberals' record of mismanagement under Dalton McGuinty and Kathleen Wynne.
Also one year later, the Liberals have given us no shortage of continued scandals and mismanagement to report. In fact, on several occasions now I've been asked how big the second edition of Liars will have to be to account for Kathleen Wynne's legacy. It's funny for a moment, then it's sad.
As of September 2014, Ontario's debt is $304.4 billion, an amount that has more than doubled in the 12 years the McGuinty-Wynne Liberals have been in office. That'll be $22,382 from each Ontarian, please. We pay $10.56 billion every year just to carry that debt, which remains the third-largest budget item, behind only health care and education. And the Liberals plan to add another $26.7 billion to the debt with another three years of deficit spending.
Ontario's economy continues to struggle. We've seen job losses some months and modest job gains others. But despite huge tax increases and a struggling economy, we are still apparently affluent enough to pay for a newly-announced Liberal carbon tax, because, uh, Quebec is doing it too. Don't worry about the details -- Wynne will move very quickly to make you poorer before you even know it. And if you don't recall the Liberals ever campaigning last year on implementing a carbon tax, you're right.
The Ontario Provincial Police's endorsement of the Liberals continues to hang over both organizations' heads. You may recall that the endorsement came at a time when the police had open investigations into potential Liberal crimes (cancelling gas plants at a massive $1.1 billion public cost for partisan gain and deleting records about cancelling those gas plants).
Only recently were three senior-ranking OPP officers (including one who was a Liberal candidate) suspended over shady dealings including fraud, breach of trust, and money laundering. The investigation that led to that arrest was conducted by the Royal Canadian Mounted Police (RCMP). With such serious accusations and a record of being public bedfellows, one must wonder whether the OPP can ever again be trusted to investigate or comment on anything the Liberal government does.
Or consider the Liberals' sex education scandal. What is being implemented now is basically the same curriculum that was introduced in 2010. In that year, massive public outcry from thousands of Ontarians caused the Liberals to relent. But now the curriculum has been re-introduced and appears ready to be implemented with pleasure by the Liberals; they have a majority, and you must be homophobic or Conservative if you disagree with their sex agenda.
Ignore, for a moment, the actual curriculum, which is publicly available for anyone to review. The fact that it is being implemented without any consultation with parents is appalling. And then there is that small inconvenient matter of the former Deputy Education Minister Ben Levin (who served under then-Education Minister Kathleen Wynne) recently pled guilty to child abuse crimes, including making and possessing child pornography and counselling a person to commit a sexual assault. The agreed-upon statement of facts demonstrates Levin's sick fascination with sexually abusing children.
Parents are owed every opportunity to give input into how their children are taught at school. That is especially important when the man formerly in charge of the education department has since been convicted of pedophilia. Rather than pledging to review whether a convicted child sex offender had his fingerprints on the Liberals' sex education agenda, Kathleen Wynne has outrageously dismissed all her critics as "homophobic" or Conservatives. (The Toronto Star reported that "the Liberal government adamantly insists not, specifically in no way involved with the new sex education syllabus rolled out last week."
The Liberals have rampantly abused the parliamentary process. Kathleen Wynne sued two Conservatives for questioning her role in the gas plants scandal. Wynne is also happy to bribe an election candidate with government positions to step aside so her preferred candidate could run and ultimately win in Sudbury (another current OPP investigation). Just last week, when NDP Leader Andrea Horwath asked why the Premier wasn't showing up to Question Period, she was thrown out of the Houseby the Liberal Speaker. Yes, really; you can do all of these things in McGuinty-Wynne Ontario when you have a majority government and not a care for what anyone else thinks or says.
Kathleen Wynne had the opportunity to put Ontario back on track, to right the wrongs of almost a decade of mismanagement, scandal, and corruption under Dalton McGuinty. She has only continued Dalton McGuinty's legacy. Their legacies are one in the same.
For the future of our province, and with the hope of never again repeating the same mistakes, this is a book every Ontarian needs to read. And I hope Ontarians remember this record when Justin Trudeau comes knocking on their doorstep this fall.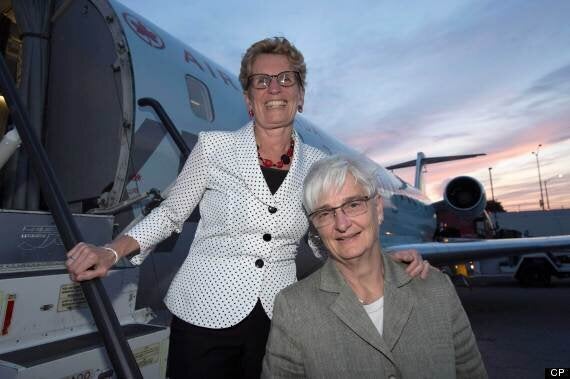 6 Things To Know About Kathleen Wynne
Popular in the Community