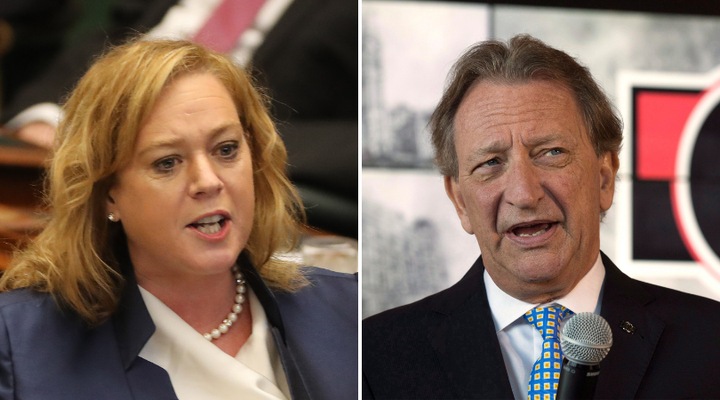 Ontario Minister Lisa MacLeod is not denying she accosted the owner of the Ottawa Senators at a Rolling Stones concert and called him profane names.
In response to Eugene Melnyk's accusations in an Ottawa Citizen story that has now gone viral, MacLeod apologized on Twitter for "being so blunt." Melnyk told the newspaper that she had called him a couple of insulting names that included the f-bomb.
By Friday afternoon, the Liberal party was calling for MacLeod to be removed not only from cabinet, but also from the Progressive Conservative caucus.
"It shouldn't take an NHL owner to point out this behaviour is wrong," said Liberal MPP Michael Coteau on behalf of the party. "My concern is that parents, kids and others who are impacted by the minister's decisions don't have the same platform to express their concerns as Eugene Melnyk."
Melnyk told the Citizen he was at the concert near Barrie on Saturday night, when MacLeod pushed through the crowd. He thought she was a "crazed fan."
He said she then yelled at him, "Do you know who I am?" When he said he didn't, she apparently said, "I am your minister and you're a f***ing piece of s**t and a f***ing loser."
Melnyk did not record the conversation, but soon after wrote it down. He told the Citizen he was upset by the incident and sent a letter to the premier's office. Doug Ford's communications director Laryssa Waler called him and asked him to confirm the account.
The premier's office, MacLeod's office, and Melnyk did not immediately respond to requests for comment.
MacLeod was recently demoted from the Ministry of Community and Social Services to the Ministry of Culture following her handling of the autism file. She apologized on Twitter in February after behavioural therapists said she'd threatened them if they didn't support the province's changes.
Editor's note: This story has been updated with comments from Ontario's Liberal party.