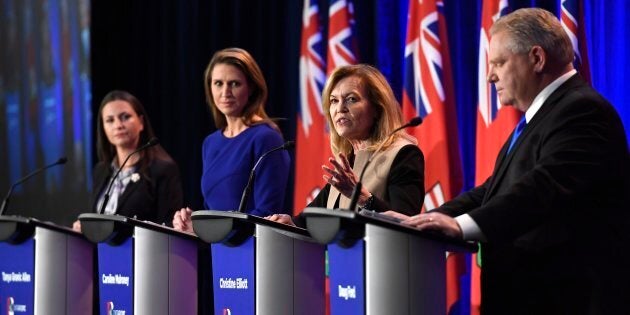 Replay video of the debate below as contenders met in Ottawa at a possibly make-or-break debate, hosted by HuffPost Canada's Ottawa bureau chief Althia Raj.
Some of the remaining contenders have deep political connections that make for an interesting contest, even for those outside of Canada's largest province.
Former Toronto councillor Doug Ford is the older brother of late mayor Rob Ford; lawyer Caroline Mulroney is the daughter of former prime minister Brian Mulroney; and former MPP Christine Elliott is the widow of late federal finance minister Jim Flaherty.
Anti-sex-ed activist Tanya Granic Allen has also joined the race as a champion of the social conservative wing of a party that was moved more to the centre under Brown's leadership.
Watch some highlights of Wednesday's debate:
With voting to begin Friday, PC members are hoping to drill down on policy and priorities of the candidates who seek to lead the party into a June election. More than 1,000 questions have already been submitted by party members for debate consideration, said Raj.
Though Brown has bowed out, questions about his management of the party and the divisions that have surfaced over a tumultuous few weeks remain.
Brown's "People's Guarantee" platform, which pledged to finance big tax cuts and spending with the revenues from a carbon tax, is basically dead. The four remaining contenders have each ruled out a carbon tax and pledged to scrap Ontario Premier Kathleen Wynne's cap-and-trade program, creating a multi-billion dollar revenue hole in the fully costed PC plan.