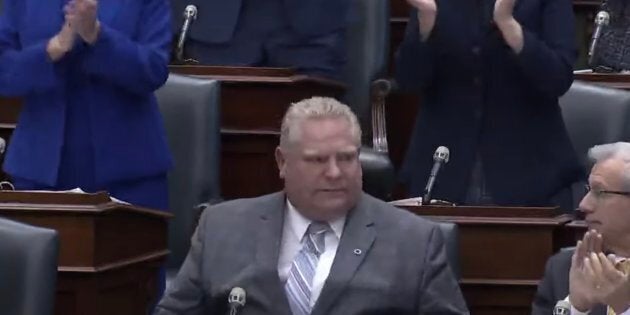 Ontario's Progressive Conservatives could only hold back for about two minutes before giving Premier Doug Ford his first standing ovation Wednesday. The gesture came just moments after the MPPs were told to keep the theatrics to a minimum.
Speaker of the House Ted Arnott told MPPs that he's received complaints about the number of standing ovations in the House since Ford's government took power.
In past question periods, PC MPPs have given their colleagues as many as 22 standing ovations in the roughly 45-minute sessions.
Arnott reminded the politicians that question period is televised and the public is paying attention. When they immediately rose to applaud Ford, he brought it up again.
"Should I reread my statement?" Arnott asked.
Government House leader Todd Smith spoke with reporters after question period, joking that he was worried about his blood circulation because they didn't stand up as much as usual. The caucus only gave itself 10 standing ovations on Wednesday.
"We're an enthusiastic team," he said. "We're very enthusiastic about the program we're unveiling that's getting Ontario back on track."
This isn't the first time the issue has come up in Canadian political discussion.
"Thoughtful debate does not need constant standing ovations," Jason Kenney said at the time.
Watch Backbenchers Ep: 3: Are We Headed To A Federal Ford Fiesta?
Popular in the Community