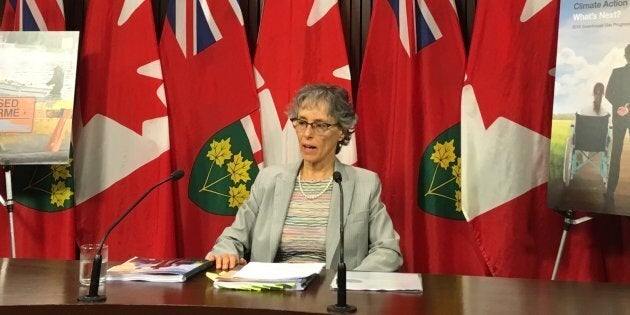 With a photo of last year's flooding in Rockland, Ont. behind her, the province's environmental commissioner slammed the new Progressive Conservative government's repeal of the Liberals' cap-and-trade program.
"We had a climate law and programs that were working. Now we don't," Dianne Saxe told reporters at Queen's Park. The commissioner released her latest report, Climate Action in Ontario: What's Next? on Tuesday.
"We're going to get farther and farther from where we need to be, just as climate change begins to really punish the people of Ontario," she said.
Doug Ford promised his first move as premier would be to cancel Ontario's carbon pricing plan. His government introduced a new law, the Cap and Trade Cancellation Act, on July 25, 2018.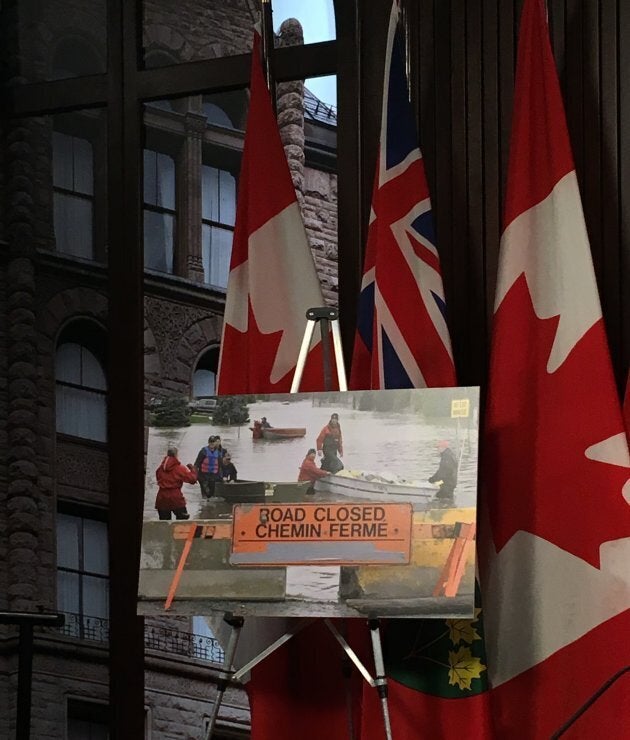 "Bill 4 has none of the features of a good climate law," Saxe said of the act. "It's a licence to do little or nothing in the face of our largest threat."
Saxe said that the floods, forest fires, heat waves, tornadoes and windstorms that are uprooting Canadians and destroying property will only get worse.
Bill 4 has none of the features of a good climate law.Dianne Saxe
"What used to be 'normal' weather is gone, and cannot come back."
Saxe called Bill 4 "weak" in a press release about her report, because it lacks a cap on emissions that's based on science, a legal obligation to stay within that cap, and a reporting process that keeps the government transparent.
Minister of the Environment Rod Phillips said that Ontario's new plan to tackle climate change is still on its way.
"Our Bill 4 specifies that there will be targets," he told reporters. "It specifies that we will have a plan. That plan will be out this fall."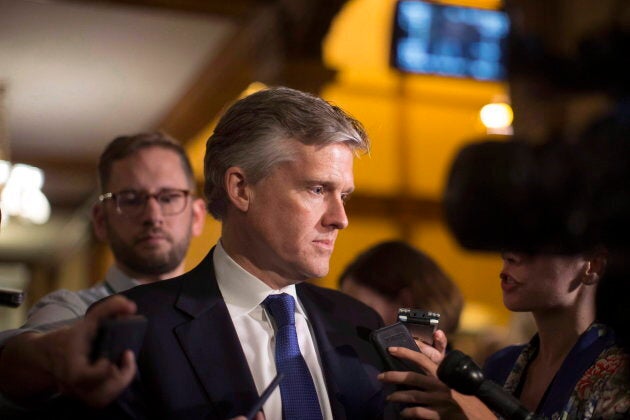 He said his party had no choice but to repeal cap-and-trade because that's what it promised to do during the election campaign.
"She has the luxury of advocating for higher taxes," he said of Saxe. "We have a requirement, and we take it very seriously, to live up to the promises we made."
At her press conference, Saxe pointed out that a cap-and-trade program is not the only type of law that makes polluters pay for the harm they do to the environment. She noted that some carbon tax programs charge businesses to pollute but then give citizens a cheque, leaving individuals better off financially. One study suggests that the federal government's carbon tax, hated by Conservatives, in one such plan. It could leave average families with more money in their pockets.
Watch: Ontario will challenge federal carbon tax in court. Story continues after video.
"Cap-and-trade lasted only 18 months in Ontario," Saxe said. "Not long enough for a $2-billion-a-year program to turn around an $800-billion-a-year economy. But even in that very short period of time, we saw encouraging signs."
She said that hospitals were on track to slash operating costs by $60 million per year through energy efficiency, which would leave more money to be invested in patient care.
One chapter of her 242-page report is called "2018: A wrenching halt."
Ontario's progress on climate change came to an abrupt end when Ford was elected, the report says. Asked if Ontarians would suffer from a "lack of progress on emissions," Saxe said our new situation is "worse than that."
"Many parties who, in good faith, invested time, money, expertise and credibility in Ontario emission reduction projects have been left with damaged relationships and uncompensated losses," Saxe's report says.
CLARIFICATION: A previous version of this article said Premier Doug Ford's government cancelled Ontario's "carbon tax." The cancelled program was cap-and-trade, which put a cap on the amount of carbon emissions allowed and let businesses buy credits to pollute.
Popular in the Community