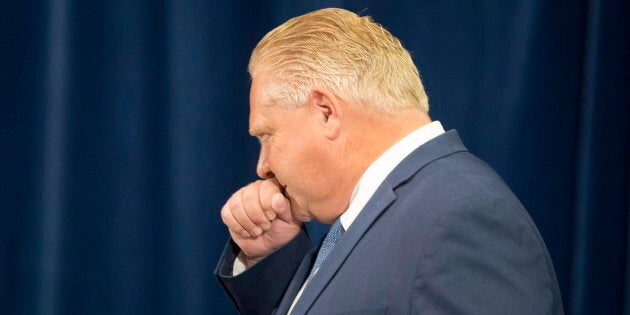 Ontario's new government has sacked the special advisor for climate change and other senior officials hired by Kathleen Wynne's Liberal government.
John Godfrey, a former Liberal MP, was appointed special advisor for climate change in 2015. The government said he'd write recommendations and lead an action group to reduce Ontario's greenhouse gas emissions and aid the transition to a low-carbon economy. He was paid $146,700 a year.
"Our Government was elected on a strong mandate to bring to an end, the provinces cap-and-trade program, while saving taxpayers money," Andrew Brander, a spokesman for the Ministry of the Environment told HuffPost Canada by email.
Brander said if the Progressive Conservatives' bill to cancel cap-and-trade passes, the government will implement a new, "made-in-Ontario" plan to tackle climate change.
He did not respond to follow-up questions about how Godfrey's role was connected to the cap-and-trade program or why he was fired.
Story continues after video
A spokeswoman for the Ontario Liberals, Patricia Favre, said Godfrey supported the government's climate action plan, which she touted as one of the best in North America. Favre could not say what recommendations Godfrey had made in his three years on the job, or if any legislation resulted from his work.
Godfrey's role was one of many to be eliminated by Premier Doug Ford's government late last week. The advisor on corrections reform, the province's representative in Washington, D.C. and the research chair for the basic income pilot were all also fired.
Godfrey could not be reached for comment.
Ford family lawyer hired
The NDP charged on Thursday that Ford has hired his own personal contacts while firing people brought on by Wynne's government.
"Doug Ford has given his family's lawyer, Gavin Tighe, a $667,000 government contract with the Public Accountants Council," NDP MMP Taras Natyshak said in a press release. "This looks like yet another pricey patronage appointment for Ford's friends and insiders – one that serves Ford and his friends, but not people or the province."
"Mr. Tighe has extensive experience in dispute resolution and financial services, and has been ranked as one of the best lawyers in Canada since 2013," spokeswoman for the attorney general Jessica Trepanier told HuffPost Canada in an email.
This story has been updated with comment from the Ministry of the Attorney General.