TORONTO — The Ontario government is spending at least $778 million this year to make up for programs it cut in its 2019 budget and to invest in an autism plan after sparking outrage.
Premier Doug Ford's Progressive Conservative government said it would spend $163.8 billion this year in its fall economic statement, introduced by Finance Minister Rod Phillips at Queen's Park on Wednesday.
That's up $400 million from the $163.4 billion the government said it would spend in its April budget. The government, however, says it's adding $1.3 billion in new spending because some of it came from a contingency fund that had already been accounted for in the total.

These are the reinstated expenses the PCs previously said they'd eliminate:
$41 million for

public health

units,

$26 million for land ambulance operations,

$122 million for municipalities to use for child care,

$310 million to fund the

Transition Child Benefit

and for people on social assistance, now that some of the PCs' changes to Ontario Works and the Ontario Disability Support Program have been abandoned.
The government is also spending an additional $279 million on the Ontario Autism Program after its plan to cap funding for families was widely panned.
Some cuts to public health and child-care funding are still going ahead next year, but the provincial government decided against its original plan to force retroactive cuts through this year as well. Those cuts drew the ire of mayors and former Ontario health ministers, including one former Ontario PC health minister, who called the move "downloading by stealth" and "drastic."
The other cuts that the PCs later reversed also caused outrage. Parents of children with autism chanted "Doug Ford's a liar" outside the legislature in March and hurled insults at the minister inside the legislative chamber. Anti-poverty advocates said the elimination of the Transition Child Benefit, a monthly payment for low-income families who don't receive other benefits, would leave children in "extreme poverty."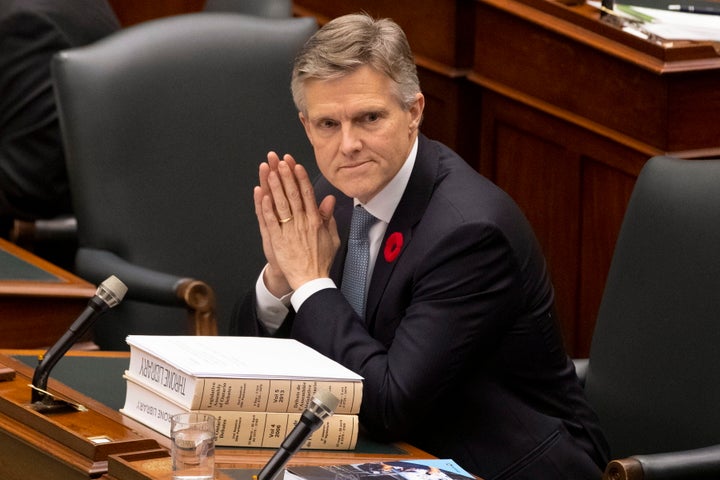 Philips told journalists at Queen's Park Wednesday that the economic statement shows his government is paying attention.

"We listened to Ontarians. We listened to what they thought was working well in the plan that we had and we listened, as well, to the concerns that they had," he said.

"As I say, governing is complicated."
Watch: Insults return to Ontario legislature after promises of a new tone. Story continues after video.
He said the PCs will still be able to eliminate the deficit by the 2023-24 fiscal year by finding "efficiencies" and collecting higher tax revenues as the economy grows.

"I think you can count on this government to be prudent," he added.

The economic statement pegged Ontario's deficit at $9 billion for this year, down from $10.3 billion in the April budget. The government's own public accounts most recently said the deficit is only $7.4 billion.

'There is no $9-billion deficit'
Opposition MPPs accused the government of artificially inflating the deficit to justify spending cuts and to look good when the deficit is reduced.

"There is no $9-billion deficit, just like there was no $15-billion deficit," NDP Leader Andrea Horwath said at a press conference at Queen's Park, referencing the government's previous figure that was debunked by Ontario's independent financial watchdog.
She also slammed the government for calling its $1.3 billion in additional expenses "new spending," even though most of it was previous spending that it cut and reinstated months later.
"Delaying, backtracking or softening $1.3 billion in cuts is not new spending," Horwath said.
She said the PCs are refusing to listen to Ontarians who are concerned about other cuts to health care, education and legal aid.

"Doug Ford is plowing ahead … Not a single fired nurse is going back to work … This budget doesn't put a single teacher or education worker back in schools. No mom trying to get child support will get the legal aid she needs now," she said.

Horwath rejected any suggestion that this statement represented a new chapter for the PCs.

"I don't think there is a new era of the Ford government."
CORRECTION: A previous version of this story listed the government's $279 million autism plan investment as funding that had been cut. That funding was new, announced after the Progressive Conservatives backtracked on their previous plan for the program.