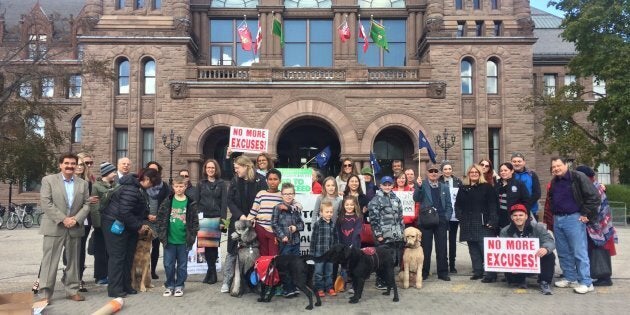 By Laura Kirby-McIntosh and Janet McLaughlin
If you are a student with autism or any other "special need," if you're the parent of child with a disability, or a teacher trying to help one, then you already know that the current special education system in Ontario is in crisis. Over the last several years, countless education stakeholders have been sounding the alarm.
In 2014, People for Education released a report on special education, highlighting issues like school exclusion and the lack of access to psychology and speech/language support. In 2016, the provincial advocate for children and youth released a sweeping report on the experiences of youth with disabilities, which included a set of recommendations about the education system. In April of this year, the Ontario Autism Coalition (OAC) released its "New Horizons" report, filled with recommendations on how to improve outcomes for students with autism. And a report by the Elementary Teacher's Federation of Ontario released in August highlighted the negative impact of the Ontario Liberal government's decision to shift the special education funding model from one based on student need to one based on a "statistical prediction model."
So is it an exaggeration to use the word crisis? We don't think so. We see evidence of this crisis every day: when students with disabilities are denied the specialized equipment that would help them communicate and learn; or when students with disabilities wander out of their schools due to a lack of appropriate staffing and supervision. We think it's a crisis when policies vary so widely that one child in one school board is told he can't bring his autism service dog to school but another child in a different board can. We know it's a crisis when we regularly hear about parents who are so fed up with fighting the school system that they resort to homeschooling or sending their children to private schools.
So is it an exaggeration to use the word crisis? We don't think so.
While we fight for a political solution, one brave family has turned to the courts for a legal solution. Their case, currently before the Ontario Human Rights Tribunal, has the potential to change the lives of students with autism in Ontario. The case is about a child's right to access comprehensive, scientifically valid Applied Behaviour Analysis (ABA) in the classroom for their son.
Right now, some school boards use "ABA-based" methods in the classrooms, but teachers and education assistants (EAs) are not properly trained to collect data, and lack the clinical supervision they need. If the Skrt case is successful, all this will change. It's worth pointing out, however, that all this could change tomorrow if the provincial government decided to follow the examples set in Australia, the United States, and other jurisdictions, where ABA in classrooms has been a reality for years.
Over the last two months, the Ontario Autism Coalition, a grassroots advocacy group with over 3500 members, launched a survey about the experiences of autistic students. The early results are striking, and they raise serious questions for the minister of education.
A strong majority of respondents, 72 per cent, believe that their child does not receive the level of support that they need at school. Close to 60 per cent indicated that they had been told by a professional that their child required one-to-one support in the classroom, but only 17 per cent of respondents said their child got it. If the Ontario government has thrown so much money into education, why is that funding still not reaching frontline support workers?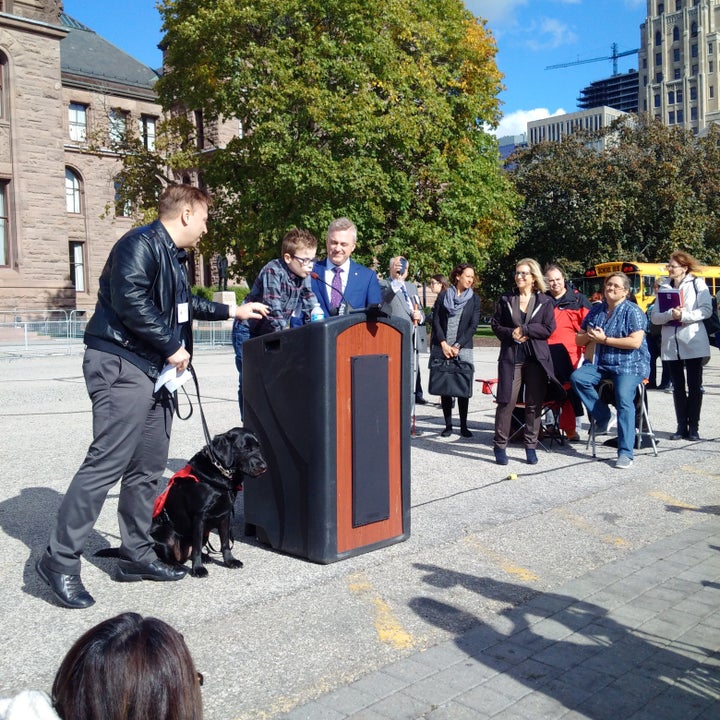 We are told that our education system is inclusive, yet 26 per cent of respondents indicated they were asked to keep their child home during a field trip because the school could not provide the proper supports. And 16 per cent indicated that their child had been placed in a room such as a closet, storage room, office or a washroom in order to "keep them safe."
Meanwhile, 29 per cent of respondents indicated their child had been handled or restrained by school staff in the past year, with 14 per cent reporting that their child had sustained injuries due to these actions. Just 27 per cent of parents felt that their child was safe at school all of the time, and 11 per cent of parents felt that their child was "hardly ever" safe at school.
In response to these findings and the crisis they reflect, a major rally was held at Queen's Park last week to call on the government to take action now — before the next election. Students with autism, their parents, teachers, ABA professionals and opposition-party politicians came together at Queen's Park, under the slogan #AutismDoesntEndAtSchool. The OAC was joined by Accessibility for Ontarians with Disabilities Act (AODA) Alliance chair David Lepofsky and the co-founders of the Ontario Disability Coalition, in an important show of solidarity with members of the broader disability community.
The changes needed are straightforward: mandatory autism and ABA training for educators, including EAs; more trained EAs to work with each child who requires one; the use of meaningful, scientifically valid behaviour analysis methods in classrooms; more accountability for special education funding dollars; and a provincial policy permitting qualified autism service dogs in schools.
We also want to encourage a positive discussion about the opportunities presented by having classrooms that are open to those with different types of minds. Autistic students are extraordinary teachers — if only we have the support and the resources to listen.
During the next election, we'll be listening very carefully to all of the provincial parties as they lay out their plans on how to better meet the needs of students with disabilities.
And whoever wins, we'll be here, ready to hold them to account. Because Autism Doesn't End At School, and because our kids' futures depend on it.
Laura Kirby-McIntosh is the mother of two children with autism, a high school teacher, and the vice-president of the Ontario Autism Coalition.