TORONTO — Non-teaching staff at Ontario's schools could walk off the job as early as Monday.
"I'm hoping the government and the CTA [Council of Trustees Association] want to avoid a full walkout as much as I do," union president Laura Walton said at Queen's Park.
"This is to apply pressure."
Walton's workers have been on a work-to-rule campaign for three days. Custodians have stopped cleaning hallways and emptying garbage cans outside schools, clerical workers have stopped finding replacements for absent staff, and education workers have stopped working overtime.
CUPE has invited Premier Doug Ford's government and the CTA to start bargaining "around the clock" Friday.
Some students might not be in class
Some public schools could be closed if CUPE workers walk out Monday, Shane Gonsalves, managing director of public affairs for the Ontario Public School Boards' Association (OPSBA), told HuffPost Canada.
He said CUPE represents different groups of workers depending on the school board. At the Ottawa-Carleton District School Board, for example, it doesn't represent any workers. At the Halton District School Board, CUPE represents custodians but no other workers.
School boards are deciding "right now" what will happen come Monday, Gonsalves said.
"The decision to close or remain open would be made by individual boards but likely not made until late in the week, at the earliest."
"They are making that assessment with student safety as their main focus."
The situation is the same for Catholic and French school boards.
"The decision to close or remain open would be made by individual boards but likely not made until late in the week, at the earliest," Sharon McMillan, director of communications for the Ontario Catholic School Trustees' Association, told HuffPost.
Education Minister Stephen Lecce said Wednesday that he hopes to finalize a contract and avoid a strike.
"We can get this deal done soon," he said at Queen's Park. "Let's move forward and get back to the table this week.
Earlier: Premier Doug Ford tells teachers not to pull this strike "nonsense." Story continues after video.
Lecce wouldn't say if the government would consider recalling the legislature to force CUPE workers back to work. As it stands, it's not scheduled to sit again until Oct. 28, a week after the federal election.
"I don't really want to talk too much about those hypotheticals."
Parties break on sick days, short-term disability
The number of paid sick days and short-term disability days that CUPE workers get has been a sticking point for negotiations.
CUPE members get 11 sick days at 100 per cent of their pay and another 120 short-term disability days paid at 90 per cent every year.
School boards say they are concerned about "absenteeism" and the impact on students.
Walton said that absenteeism is a "symptom" of a problem for her workers, not the problem itself. She said unmanageable workloads and workplace violence cause staff to take sick days or go on short-term leave.
Lecce said the amount of paid leave available creates a "revolving door" of workers, with no consistency for students.
In a press release, Walton said she had hoped work-to-rule would force the parties to reach a deal.
"But that hasn't happened."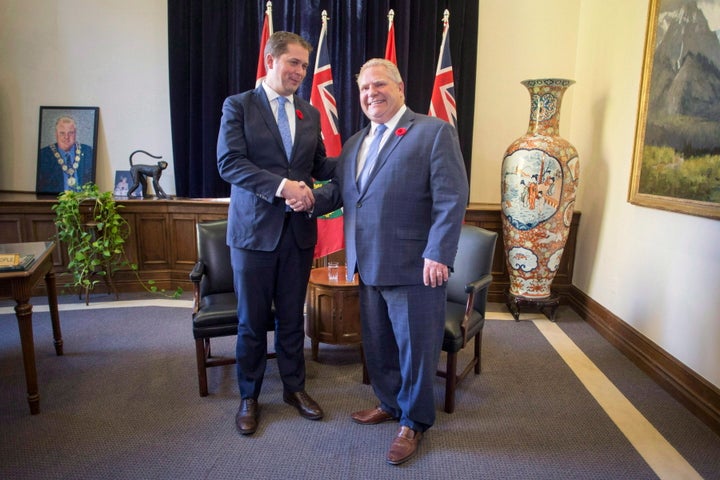 The union president denied that the strike was meant to cause chaos under Ford's Progressive Conservative government in order to hurt Andrew Scheer's federal Conservatives in the upcoming federal election.
"One would suggest that the actions of [Ford's] government since June of 2018 would be sufficient to do harm," she said.
Liberal Leader Justin Trudeau mentioned the work-to-rule action on the weekend.
"I am a parent with kids in the Ontario public system and I really wish that Doug Ford would spend as much time focusing on my kids' school as he does focus on supporting his federal party," he said.
Lecce brought up Trudeau's comments and said that some people are making labour issues at Ontario schools unnecessarily partisan.
"We should focus more on our children and less on the politics," Lecce said.
Contracts for all school workers, including CUPE members and teachers, expired on Aug. 31.
With a file from The Canadian Press