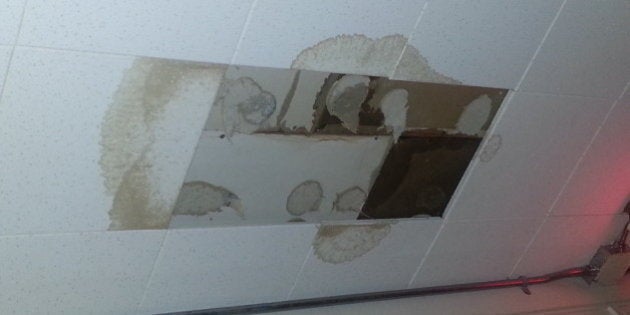 The summer has officially started for most school kids, and many in Ontario will be returning to buildings in the fall that are literally falling apart.
Leaking roofs and mould are just a few of the dubious features that students have to deal with in classrooms across the province. It's so bad that a grassroots group has made fixing crumbling schools their singular focus.
Fix Our Schools also collects astonishing photos of the kind of disrepair teachers and students face daily.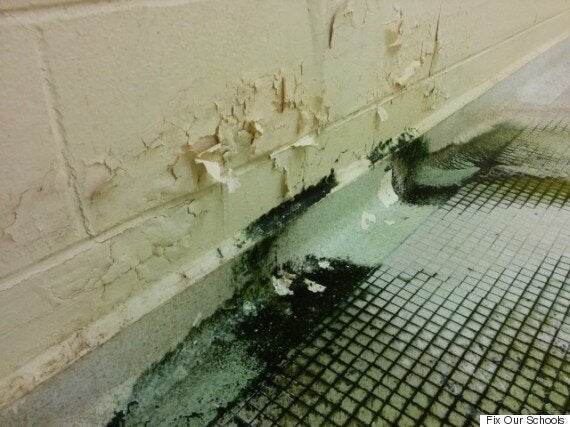 Mould growing in a school shower. (Photo: Fix Our Schools)
Krista Wylie, parent and co-founder of the Fix Our Schools campaign, told The Huffington Post Canada that trying to learn in these kinds of conditions has a negatively effect on students.
"They impact academic achievement. They impact health," she said.
Wylie said she's had students complain that they're sometimes too hot to concentrate. Indeed, out of Toronto's 553 public elementary and high school buildings, only 160 have air conditioning, reported the National Post.
One Grade 11 student told her that he had water dripping on his paper from a leak in the roof while he was trying to write an exam.
"It doesn't take a rocket scientist to look at a leaky roof and say 'We should fix that,'" Wylie said, adding that some disrepair is unseen like old boilers.
She explained that this kind of work environment can negatively impact the teachers as well.
"It's like a perception of worth, and what value does society place on this building? And I think that permeates."
The Fix Our Schools campaign aims to lobby for more government funding for school repairs. Wylie said they're pleased with the progress they've made over the past two years, particularly with a provincial announcement earlier this week.
The Ontario government committed an additional $1.1 billion to spend in school repairs — for a total of $2.7 billion — over the next two years.
"The funding will enable school boards to repair roofs, update HVAC units and modernize electrical and plumbing systems," said a news release. "It will also significantly improve more visible elements of schools that impact students' learning and well-being, including flooring, walls, ceilings, playing fields and more."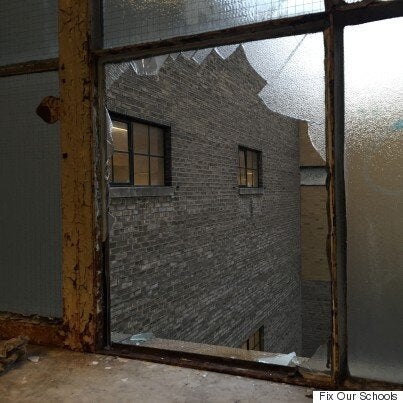 Broken classroom window. (Photo: Fix Our Schools)
Currently, there are an estimated $15 billion in outstanding repairs, but a lot more issues actually go unreported.
When Wylie's son was so cold at school that wore his winter coat all day, he didn't think to tell anyone because he thought it was normal.
"In part, why this issue has perpetuated for so long is that students don't even know that their learning environment is incorrect or less than it should be," she said.
Some parents and faculty often decline to report problems, according to Fix Our Schools, because they don't want to shed a light on the fact that their school is in bad condition.
Wylie hopes to continue working with the Ontario government in order to improve the school experience because, "It remains a $15 billion problem that impacts two million children."
Check out more photos of Ontario schools that need repairs: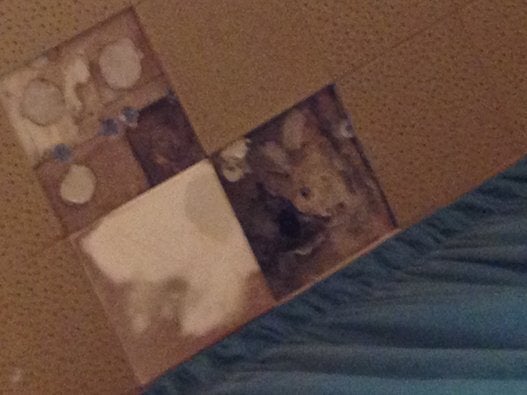 Ontario Schools In Disrepair