Indigenous sports mascots, logos and names come up in the news and on social media every time a football team from Washington makes the Superbowl or a baseball club from Cleveland gets to the World Series. But the vast majority of these teams are not professional, they are in our schools.
Now Ontario is finally doing something about it.
The Toronto Star reported that Education Minister Mitzie Hunter sent out a memo to school boards across the province last week asking them to "show leadership on this issues" and work with indigenous communities to determine if their team names, mascots or logos are offensive.
"It's a very important step that we've taken"

— Ontario Education Minister Mitzie Hunter
"It's a very important step that we've taken," Hunter told the Star. "I do want to be clear that, from the ministry's perspective, we won't tolerate any form of discrimination in schools. We want our schools to be safe and accepting and inclusive places for all."
The decision was inspired by the Truth and Reconciliation Commission, which called for an end to using indigenous names and mascots in Canadian sports.
"It's only indigenous peoples' symbols that are being utilized by sports teams. I don't think there is any cultural group that is subject to that anymore. People need to re-examine their behaviour -- all aspects of their behaviour -- the way they are doing business," the TRC's Justice Murray Sinclair told the Canadian Press in 2015.
"It boils it back down to the real issue -- [whether] they want to cling to that more pejorative expression or not."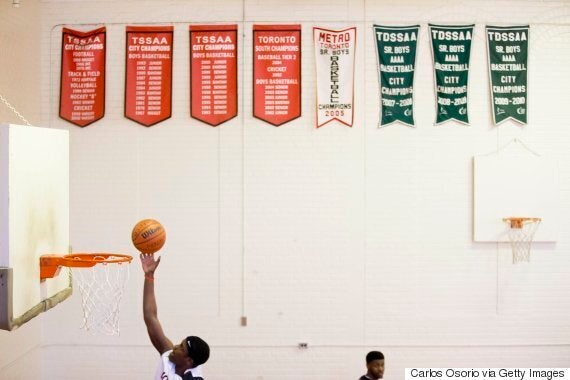 This comes on the heels of social media-fuelled #ChangeTheName and #NotYourMascot movements and a number of schools making these efforts on their own.
The Toronto District School Board, the largest in the country, no longer has any offensive names, logos or mascots. Last fall, Mississauga's Port Credit Secondary School announced they'd keep the name Warriors but are "phasing out" the red-skinned chief's head image on team uniforms and the gym floor while Brampton's Chinguacousy Secondary School is changing their name from the Chiefs to the Timberwolves.
Peel District School Board spokesman Brian Woodland told The Globe and Mail at the time that "as a school system, we don't ever want something that is offensive, that is hurtful. We don't ever want something that makes people not feel included."
As far back as 2005, the American Psychological Association called for "the immediate retirement of all American Indian mascots, symbols, images and personalities by schools, colleges, universities, athletic teams and organizations... Research has shown that [it] has a negative effect on not only American Indian students but all students."
"Why we still tolerate language on a jersey that we would not tolerate on the field is beyond me."

— Manitoba MLA Wab Kinew
"From the time I was a child, every time I have seen an indigenous person characterized by a sports team name or mascot I have cringed and felt the hairs on my neck stand on edge. As an adult I've realized that's a symptom of stress hormones being released into my body. Over a lifetime this could lead to real physical hardships," the Ojibway NDP politician said.
"We spend a lot of time in sports today focused on the emotional well-being of young athletes — and rightfully so. We do respect sports seminars and learn about long-term athlete development.
"Why we still tolerate language on a jersey that we would not tolerate on the field is beyond me."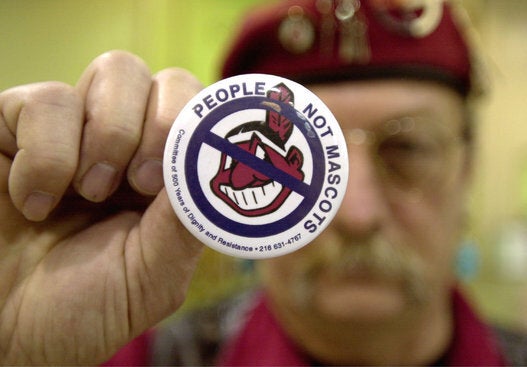 Indigenous Team Name Protests