It is often said that education is something you claim, not something you passively receive. On Friday, September 21, high school students from all across Ontario put that mantra into action. The students, along with teachers, staff, and other allies, walked out of schools and took to the streets to protest the Conservative government's evisceration of sex ed and Indigenous education from school curriculums.
Under the hashtag #WeTheStudentsDoNotConsent, students like 17-year-old Rayne Fisher-Quann struck a direct blow against paternalistic assumptions that high school students are unable to make mature and informed decisions about the laws and policies that directly affect their lives and the lives of their friends and loved ones.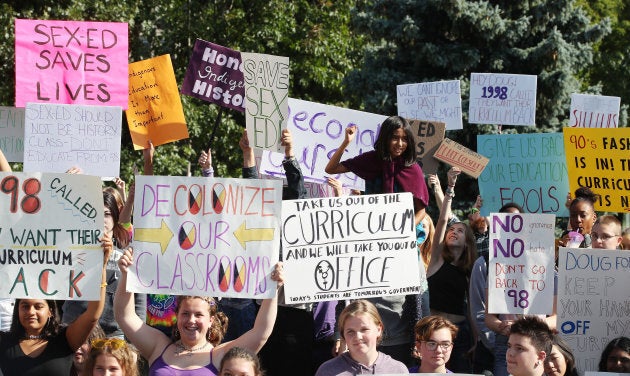 Rather than passively allowing those in formal positions of power to dictate to them what was deemed appropriate to learn, these students actively claimed their right to education by unflinchingly demanding the re-introduction into curriculums of core sex ed elements such as sexual consent, gender identity, LGBTQ+ awareness, cyberbullying issues, and Indigenous history and education as contemplated by the Truth and Reconciliation Commission's 94 Calls to Action.
The students' voices of dissent reflect the broad discontent among young Ontarians with respect to the government's actions in scrapping the updated 2015 sex ed curriculum and Indigenous curriculum writing sessions. However, one of the primary reasons their voices continue to be sidelined is because they have no political currency, since these young people continue to have their right to vote in local, provincial, and federal elections denied.
Early this year, Liberal MPP Arthur Potts [Beaches-East York] briefly shone some attention on this issue when he proposed a private member's bill that would lower the provincial voting age from 18 to 16. The bill even got some interest and support across the aisle, including from now Minister of Municipal Affairs Steve Clark, who himself was elected mayor of Brockville at a rather green 22 years of age. Unfortunately, the private member's bill was proposed too late in the legislative calendar to officially be introduced and debated before the Conservatives swept the Liberals out of power in June.
We must scrutinize what our democracy loses in not allowing 16- and 17-year-olds to vote.
We should also keep in mind that Section 3 of the Canadian Charter of Rights and Freedoms constitutionally guarantees the democratic right to vote to all Canadian citizens. This means that Canadian youth too, have a constitutionally protected right to vote in elections and the burden lies on the government to justify its decision to continue denying young people the right to vote.
As citizens, we should all be continually scrutinizing the casual justification offered that that 16- and 17-year-olds are unable to make mature and informed decisions about voting. Equally important, we must also scrutinize what our democracy loses in not allowing 16- and 17-year-olds to vote.
In the U.S., the tragic high school shooting deaths of 17 people in Parkland, Florida sparked outrage and mass political activism from high school students who were sick and tired of not having a political voice in determining how to prevent shootings and violence in their own schools. This led to various campaigns to lower the voting age in elections around the country to 16, including the youth-led national campaign Vote16USA.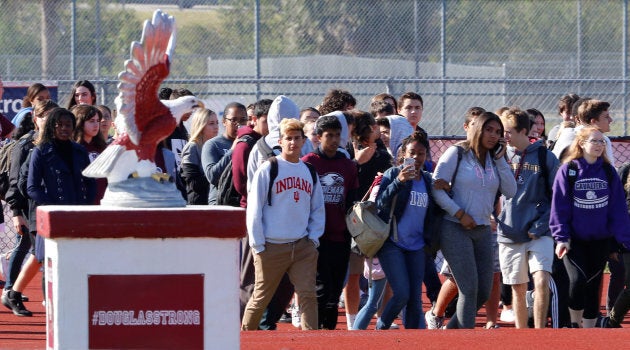 In Takoma Park, Maryland, one of the municipal jurisdictions that lowered the election age, 16- and 17-year-olds showed up to vote at twice the rate of other voters, directly refuting concerns that young people would not turn out to vote if given the right. Many other countries, from Brazil to Germany to Scotland have all similarly lowered their voting age to 16.
And while the case studies of political activism among high school students in Florida and Ontario focus on areas related to primary and secondary education, there are a whole host of policy areas in which our democratic processes would greatly benefit from the continued engagement of these young people, including areas such as higher education and vocational training, employment and labour, youth criminal justice, public transportation, and climate change.
By taking to the streets to claim their education, the high school students of Ontario are showing us through action that the flippant and dismissive assumption that 16- and 17-year-olds are not mature enough to vote is utter and complete bunk.
We owe it to this younger generation to get out of the way and let them now claim their constitutional right to vote.
Have you been affected personally by this or another issue? Share your story on HuffPost Canada blogs. We feature the best of Canadian opinion and perspectives. Find out how to contribute here.
Popular in the Community