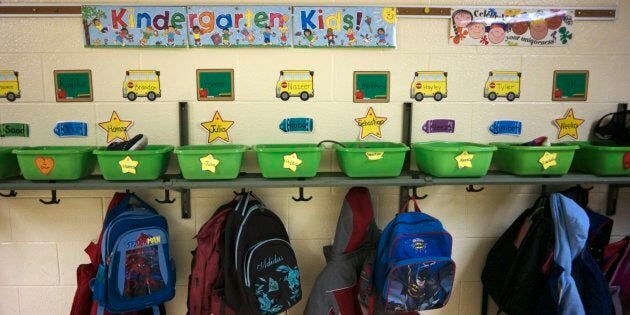 Like many Ontario teachers, Misha Costescu worries that the new provincial government's decision to revert to a 1998 version of sexual education in schools means kids will miss critical lessons, like proper online safety and respect.
"Tell me a kid who is over the age of 12 who doesn't have access to an iPad or to a phone, and all the trouble that they can get into there," he said in an interview with HuffPost Canada. "Even just the comments that can be left online on a social media page or even in an online video game that are so inappropriate."
Much of Costescu's 18-year career has been spent teaching physical education and health, but there's another reason this issue hits home.
"I've had family members who have gone through the old curriculum and felt that it essentially marginalized them," said Costescu, whose brother is gay. The teacher said his four children are loved by a set of uncles with adopted kids of their own.
"That's a great example of a family that kids need to learn... this is all acceptable. And the earlier they learn it, the better it is for everyone."
Rolling back the sex-ed curriculum to a late '90s version is a disservice to students and does not reflect current realities, many teachers say.
Education Minister Lisa Thompson revealed this week that schools will revert to the curriculum in place before the previous Ontario Liberal government updated the materials in 2015 to include same-sex marriage, gender identity, consent, and online protection, among other things.
Social conservatives had targeted the revamped lessons' references to masturbation, sexual orientation, and gender identity.
Thompson said Thursday the provincial government is following through on an election promise to repeal and replace the curriculum.
"We listened to parents across the province who were concerned about the lack of consultation with the new curriculum," she said. "Until proper consultation with parents is completed, we will revert back to the previous sex-education curriculum."
So, how will this curriculum help prepare our students for the world when it can't reflect the realities of our current world?
But there are "so many things the 1998 curriculum can't address because they weren't part of our world," said Andrew Campbell, a Grade 5 teacher in Brantford. Gay marriage, for example, was not legal across Canada until 2005.
Sexting, the sharing of explicit photographs usually by cellphone, is "very much an issue now," he said. Students are interested in discussing how issues impact transgender people, something he said wouldn't have come up 20 years ago. Popular media, such as a TV dramas that include date rape, will continue to spark questions from curious young minds.
"So, how will this curriculum help prepare our students for the world when it can't reflect the realities of our current world?" he asked.
The president of the Ontario Secondary School Teachers Federation (OSSTF) called out the government's decision to spend new money on consultations on the same issue again, after thousands of people and groups provided feedback.
"For a premier who talks about driving efficiencies, that seems to me the definition of inefficiency," Harvey Bischof told HuffPost in an interview.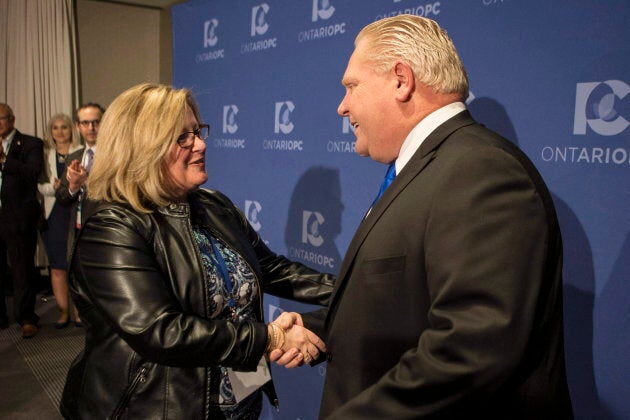 Sam Hammond, president of the Elementary Teachers' Federation of Ontario, added, "When you realize the extent of previous consultations, it becomes very clear that this move by the [Doug] Ford government is very much ideologically driven."
In the 24 hours since the government's announcement, Hammond told HuffPost that members have reached out saying they're "deeply concerned" about the safety of their students.
By repealing the revised curriculum, Hammond said the government risks flouting Ontario human rights laws if the "meaningful and age-appropriate" lessons about lesbian, gay, bisexual, transgender and queer rights and issues disappear.
"These groups are protected under the Ontario Human Rights Code and schools are a place to learn, and to have respect for diversity and inclusion," he said.
Union members are required to follow the mandated curriculum, Bischof said, adding that teachers "aren't in the position to defy the instructions of their superiors when it comes to what is taught."
But Campbell, a teacher for more than 23 years, said that this doesn't mean certain topics are automatically out of bounds.
"The curriculum is not a list of things you're not allowed to cover; it's a minimum list of things you can cover," he said. "So there's no reason why, if teachers feel the need to cover things that aren't in the curriculum, that they couldn't do that."
A teacher covering the language curriculum could ensure students read materials that cover issues of consent, Campbell said. He noted the social studies curriculum does include references to same-sex couples.
Costescu, who teaches Grade 7/8 in Kanata, agrees that teachers will need to go "above and beyond" the curriculum to share those relevant stories and examples.
Bischof, a former English teacher and head of OSSTF, said it comes to down to a general truth that knowledge is power.
"Kids are in a better position to safeguard their health and well-being when they know more and not less, and that applies across the school system — I don't see why it wouldn't apply to this curriculum."
With files from The Canadian Press