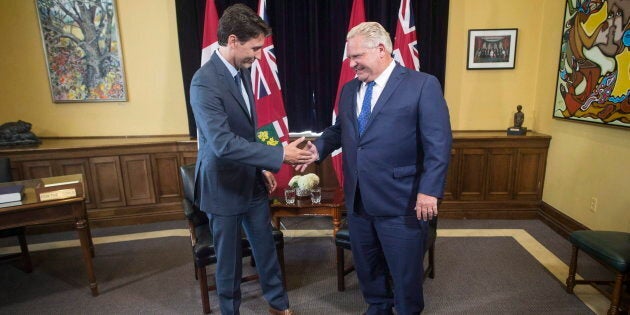 Ontario Tories have wasted no time gloating about what they've dubbed a "climbdown" from Prime Minister Justin Trudeau on carbon pricing.
In question period Wednesday, Progressive Conservative MPP Christine Hogarth lobbed softball questions to Environment Minister Rod Phillips on the federal government's decision to increase the threshold at which heavy polluters will need to pay a price on carbon emissions.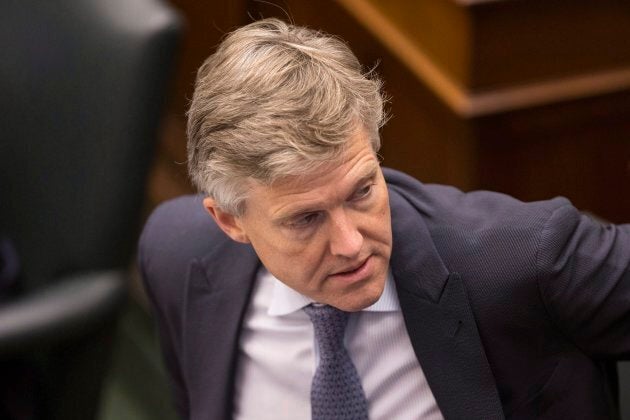 The move is a response to competitive pressures, particularly from the United States where President Donald Trump has slashed corporate taxes and slapped tariffs on Canadian steel and aluminum.
Hogarth said the Trudeau government has "finally come to terms with the ineffectiveness of their planned carbon tax," and asked Phillips to weigh in.
Watch the exchange at the 44:30 mark in the video below:
"This climbdown by the federal government is a signal that we have been right all along," Phillips said, adding the Ontario government will oppose a "job-killing carbon tax" of any size.
"I'm happy to see that Justin Trudeau woke up this morning and smelled the coffee," Hogarth added.
The new Ontario government has scrapped the cap-and-trade program in the province, a key promise Premier Doug Ford made during the spring campaign. PCs are pledging to fight a federal carbon tax and will join a Saskatchewan court challenge on the issue, setting up a collision course with federal Liberals.
Trudeau has told provinces and territories they have until next month to share details on how they will price greenhouse gas emissions, be it through cap and trade or a carbon tax. Those jurisdictions without a plan set by January will have a carbon tax imposed on them, with feds pledging to return revenue to taxpayers.
A federally imposed carbon price would start at $20 per tonne and increase to a level of $50 a tonne by 2022.
Phillips told the legislature Wednesday that Tories will use every tool possible to oppose Trudeau's environmental plan.
"We did not fight a campaign to eliminate cap and trade just to have a job-killing carbon tax imposed," he said.
Federal Environment Minister Catherine McKenna told HuffPost Canada in an emailed statement that big polluters can't be let off the hook.
"Unlike the Conservatives, we believe that big polluters should pay," she said. "We've been clear since the beginning that we would be consulting with industry and environmental experts to find the best ways to reduce emissions, improve energy efficiency, and stay competitive — and that's exactly what we've done."
With a file from The Canadian Press