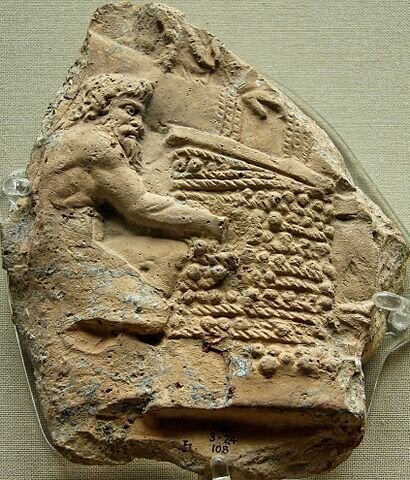 A terra cotta relief showing Satyrs, a Greek mythological creature, expressing the juice from trodden grapes in wicker mats
"Wine can of their wits the wise beguile,

Make the sage frolic and the serious smile."

Homer (ca. 8th century BC)
Legend has it that wine was discovered accidentally around 6000 BC, when a lady of the Persian court tried to poison herself with spoiled table grapes. Instead, she became giddy and fell asleep; when she awoke, in addition to a hangover, she found that the stresses in her life had eased considerably.
Here in Ontario, viniculture is a relatively new industry -- although it is documented that the Sulpician missionary explorers, Galinee and Dollier made wine from wild grapes growing in the region between Lake Erie and Niagara in the late 1600s.
However, the Ontario wine industry as we know it today began in the 19th century, when retired German soldier Johann Schiller obtained land in Mississauga and planted a small vineyard in 1811. To mark the occasion, the bicentennial of the wine industry in Ontario was celebrated in 2011, although most experts would agree that the first real commercial winery began in the mid-19th century on Pelee Island, where three farmers from Kentucky acquired land and planted 30 acres of grapes.
To those who believe, like Voltaire, that Canada is just quelques arpents de neige -- a few acres of snow -- it may be difficult to equate the climate of Ontario with winemaking. In fact, although Canada, like New Zealand, is a cool-climate wine growing country, the viniculture areas of Ontario lie within approximately the same latitudes as France's Midi and Italy's Chianti Classico zones, and our weather during the growing season is similar to Burgundy in terms of hours of sun and rates of rainfall.
A temperate climate, diversity of glacial soils, and the moderating effect of the Great Lakes combine to produce ideal growing conditions for complex wines of exceptional value.
The European wine countries have traditionally used origin and terroir--a mix of place, soil, topography, and climate--to define the quality of wine grapes. The Ontario wine industry has adopted a similar method, developing the VQA appellation system to identify and regulate the quality and diversity of wines from Ontario's three main winemaking regions: Niagara, Lake Erie North Shore, and Prince Edward County.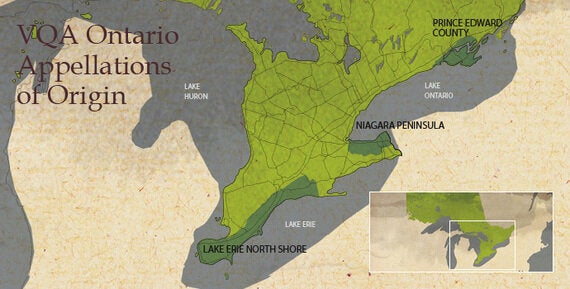 Ontario's three primary winemaking regions
Today, viticulture is thriving in Ontario, with more than 180 wineries responsible for just over 70 per cent of total Canadian wine production, contributing an estimated $3.3 billion to the province's economy in 2011, many thousands of direct and indirect jobs, as well as $644 million in tourism and tourism employment, according to the Ontario Winery and Grower Alliance of Ontario.
In addition, many wineries have their own starred restaurants with name chefs, and some have either on-site boutique hotels or five-star accommodations in the vicinity. Throughout the summer, wineries host al-fresco jazz and classical concerts, picnics and BBQs, and, of course, many wine tastings.
According to industry figures, each year, Ontarians are drinking more Ontario wines, no doubt a result of the remarkable talent of winemakers and increasing awareness of our province's wines through unique partnerships.
Look for the winner's badge of the Lieutenant Governor's Award for Excellence in Ontario Wines!
The award-winning wines are featured during important events at the Lieutenant Governor's Suite and, every year, I invite members of the Toronto-based Consular Corps -- one of the largest groups of consular representatives in the world -- to accompany me on a tour of some of the successful wineries.
This year's competition, for which wineries were invited to enter up to four VQA-certified wines, has just wrapped up. Judging is currently under way. The winners will be announced in June and the consular tour and awards ceremony will follow in early July.
A distinguished panel of wine experts has been convened to adjudicate the entries, and you can follow the process on Twitter by using hashtag #LGWineAwards.
It's going to be a tough job, sampling hundreds of VQA wines to arrive at eight to 12 award recipients, but somebody has to do it! As for me, I look forward to sampling some of the winning wines and raising my glass in a toast to our wonderful Ontario winemakers.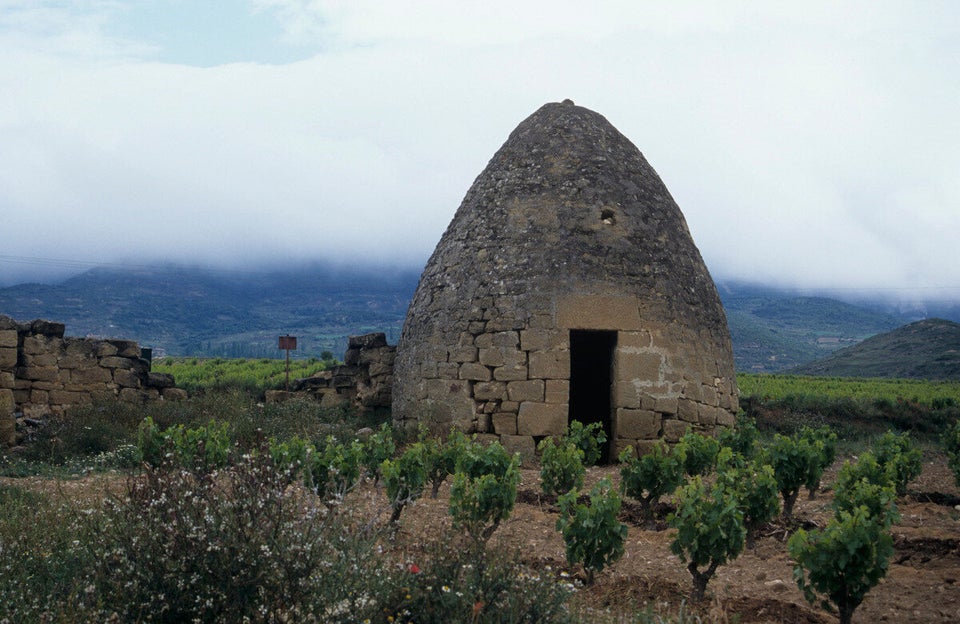 World's Best Wine Destinations