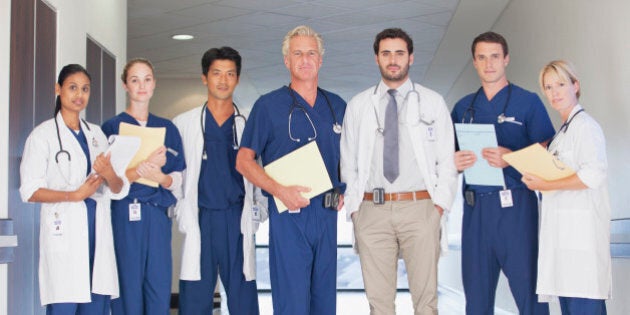 Despite vocal opposition by doctors, the provincial Liberals are barrelling ahead with Bill 41, the Patients First Act, in a misguided attempt to fix Ontario's healthcare woes.
The healthcare system is broken, leaving doctors craving healthcare reform. Ontario funds an inadequate number of medical services for an inordinate number of patients. This mismatch creates a bottleneck in which care is triaged and/or rationed: the sickest are served while the rest wait.
Despite the Health Minister's claims, no matter how fast frontline doctors and nurses work, waitlists exist because finite resources cannot serve infinite patient need.
Patients with diabetes and heart disease wait years for a family doctor on the government-run program, Health Care Connect. Ditto for specialist care. Real-world examples of the wait list for next available non-urgent appointments include:
Toronto's gynecologists, September 2017;
Brampton psychiatrists, summer 2018;
Kingston's orthopedic surgeons, 2019;
Ottawa's pediatric ophthalmologists, 2.5 years;
Thunder Bay's rheumatologists, 2 years.
With hundreds of unemployed doctors, nurses and allied health providers unable to serve the thousands of waiting patients, healthcare funding and mismanagement are pressing concerns. As it is, with its price tag of $50 billion, Ontario's publicly-funded healthcare system does not serve taxpayers well at all.
In response to these calls for system reform, the provincial government is lobbing Bill 41, the Patients First Act, into this mess of waitlists, sick patients and inadequate resources. Its premise: streamline and integrate healthcare. Sounds great in theory, but reading the legislation, it's clear that Bill 41 will not solve the real-world issues that real-world Ontarians face.
Instead it will burden a struggling healthcare system with an expensive and unnecessary layer of bureaucracy. Diverting more money to fund 6-figure Executive Director salaries means less money left to fund direct patient care by doctors, nurses, physiotherapists and so on.
I'm not saying that we must eliminate all bureaucracy, but do we really need 1000s of health sector administrators? Canada's healthcare system is infamous for its bureaucracy and its wait-times.
Sweden by comparison has half the number of bureaucrats per capita yet it maintains "a guarantee of care": family physician appointments are provided within 3 days; specialist appointments, within 10 days; medical procedures, within 90 days. This is the model Canada -- and Ontario -- should emulate.
Bill 41 promises to integrate healthcare. Despite the bells and whistles, this is nothing new. Ontario already has an alphabet soup of organizations working to ... integrate healthcare: LHINs, CCAC, Health Links, Links2Care, and so on. Redundancy has instead created a healthcare system that is more disjointed and dysfunctional.
In fact, Ontario's taxpayer watchdog, Auditor-General Bonnie Lysyk criticized the two largest organizations: Community Care Access Centers (CCAC) and Local Health Integration Networks (LHINs), responsible for hospitals, home care, mental health services and so on. Confirming our darkest suspicions, Lysyk noted that year after year:
Less money was invested on providing home care services because administrative costs -- including CEO bonuses -- ballooned to an astronomical 40%; and
LHINs scored 6/15 on performance metrics -- not even a passing grade.
For the average patient, this boils down to spotty access and erratic services. Patients in Mississauga get around-the-clock palliative nursing, but for those living in Kenora, the service stops at 5pm. Huron County seniors can access subsidies for diabetic supplies, incontinence diapers, even travel costs for medical appointments. In Georgetown, there is no such program.
Community stroke programs are as unreliable. Overseen by the LHINs, stroke programs transition patients from hospital to community-based care and rehabilitation. Physiotherapy (PT), Occupational Therapy (OT), Personal Support Worker (PSW) and Speech-Language Pathology (SLP) services help patients overcome the devastation of a stroke. Physician and non-physician colleagues highlighted the following unbelievable disparities in care from LHIN to LHIN:
Living in the "wrong" neighbourhood in Toronto means the difference between receiving 1 hour per day of PSW support versus 3 hours per day.
Organizing OT assessments in Toronto takes 2 weeks, tops. Meanwhile Kenora and Red Lake patients wait weeks to months for the same service.
Brant County's LHIN funds up to 60 visits by stroke specialists in PT, OT and SLP. In contrast, Waterloo-Wellington LHIN funds a maximum of 12 visits, and Mississauga-Halton LHIN funds 6 -- and often, by therapists untrained in stroke-specific rehab.
Inequities also exist within the same LHIN. For instance, seniors who receive hip replacement surgery in Brantford will rarely qualify for CCAC home-based physiotherapy. The only option left is to organize travel to an outpatient center. If, however, that same patient had their surgery in Hamilton (the exact same LHIN as Brantford), CCAC physiotherapy would be a done deal. The difference: a 20-minute drive.
Instead of addressing such shocking gaps in care, the government is heaping additional responsibilities onto LHIN plates and they are supersizing the bureaucracy involved. Bill 41 will absorb CCAC admin into LHIN Boards, upsizing them from 9 to 14 Directors. The LHINs will then supervise an entirely new administrative tier: 80 sub-LHINs each with its own set of expensive directors and staff. How many millions will be wasted on this extra bureaucratic layer?
Despite its name, the Patients First Act does not actually add any patient services: there is no mention of funding for physician services, home care by nurses and allied health providers, or hospital/ nursing home beds.
So here lie our tax dollars: more bureaucrats writing more reports on more waitlists for dwindling healthcare resources. Bill 41 is a total boondoggle. It's no wonder rank-and-file physicians have dubbed it the "Bureaucracy First, Patients Last" Act.
Follow HuffPost Canada Blogs on Facebook
Popular in the Community