Staking Claim is a multi-part series exploring the proposed Ring of Fire mining development in Ontario and how the First Nations communities are preparing for economic activity and the environmental and societal consequences of Canada's next resource rush.
BETWEEN LONG LAKE No. 58 AND LONGLAC, Ont. — Along this desolate stretch of Northern Ontario highway, an idyllic white chapel is perched on the point of a peninsula next to to a "No Swimming" sign wedged into the poisoned shoreline that juts into glistening Long Lake.
On the opposite side of the Trans-Canada Highway, a downtrodden young man, a filled plastic garbage bag slung over each shoulder, saunters past a long-idle train toward the swampy lowland of the Long Lake No. 58 First Nations reserve.
There are no job opportunities where he is headed and no businesses, save for a single band-owned gas bar. Dilapidated box houses, many boarded and abandoned, line the three roads that form the reserve.
Two kilometres east is Longlac, the self-proclaimed "Gateway to Northwestern Ontario" and last stop for eastbound travellers — 14 hours from Toronto — in search of a coffee shop or motel ahead of a 200-kilometre stretch of uninhabited land.
Aside from travellers, the most dependable customers in this town of 1,400 are from the neighbouring reserve, who come to Longlac for groceries (Valu-Mart), to get their car fixed (Longlac Auto Centre) or lunch (Longlac Pizzeria). Money flows into the town from the reserve's residents, who have few ways to spend in their own community.
For generations the reserve — its uninspired name assigned by the federal government — has been the poorer neighbour to Longlac, a community settled by French fur traders. The reserve's present has been clouded by the pain of the past and struggles with poverty, addiction and suicide.
But now the reserve, known to locals as "58," sits on the precipice of a new era of economic development that could include and benefit — rather than ignore and destroy — aboriginal communities. It is one of the nine Matawa First Nations communities surrounding the Ring of Fire — a $50-billion deposit of minerals discovered by a Johnny Cash-loving prospector. Dubbed "Canada's next oilsands," it's the biggest resource development Ontario has seen in more than a century.
Yet No. 58 and the other communities are not sold on the promises from government and mining companies that development will not come at the expense of their land or their traditional way of life.
Long Lake itself is a perpetual reminder of the high price of development. Its shores are poisoned in part by chromium in rocks from a nearby mine used as filler material; it's the same metal that mining companies want to dig out of the ground and transport through aboriginal lands in search of massive profits.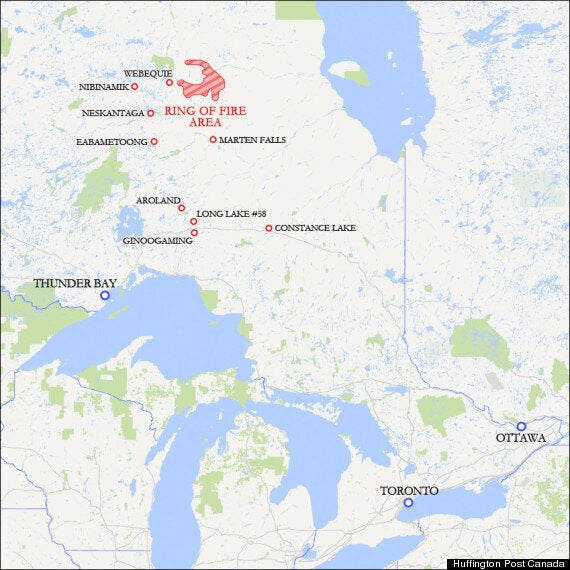 No. 58 resident Louis Wesley remembers when he was a teenager and four trains — two from the east and two from the west — chugged by daily along the Canadian National track on the northern tip of Long Lake, a 160-kilometre narrow body of water in the Canadian Shield.
For a time, there was hope the route would bring prosperity and include No. 58 in the burgeoning regional economy. Now the community elder only sees a train three times a week.
"It was much bigger when I was young, eh? The town was booming," Wesley,67, says between pulls on the straw of an apple juice box while he sits at a picnic table outside No. 58's community centre.
"There was a lot of people here, but some of them moved away. No jobs, eh?"
Story continues below slideshow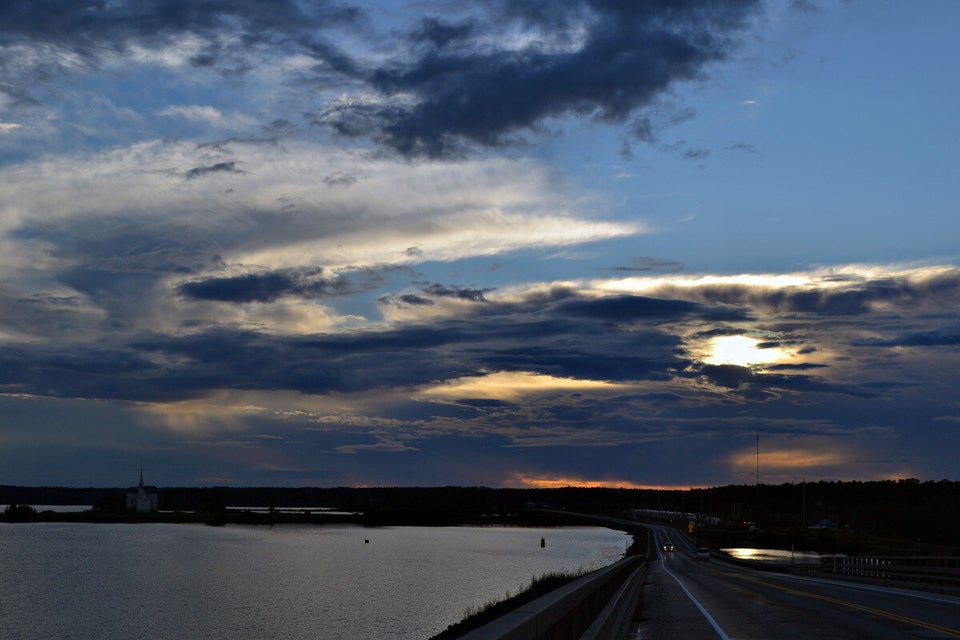 The Reserve on the Edge Of 'Canada's Next Oilsands'
The forestry industry once provided employment for Wesley and other band members, but a steady decline in profits has shuttered many area mills; jobs dried up with the closures, leaving band members little to do with their days.
There was a time when ancestors of this Ojibwa band flourished, hunting abundant moose and bear, trapping pine marten and lynx, and fishing the waters. Furs and fish were once sold in Longlac, but clear-cutting and water pollution have made the land inhospitable to those sources of income.
No. 58 land lies in a nebulous boundary between two treaties. The government claims the community ceded the land under the 1850 Robinson Superior treaty covering the area south of No. 58. But the band considers themselves non-treaty people because their ancestors never signed on.
Nor were they at the bargaining table for 1905's Treaty 9 that covers land to the north of the community. Unable to negotiate for a fair portion of land, No. 58's allotment has been whittled away and its people are now confined to a 2.5-square-kilometre tract that was once their summer fishing camp.
The people of No. 58 could only watch when the federal government allowed Canadian National to run a track through their territory in 1914 and built the highway in 1940, as well as when the Ontario government parcelled off parts of land to logging companies.
Ontario Hydro's 1938 Long Lake Diversion project erected a dam to reverse the flow of the water and send it south. That raised water levels on the lake and washed away reserve land, including a sacred burial ground.
Long Lake's shoreline has been off-limits since a 2005 soil sample from the rocky beach revealed elevated levels of arsenic and chromium, the result of Ontario Hydro's use of filler material from the nearby Mosher Mine to prevent soil erosion from operation of the control dam.
Ontario Power Generation, a successor to Ontario Hydro, paid a seven-figure settlement to the band in 2006, in part over the loss of traditional land.
But for community elder Jocelyn Bananish, no amount of money can compensate for the destruction she has witnessed of her people's land in the name of economic development.
"I don't think they can even fix it anymore, it's done. What's done is done," says the lifelong No. 58 resident.
Bananish's curiosity about the plans for mining the Ring of Fire led her to to take a seat against the wall at a meeting held at the band's community centre, where Matawa chiefs debated the merits of development.
She admits to knowing little about mining in the remote swamplands to the north, but she is nevertheless decidedly anti-development. She fears the forests will be lost and the environment further despoiled.
"You don't bother Mother Earth and destroy her like that, because you're going to pay," she says.
"They're taking everything away from us, and that's what Ring of Fire's doing here. It's going to be worse after."
On a mosquito-ridden July night, people head on foot towards the reserve's community centre, where a band blares Johnny Cash's "Ring of Fire" after dinner and square dancing.
The night's festivities are a light-hearted interlude from a gathering for the 25th annual general meeting of the Matawa Tribal Council. The meeting is historic — a chance for the Matawa communities to set their own terms. In attendance is their chief negotiator, former Liberal leader Bob Rae, who will represent all nine First Nations in upcoming talks with the provincial government on Ring of Fire development.
Over three days, they draft a list of needs: infrastructure development and revenue-sharing with the province as well as more immediate concerns such as environmental monitoring or how to pay for programs to wean community members from opiates.
The stakes are high for all involved in the potentially precedent-setting negotiations.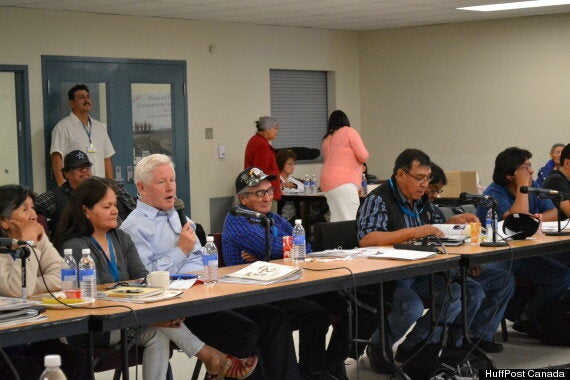 Resource companies starved for new discoveries and royalty-hungry federal and provincial governments are keen to get aboriginal approval in the early stages of development, partly owing to a string of recent legal victories that entrench the need to consult First Nations on resource development in their traditional territories.
The 5,000-square-kilometre area of the James Bay lowlands, some 500 kilometres north of Thunder Bay, is believed to contain vast stores of lucrative minerals, including nickel, copper, zinc, platinum and gold.
The 2008 discovery of an extremely rare mineral called chromite — the ore of chromium is used in everything from chrome rims for cars to stainless steel sinks — has thrust the region into the international mining spotlight.
The crescent-shaped series of mining claims, however, are staked in the midst of an ancestral gathering area for nomadic Matawa bands and grazing grounds for sacred animals — making their participation key to breaking ground.
No. 58 is, unsurprisingly, worried about the transport of chromium concentrate on the railroad tracks that run through their territory.
Matawa members must balance their concerns about the consequences of a flurry of mining activity on the water, land and animals with securing the promise of jobs and money for future generations.
No. 58 has one employer: the band. The federal government pegs the community's unemployment rate at 38.5 per cent, but that doesn't include those who have given up the job search. The chief and council say the real unemployment rate is closer to 70 per cent.
Across the country, a history of unequal development has left broken economies in many First Nation communities. The numbers reinforce the tale of two societies. One in four people on reserves are looking for work, more than three times the national average.
On No. 58 and in other reserves, there has been little opportunity to start businesses that would circulate money within the community rather than see it spent off-reserve, bolstering nearby municipalities.
"We're an economic base for Longlac," says band manager Henry Waboose, sitting at a desk covered in funding proposals.
"If we were not here, they wouldn't survive, but there's not that diversification where they hire some of our people there. We're used as a cash flow."
Unlike municipalities, which raise their own revenue from taxes and allocate how their money is spent, the band's budget is controlled by Ottawa from the Aboriginal Affairs offices some 1,250 kilometres to the southeast.
The community uses "creative" means to reallocate their limited budget to meet their self-identified needs, says band councillor Judy Desmoulin.
When No. 58 wanted to build its own school in 1998, it was told by Aboriginal Affairs that such a project would require a capital plan and could take 25 years, she says. Council decided to use the housing budget to build individual school rooms, transforming makeshift living quarters into classrooms.
"They were still going to be housing units, just not that year."
Securing a new source of revenue from Ring of Fire developments is the only way the community can improve its systems, heal and change, says Desmoulin, who is also health and social director at No. 58. The province has agreed to some form of revenue-sharing for Matawa communities, but with negotiations just getting underway it is unclear how much No. 58 could receive.
Chief Allan Towehishig has a hearty and contagious laugh that belies the gravity of the situation his community faces. He refers to himself as "a bum," a self-deprecating jab at First Nations stereotypes.
But the man with the wide grin wants to be taken seriously at the negotiating table. He's hopeful that a new source of revenue will close the gap in budgets for education, housing and social programs and that development in the Ring of Fire will mean jobs for the youth.
"They wouldn't be running around with nothing to do."
Chief Towehishig is frustrated that his community spends its money in Longlac, but believes that if he and the other Matawa chiefs can successfully negotiate their fair share of government revenue it will spark other development.
The community, he says, will be in a position to stem or even reverse the cash flow from the reserve to Longlac.
"I think in the future they're going to be bumming from us," he says with a chuckle.
A growing number of First Nations, using the capital earned from land claims settlements or resource development on their lands, are building businesses and putting communities on the path towards the elusive goal of self-sufficiency.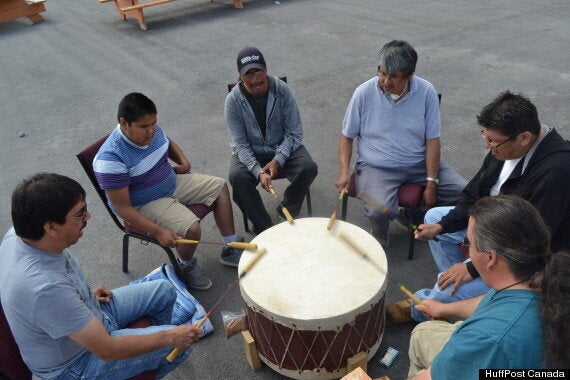 They look to role models for sustainable economic development in communities across the country, such as Membertou First Nation. The Nova Scotia reserve has diversified its economy with a convention centre, gaming centre, business centre and hotel. Two decades ago, it faced many of the challenges that the nine Matawa First nations do: high unemployment, an annual operating deficit and poverty.
The Membertou band recruited educated members who had moved away and, with a leadership team in place, got its financial house in order, set up training and education programs and opened a corporate development office in Halifax, positioning it to take a greater role in the mainstream economy. It has since increased its annual operating budget to $65 million from $4 million.
But the Matawa chiefs also stress that each First Nation community has the right to approach development on its own terms, on a timeline it dictates. For the Matawa reserves, the first step is improving conditions so their people can take advantage of the coming opportunities.
No. 58's 450 on-reserve band members are squished into 120 rectangular box homes — 600 fewer homes than Longlac has for its population of 1,400. With mortgages forbidden on reserves by the Indian Act, members pay up to $450 a month in rent to the band. As is the system on most reserves, the band purchased homes through a government housing program with a budget handed down by Ottawa. There is little money to repair, renovate or build.
Some unlivable homes are boarded up to deter youth wandering the streets from using them as clubhouses. The number 58 has been spray-painted onto the boards over the windows. With no police service, nor a contract with the Ontario Provincial Police — which comes only in emergencies — it is hard for chief and council to crack down on vandalism.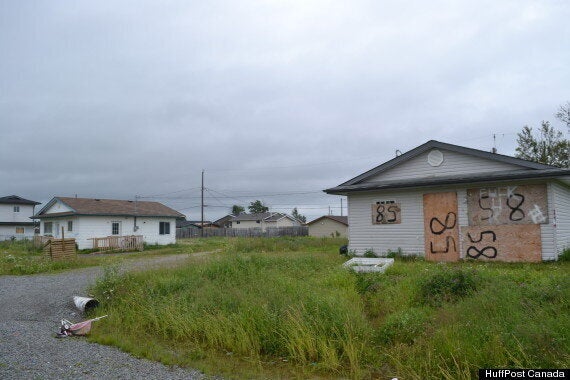 Aboriginal Canadians are the fastest growing population in the country, but No. 58 is a community in decline. Nearly 60 per cent of its 1,300 members have moved off-reserve, many to Longlac. The number of residents decreased 12 per cent from 2006 to 2011, while Longlac's population grew 1.8 per cent in the same period.
No. 58's band council does not just want a stream of revenue from the Ring of Fire project. It wants real opportunity for community members to participate through contracts and joint venture partnerships with established businesses.
Band manager Henry Waboose thinks potential projects could include a warehouse for goods shipped to and from the remote mining region, as well as construction of transmission lines and highways that could connect the isolated communities near the Ring of Fire to the mainland.
But for all of the apparent optimism, it is hard to find a member of No. 58 who believes the Ring of Fire development will help the current generation. Desmoulin is running a community-based healing process that she hopes will position their children and grandchildren to succeed.
The first step is ending a widespread outbreak of prescription drug abuse — namely Oxycontin and Percocet — that has plagued 104 of 166 on-reserve adults aged 18 to 35. In the past, any member seeking help visited a Methadone clinic in Longlac. Since the approval in 2011 of a pilot project that replaces a drink of Methadone with the tablet Suboxone, 80 addicts are in recovery.
Desmoulin has developed a holistic approach to addiction recovery. It addresses her people's history, which she believes to be at the root of a cycle of pain that is being passed down through the generations.
"A lot of people didn't even understand: why are we on this little piece of land in the first place? Why are our houses the way they are? And why couldn't we live like the town people do?
"We're teaching our people to understand that this is an inherited problem, so it's not all of their fault why we find ourselves in these large numbers having this same type of problem."
A year after the Suboxone program was implemented, Desmoulin made a deeply disturbing discovery "just in time, like seconds away" — a suicide pact among seven girls aged 11 to 13.
Six of those girls had families in the addiction program. Many parents were on the road to recovery, forging better relationships with their children. But to Desmoulin, the incident exemplified how parents' pain still weighs on their children.
"One of the girls said: 'I'd rather die than go back to the way things were'," she recalls.
The community is devoting its limited resources to prepare the next generation for a better future. Its school curriculum includes training for mining jobs. Principals attend mining workshops and conferences. Children are encouraged to express their pain through art. They attend week-long camping excursions with elders to learn about the importance of the land, as well as about topics from bullying to suicide and "tunnel vision."
"We still have a chance," Desmoulin says.
More youth are now setting goals for the future. There have been 25 high school graduates in the 10 years since the community built its own schools. In the 25 years before that, there were seven.
"We still have all these youth who haven't touched drugs yet to possibly benefit from the activity that's coming," Desmoulin says.
"So I see a lot of hope. I see a lot of promise for the ones that are behind this generation."
Next Week — Part 2 of Staking Claim: Resource Companies Dig For Big Profits Under Native Land
Like this article? Follow our Facebook page

Or follow us on Twitter