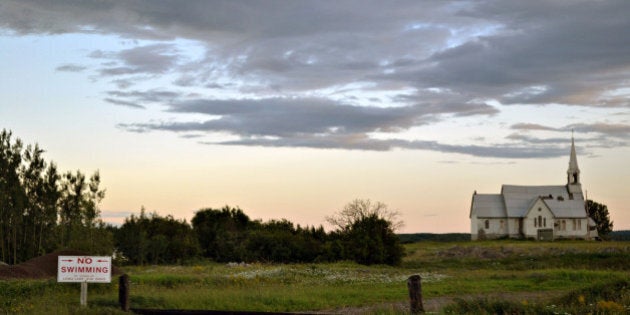 The largest player in the efforts to develop large-scale mining in Ontario's Ring of Fire is signalling that it is looking to unload its $3.3-billion project in the region.
Cliffs Natural Resources said Thursday that it sent a letter to the Marten Falls First Nation to alert the band that it is exploring "strategic alternatives," which could include a sale of its stalled Black Thor chromite project. The U.S. mining giant has been struggling with debt amid low commodity prices in recent years.
Marten Falls is one of nine First Nations that will be most affected by development in the 5,000 square kilometre crescent believed to contain $50 billion worth of mineral deposits.
"We should expect there will be a change, with a sale of the project one of the potential outcomes," Cliffs executive Bill Boor said in the letter, The Globe and Mail reported.
Cliffs spokeswoman Patricia Persico said the letter was sent only to the Marten Falls First Nation to update them on the company's situation, as it directs resources to focus on its iron ore business.
"Marten Falls First Nation is an important stakeholder to Cliffs and this business update is part of our normal course of business with them," she told Huffington Post Canada.
KWG Resources, which already has a chromite project in the area, said Thursday that it is in talks with Cliffs to acquire the stalled Black Thor project and is looking into how to finance a deal.
The Matawa Tribal Council, a group representing nine First Nations in the region, said it had not received an official letter from Cliffs. But rumours of a potential sale had been circulating, and that another junior miner active in the area, Noront Resources, might also be interested in taking over the project.
Noront would not comment directly on the Cliffs project, but signalled it could be interested.
"Noront believes in the potential of the Ring of Fire, and would be interested in acquiring the Cliffs assets at right price," said its president and CEO Al Coutts.
The province, federal government and project stakeholders have wrestled in recent years over who will pay for needed infrastructure to kickstart mining. The construction of roads needed to access the region has been a key sticking point. Rail and hovercraft have even been proposed as a way to ship cargo in and out of the remote swampy lowlands.
The Ring of Fire became a hot topic during the Ontario election campaign this spring with opposition parties pointing fingers at the leading Liberal party for dragging its heels. Since the election, the province has announced an economic development corporation intended to bring stakeholders together to make decisions.
The provincial NDP took Thursday's news as an opportunity to critique the Liberals for dragging their feet on decisions related to the development, declaring it "official that the much heralded Ring of Fire development is in deep trouble."