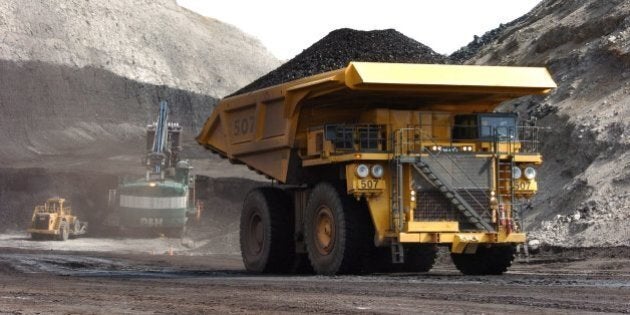 Ontario's Ring of Fire region could devolve into the "wild west" of resource development, if the province doesn't immediately make environmental risks a priority, warns the government's environment watchdog.
"We really only have one chance to get things right in the far north," Environmental Commissioner Gord Miller said in a speech Thursday after presenting his annual report.
"We're talking about a really remote facility, but a huge economic opportunity for the province of Ontario."
Miller skewered the government for its lack of formal environmental monitoring in the far north, despite burgeoning mining activity in the Ring of Fire, which is said to contain as much as $50 billion in resource wealth.
The Environmental Commissioner of Ontario's report makes two recommendations concerning the region. He calls on the government to conduct immediate and thorough environmental monitoring and to expand the scope of its environmental reviews to include the cumulative impact of a new mining frontier in an untouched region of Canada.
The 5,000 square kilometre crescent-shaped development about 500 kilometres north of Thunder Bay, Ont., contains lucrative stores of gold, copper, nickel, zinc and chromite.
It is in the heart of the largest block of undisturbed boreal forest in the world, home to at-risk species including caribou, wolverine and bald eagles. Its peatlands are large carbon stores, helpful in the fight against climate change.
The far north also comprises the traditional territories of some 38 First Nations communities, including the nine Matawa First Nations communities, which will be most impacted by Ring of Fire activity and which are in negotiations with the provincial government over its development.
Miller said the province lacks a clear environmental plan and has not done enough to study and analyze the effects of development on the land, wildlife and the First Nations who rely on them.
"Where should we put development and where shouldn't we put development? We don't know. Is there anybody looking? No.
"Who's looking at the cumulative effects in the watershed? Who's looking at the broader impacts? Nobody."
The province must act now because opportunities and pressures for development in the Ring of Fire and across Ontario's far north will only increase in the years ahead, he said.
"The planning decisions that the Ontario government makes right now will not only significantly affect how the region functions economically, but will also shape the future state of this globally significant ecosystem."
Story continues below slideshow
The Commissioner said it is important to collect as much environmental data as possible now, before mining begins, to compile accurate baseline information because the impact of human activity will be difficult to discern without many years of data in the heretofore unstudied region.
An accurate starting point is critical for governments and companies to properly predict and mitigate potential environmental impacts, as well as for the enforcement of environmental laws, the report said.
Miller recommended the province make an immediate statutory commitment to long-term environmental monitoring in the far north, including the Ring of Fire. He added that it is essential that First Nations communities are actively involved and that aboriginal traditional knowledge is incorporated.
"Ontario is squandering the opportunity to base future decisions on the best attainable knowledge by not immediately undertaking a comprehensive program of environmental monitoring," he wrote in the report.
"The government is also thwarting any possibility for the public and future generations to understand whether development decisions in the Ring of Fire and the far north succeed in minimizing environmental effects."
The cost of such monitoring, the report said, is likely much lower than the social, environmental and monetary costs of trying to fix problems after they have already occurred. The Commissioner recognizes that investment in monitoring might be a tough sell in the current economic climate, adding that the government should explore asking industry to help out.
"It would actually make things better for business and cheaper for business as well as satisfy the concerns of First Nations," Miller said.
Miller's report also criticized changes in last year's budget that give Queen's Park power to dole out natural resources and Crown land — which comprises nearly 90 per cent of the province — to industry.
"We're talking about handing over this land to third parties over which we have no control, so there's profound change at the highest level," he said.
There are 21 companies active in the Ring of Fire region, but only two have reached the environmental assessment stage. Toronto-based Noront Resources Inc. plans to file an assessment by the end of this year, while Cliffs Natural Resources has put its on hold after hitting a number of roadblocks.
Miller also recommended a regional environmental assessment which would take into consideration the effect of all of the development projects in the region. His report also said the government's current approach to the environmental assessment process, which reviews projects individually, is "grossly inadequate in this sensitive, undeveloped and globally significant region."
"Without such a robust and interconnected approvals process, the government has unnecessarily created uncertainty about its role with respect to both conservation and development; that is both bad for the environment and bad for business," he wrote in the report.
First Nations groups and environmentalists have also called the project-by-project approach haphazard and inadequate.
The Ontario Nature and Wildlands League applauded Miller's report Thursday, saying he was right to lambast the government's hands-off approach.
"I hope the two recommendations the ECO put forward are the way to solve this," said Anna Baggio, the group's director of conservation planning.
The Ontario government, however, said it believes its current environmental assessment process is thorough enough.
"Realizing the full potential of the Ring of Fire region is an extremely complex undertaking. It's one that our government takes very seriously, we need to get it right the first time," said Michael Gravelle, Minister of Northern Development and Mines.
He added that negotiations with the Matawa First Nations will address environmental protection and monitoring, along with regional infrastructure planning and development, resource revenue sharing and social and economic support. Negotiations between former Liberal MP Bob Rae, Matawa's chief negotiator and former Supreme Court Justice Frank Iacobucci, representing the province, are expected to last at least a year.
Matawa First Nations recently dropped a court challenge calling for a federal judicial review and a more intensive environmental assessment process.
"It signals a level of confidence not just in the work of Mr. Rae and Mr. Iacobucci, but also in Ontario's approach to the Ring of Fire development," Gravelle said.
Matawa chiefs are still not happy with the environmental assessment process, which they say does not properly consult First Nations, doesn't consider the cumulative impacts of more than one mine and isn't long enough.
But they said they would rather reach a solution through negotiation — now that a process is in place — rather than through litigation.
Environmental monitoring and a more comprehensive environmental assessment process are priorities for Matawa, said its CEO David Paul Achneepineskum.
"Certainly the recommendation given in this report is something that the Matawa chiefs have been saying all along."
Matawa wants the people of its nine communities to be directly involved in environmental monitoring. It is in the early stages of setting up its own program but will be looking for funding in the talks with the Ontario government.
"It's something that has to be done before any development occurs," he said.
"Not diving right in before considering what the environmental issues are going to be."
Read more about the Ring of Fire in HuffPost Canada's series Staking Claim, exploring mining development in Ontario and how the First Nations communities are preparing for economic activity and the environmental and societal consequences of Canada's next resource rush.
Like this article? Follow our Facebook page

Or follow us on Twitter