The Justice Centre for Constitutional Freedom's 2013 Campus Freedom Index highlights a disturbing trend that has been observed for many years: Canada's universities and student unions are abysmally poor at promoting free speech and expression on campus.
The index looks at the policies and practices of universities and student unions across Canada to determine their affinity for free speech, which, unfortunately, continues to be incredibly low. The grading criteria are straightforward:
•Is there a clear and unequivocal commitment to free speech?
•Is the university's anti-discrimination policy used to censor unpopular, controversial, or politically incorrect speech?
•Are security fees used as an indirect method to stifle free speech?
•Does the anti-distruption policy make it clear that the university will not condone students blocking, obstructing, suppressing, or interrupting other students sharing ideas with which they disagree?
For an 'A' grade, the university must demonstrate that its practices are to unequivocally:
•Permit the expression of unpopular speech on campus
•Reject demands to cancel events or otherwise suppress speech
•Provide adequate security to ensure that people do not engage in blocking, obstructing, suppressing, or interrupting other students sharing ideas with which they disagree
•Speak out in cases where the campus' student union has restricted free speech or discriminated against campus clubs on the basis of their opinions
•Is there a stated commitment to free speech on campus?
•Do written policies expressly protect diversity of opinion and prevent the student union executive from discriminating against a club on the basis of its beliefs, opinions, or philosophy?
•Do student elections rules state elections officers cannot censor speech during elections or referenda?
•Do policies restrict the student union's advocacy on issues related to post-secondary education, without adopting or promoting formal positions in respect of provincial, federal, or international issues?
For an 'A' grade, the student union must demonstrate that its practices are to unequivocally:
•Support freedom of expression for unpopular opinions and beliefs by rejecting demands to cancel events and by speaking out against university actions that suppress free speech
•Not discriminate against a campus club's certification, funding, or allocation of resources based on that club's beliefs, opinions, or philosophy.
Following standard letter grades, the 2013 index awarded a total of six As, 19 Bs, 80Cs, 43 Ds, and 32 Fs among Canada's 45 public universities. No university received an 'A' for both their university's administration and student union.
Of Ontario's 23 universities, the best was Ryerson University in Toronto, ranked as one of Canada's top universities with a 'B' average for its university and a 'D' and an 'F' for its student union. Carleton University and uOttawa, both in Ottawa, were not only the worst universities in Ontario, but across Canada. That's unacceptable for the universities here in our Nation's Capital.
The state of Ontario's universities
Both Carleton and uOttawa earned a 'D' for their free speech policies. Carleton University bans "name-calling" and "derogatory remarks" and classifies both as discrimination and harassment. Carleton University also earned an 'F' for denying equal access to resources and facilities to campus clubs that have a controversial political philosophy: in 2010 they had four students from the pro-life campus club Carleton Lifeline arrested for trespassing when they set up a graphic display in a public place.
To its credit, both Carleton University and the student union defended free speech when it allowed a free speech wall on campus. However, the wall was quickly torn down by 7th year undergraduate student Arun Smith, who proudly bragged on social media about his deed and taunted the university administration to do something about it. Smith said "not every opinion is valid," even though the wall had a variety of opinions, none of which stood out as being overly offensive or warranting Smith's personal decision to silence free speech. The university confirmed it had "sanctioned" Smith, but would not say what those sanctions are.
Meanwhile, the University of Ottawa gives itself the sole authority in determining security fees, and charges these costs to the event host. It is no surprise that many campus clubs and organizations, with small budgets and limited fundraising ability, cannot afford outrageous security fees, with thus become an indirect way of controlling and limiting free speech. Large crowds of fans and detractors gathered when Ezra Levant and the International Free Press Society organized for Ann Coulter to give a speech on campus, to the point where campus security and Ottawa Police said they could not guarantee her safety. This also came after Police became aware of people organizing through Facebook to bring weapons in order to assault Coulter. The university also sent a letter to Coulter warning her to "watch her words."
In 2009, uOttawa also banned posters promoting the Israeli Apartheid Week, citing a lack of the ability "for all members of the community [to] play a part in a declaration of human rights." This follows a similar trend where the university's "Protection Services" must approve all materials before they can be distributed on campus.
On the bright side, Ontario's best university earned an 'A' for its refusal to ban lawyer and Black Panther Party Leader Malik Zulu Shabazz from campus.
Taken together, Ontario's university administrations are in a sad state of affairs when they cannot guarantee that individuals patronizing their universities can be guaranteed the right to free expression. What happened to university being the place where challenging, provocative ideas were encouraged?
The state of Ontario's student unions
Student unions, the supposed representatives for students on campus, have not been any better in promoting free speech. Ryerson University, Queen's University's Alma Mater Society, and the York Federation of Students are all failing student unions that received poor grades for limiting free speech.
Ryerson's Student Union refused to certify a men's issues group because they affiliated with A Voice for Men and the Canadian Association for Equality, which the student union deemed "hate groups." York's student union, also in Toronto, received an 'F' for cancelling an abortion debate just hours before it was set to begin, stating "abortion is not an issue to debate."
York University's student union gives enormous influence to its chief elections official during election season: the Chief Returning Officer has unlimited authority to limit a candidates' speaking engagements, locations of campaigning, number of pamphlets and posters he or she can hand out, and can self-define the necessity to limit free speech on the grounds of "offence," "hurt," or being "out of bounds."
Carleton University's student association (CUSA) refused to recognize the campus organization Carleton Lifeline, citing the campus discrimination policy, and thus barring Lifeline from access to campus resources or funding like official campus organizations. CUSA has also used this policy to ban "hateful" groups like the American think tank The Heritage Foundation.
(CUSA also disqualified their President-elect in 2010, after he was elected, on unconfirmed accusations by a single person.)
But there is some light at the end of this report, particularly as it applies to Carleton's student union. In December 2012, the union council introduced a motion to amend the discrimination policy, specifically removing a list of banned organizations and allowing for a looser definition of groups whose "clear mandate and purpose is to perpetuate hate or discrimination" rather than any group that could hurt someone's feelings or present thought-provoking ideas. In fact, the council's preamble cited the 2012 Campus Freedom Index as the reason necessitating the change. By January 2013, Lifeline was ratified as a campus club.
CUSA's progression from one of the worst student unions in Canada to one of the best is to be commended. To be clear, there is much work to be done, with a 'C' and an 'A' still being far from acceptable grades, but their progress is promising.
In 2008, CUSA gained international infamy when its council decided to stop fundraising for cystic fibrosis on the grounds it only affected white males. Luckily, it seems most of the bigots, fanatics, and outrageous optimists have moved on from Carleton's campus politics, leaving some of the more rational and level-headed students to make decisions.
Their progression in a few short years is commendable, and more universities and student unions should strive to do so well so quickly. But what this report highlights is that Ontario's universities and student unions are still very, very poor at ensuring even the most basic of human rights: free expression.
2013 Campus Freedom Index at a Glance
Best Universities in Canada:
Memorial University of Newfoundland - B
Simon Fraser University - B
University of British Columbia - B
Worst Universities in Canada:
Best Student Unions in Canada:
Carleton University Students' Association - B
University of King's College Students' Union - B
Worst Student Unions in Canada:
Lakehead University Students' Union - F
University of Victoria's Society - F
York Federation of Students - F
Brandon University Students' Union*
Students Society of McGill University*
Memorial University of Newfoundland Students' Union*
Queen's University's Alma Mater Society*
University of Calgary Students' Union*
University of Manitoba Students' Union*
Best provinces for free speech:
Worst provinces for free speech:
Percentage of failures by province:
Prince Edward Island: 100%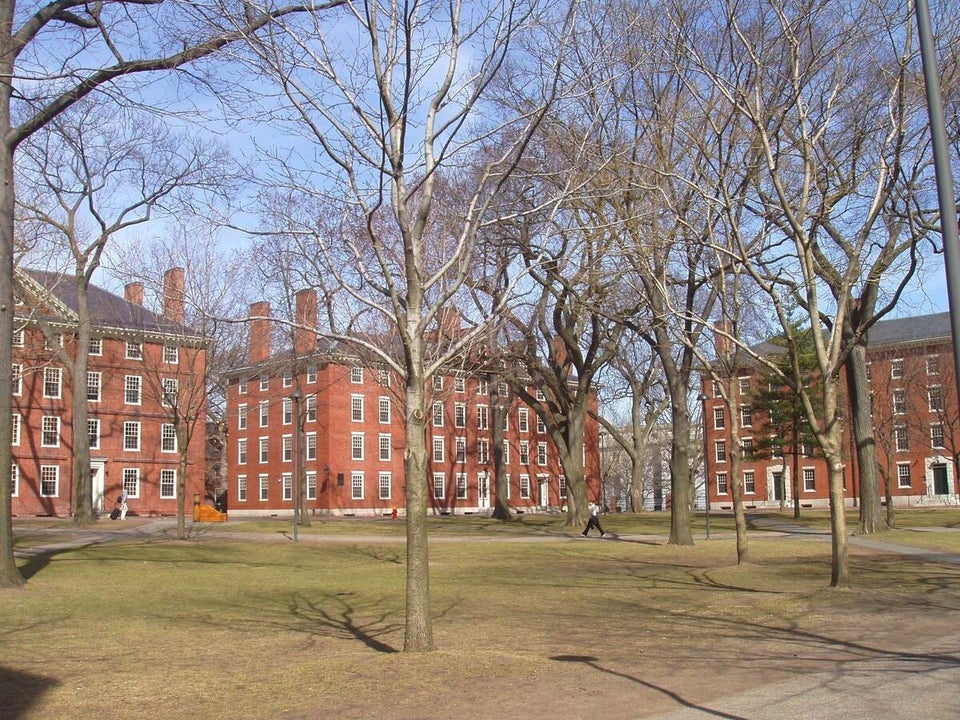 Top Universities in the World
Popular in the Community