"Beauty and the Beast" is a classic tale about learning to love someone beyond their appearances. But while Disney's animated version is full of singing, dancing and positivity, it's interesting to note that the original fairy tale is far more depressing.
Because of this, there are some key differences between the original tale and Disney's version. Here we round up the top four.
In Villeneuve's story, Belle asks her merchant father to bring her back a rose from his business trip. On his way home, her father gets lost and accidentally stumbles upon Beast's castle. While there, he indulges in the hospitality presented to him, and as he leaves he stops to pick a rose for Belle from the palace gardens. Unfortunately, he is soon stopped by Beast who only agrees to spare his life if he offers one of his daughters to take his place.
Filled with guilt for asking for a rose, Belle volunteers, and thus begins her life in captivity.
Gaston and his sidekick LeFou are one of Disney's most memorable villainous pairs. Not only do we love to hate these characters, but they are so ridiculously self-involved that we can't help but laugh at them. Despite this, the two villains are a unique invention of Disney and do not crop up in the original story.
Instead, it's Belle's two sisters who are the true villains. Throughout the fairy tale, the siblings are materialistic and extremely envious of Belle – not just of her beauty, but of her careless attitude towards peasant life after their father loses their wealth.
When Belle takes her father's place at Beast's castle, the two couldn't be happier. Additionally, when Belle is later allowed to visit her home for a few days, her evil sisters make every attempt to make her stay a day later to get her into trouble, and even resort to putting onions in their eyes to make them look like they're crying.
Due to their shenanigans, Beast almost dies from starvation because he would not eat while Belle was gone.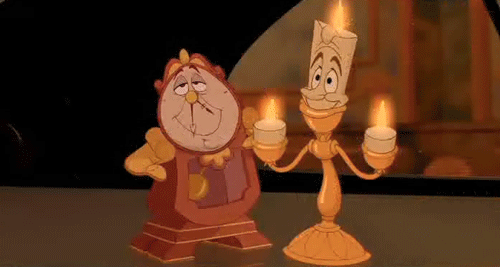 One of the most charming elements of Disney's "Beauty and the Beast" is the enchanted furniture and inanimate objects. Without Lumiere, Cogsworth, Mrs. Potts and all the others, the story becomes utterly depressing, as Belle would be completely isolated from the outside world.
Sadly, this is what happens in the original story. According to The Sun UK, many believe Belle's isolation here is a symbol for 18th century women stuck in their marriages. (What a bummer).
The reason Belle has no friends during her imprisonment is because the people of the palace have all been cursed as well and turned into statues. As a result, Belle's only companions are birds and monkeys, according to The Hollywood Reporter.
Disney's lovely montage of Belle and Beast falling in love makes it seem like their affections developed overnight. During their time together, Belle teaches Beast to read and to have good manners and in return, he gives her a library and treats her as his guest. Unfortunately, their love story doesn't go quite as smoothly in the original.
In Villeneuve's version, she kept things realistic. Eager to break the spell, Beast asks Belle to marry him every night, and every night she says no.
Later, in his true form, the prince appears to Belle in a dream. There he hints that he is the Beast. When she asks how they can be together, he says, "Judge not by thine eyes, and, above all, abandon me not, but release me from the terrible torment which I endure."
Villeneuve's La Belle et La Bête isn't the only written version of "Beauty and the Beast." French author Jeanne-Marie Leprince de Beaumont also wrote her own variation. While there are some slight differences from the original, the basic premise is the same.
Now that Disney is releasing a live-action version, the classic tale has changed once again, this time with more modern elements. Not only does the new film include an LGBTQ character, but Belle's character was given a backstory which makes her the inventor rather than her father.