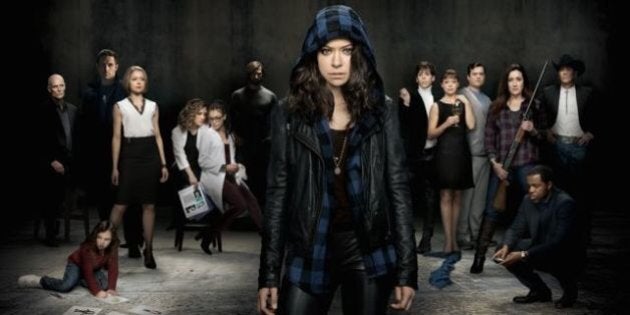 In journalism school, every aspiring writer is given some "must-read" articles, including the iconic Frank Sinatra profile written by Gay Talese. Usually with profiles, you do an in-depth report on the subject, interviewing him multiple times, and then those around him for colour. In Talese's piece, the beauty is you get a fully painted picture of Sinatra without the writer ever actually talking to Sinatra directly.
This is precisely what happened to me on a very windy, sub-zero degree February day in Toronto when I visited the set of "Orphan Black." Lead actress and crux of the series Tatiana Maslany was sick—quite sick, actually— so my scheduled interview with her was nixed. In lieu of time with her (don't worry, I have a full-length video interview with her embedded below) I interviewed everybody around her, from the two showrunners Graeme Manson and John Fawcett to Michael Mando (the helpless Vic) and Kristian Bruun (Alison's husband-monitor Donnie). Of course I'm not putting this piece on par with Talese's masterwork, but you get the idea: "Orphan Black" is an organism, with Maslany as its nucleus. Around her orbits the rest of the cast, the crew and the creators, all entirely dependent on one another. This symbiotic relationship is on display in the finished product, and is one of the reasons it's impossible not to fall in love with this show.
"Orphan Black" Season 2, with 10 episodes in all, is shaping up to be an even bigger beast than the ridiculously successful Season 1. There will be new characters, new twists, and a finale that will apparently make our heads explode. We've been teased with many trailers thus far, and anticipation is at an all-time high. Here's everything I could find out about the upcoming Season 2, which premieres on Saturday, April 19 on Space in Canada and BBC America in the U.S.
Nearly every actor working on a movie or TV show set will say that their castmates and crew are "like family." I've heard it practically every time I visit a set, but I've never really believed it until I walked onto the "Orphan Black" set in Toronto. The camaraderie is evident everywhere you look: smiles, laughing, circles of conversation, inside jokes, people sharing iPhone photos. When Maslany walks on set (sniffling, eyes glassy from her flu) dressed as Alison in her matching pink sweatsuit, she melds into the crew, just one among dozens. She smiles and waves to multiple people, but then it's headphones on and into character.
"When we worked on the show in Season 1, we knew we had something special," says Bruun, who comes and goes from the interview to shoot a Donnie/Alison scene. "When you sit back and you watch Tat work, everybody around the monitors and the crew is blown away. The crew tears up at some of her scenes. I get goosebumps just thinking about it; when I first stepped on set for Season 2, I was in early that day and I was checking out what was going on, and it was a scene between Sarah and Kira … there have been moments where everybody is crying around the monitor after seeing what Tatiana can pull out. Usually people are too tired to care about that. You never see [that kind of reaction] in this business."
"It's one of those shows where I feel like if any of us win, we all win," says Mando as we chat in his trailer. "When Tat was at the Golden Globes, we all felt like we were at the Golden Globes, too. We sat around the TV, cheering for her. We all want to make it shine, and you feel it on set."
Article Continues After Slideshow!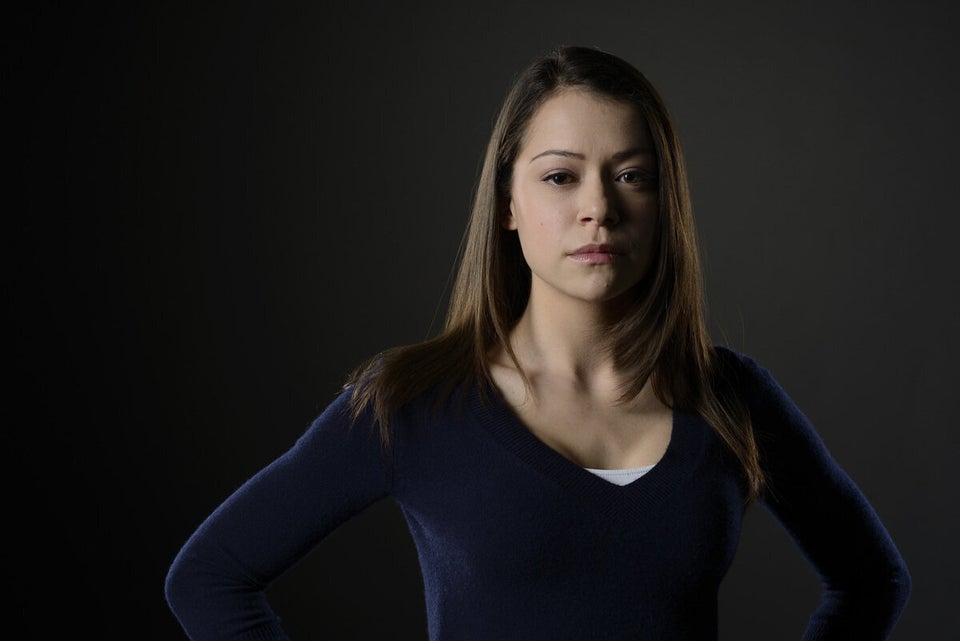 "Orphan Black"
Everybody gushes about Maslany, deservedly. Famously modest, the actress behaves as if her extraordinary feat—playing multiple clones including Beth, Sarah, Cosima, Helena, Alison and Rachel— is nothing special. But it is. Think about it for a moment: sometimes she plays one clone who's impersonating another clone, so she has to act like one character pretending to be someone else, with the suppressed accent and everything. It's enough to make your head spin.
"There's a scene in Season 1 where I see Alison in the parking lot, but I think it's Sarah," says Mando. "The next day we shot the scene where Vic confronts Sarah, thinking she was the one who maced him. The relationships I have with Alison and Sarah are not the same. I like one of them more than the other. Some of the other clones, I just don't like. I don't like being around them. Just to know that's the same actress, that she can disconnect the two and give them both histories and personalities, is incredible."
Bruun agrees: "I wish you could be on-set [for the clone scenes] to see how difficult it is— for everybody— but especially Tatiana. It's the hardest thing to act that I've ever seen. It's incredible. It takes 12 to14 hours to shoot a multi-clone scene. And that's just with two. Imagine it when it's three or more? She has to maintain a clone and then, at the same time, split herself in two in her brain, and know exactly what that other clone is doing, even though she hasn't acted that part out yet."
Maslany is so crucial to "Orphan Black" that showrunners Manson and Fawcett fully consider her an equal in its production. "Tatiana is our other partner in this," says Fawcett. "It's the three of us. We work closely."
Luckily they all get along, too, and have similar tastes. "One thing we found out early on in our relationship is John and I find the same things funny," says Manson. "We have the same dark sense of humour. We find the same shit funny. Tat does too. She likes it weird, she likes it layered."
One of the coolest things I learned on set is that there's a real-life inspiration for the Cosima character. Her name is Cosima Herter ("the jewelry is the same, the tattoos are the same" says the unit publicist), and she's the science consultant for the show. Herter is a PhD student at the University of Minnesota, working on the history and philosophy of biology. She comes to the "Orphan Black" set three to five times a season to make sure the show maintains an accurate scientific stance.
"She reads everything and watches everything," says Manson. "She comes in and helps us with the big picture, and she'll say: 'This is why it's interesting scientifically, this is why it's interesting socially and legally,' and she lets us know about the ramifications of cloning. Those are always super-exciting times for us, because we get juiced up by the concepts."
Manson and Fawcett have given her another huge task, besides the gigantic responsibility of policing accuracy.
"Cosima [Herter] is in charge of naming all our episodes," says Fawcett. "She knows all the science, but she also knows that we like to push into the sci-fi areas. She's good at 'Here's the science, and here's something you could potentially do'."
There are at least five new characters this season, though I imagine there may be more. The first is Cal (Michiel Huisman), who looks to be a new love interest for Sarah. To be introduced in Season 2, Episode 3, Cal is an outdoorsman who saves Sarah at a certain point. That's all I'll reveal here, lest I ruin the whole plotline.
Peter Outerbridge ("Nikita") will be starring as a Pastor Henrik "Hank" Johanssen, who's the charismatic leader of the Prolethians (a.k.a. the bad guys). One of his minions is Mark (Ali Millen), who will do anything to destroy the clones. One guest star that I'm particularly excited about is the addition of Michelle Forbes ("Battlestar Galactica," "The Killing") as Marian Bowles, a power player at the Dyad Institute, who has her hands, eyes, and ears on everything going on.
Lastly, of course, we have a new clone being introduced in Season 2. Her name is Jennifer Fitzsimmons, and she's confined to a hospital bed due to her respiratory illness (the one that's causing Cosima to cough up blood). Cosima discovers her online videos while researching her sickness, and finds out that Jennifer is somehow connected to Dr. Leekie. This should be interesting.
It's Getting Complex In Here
After all my conversations on the "Orphan Black" set, it seems like Season 1 was just a warm-up for what's to come.
"The Season 2 premiere is a rocket launcher," laughs Manson. "We sort of drove the whole bus off of a cliff at the end of Season 1, but we knew where we were going. There are a lot of strands to pick up in Season 2. We've gotten a bit weirder this year. We've gotten bigger, definitely in terms of our action … we're not as limited to our gritty first season feel. We open the show a little bit that way. We keep the twists, keep the pace."
"Not only our action, but our world," agrees Fawcett. "Our world grew big-time. Especially in the first six episodes, they have a much bigger scale than they did in Season 1. We spend time this season in a lot of different environments. Of course it wouldn't be "Orphan Black" if we weren't making a lot of significant character discoveries along the way. There are a few … twisty turns. [Laughs] I'm excited about this season because I think we've made something that is very satisfying, that again the audience is not going to know where we're taking them. As long as we don't f**k up and tell someone, I don't see how people are going to see what's coming. We've got a really killer Season 2."
Don't Worry, There's A Plan
Sci-fi TV fans know that this particular genre can be deadly; because science is inherently complex and the world of fantasy can be essentially limitless, boundaries must be set or the show can spiral into chaos. There has to be a plan. Manson and Fawcett are gigantic "Battlestar Galactica" fans, and the popular consensus is that show wrote itself into a corner and didn't know where to go, which is illustrated by the clunky, nonsensical series finale (and most of the final season). After discussing "BSG"s fate, the two showrunners assure me they have a rough blueprint as they venture into the great TV unknown. In their office, there are little pieces of paper tacked everywhere, with notes, diagrams and Post-Its randomly placed here and there.
"In Season 2, [keeping the mythology straight] has definitely become more difficult," says Fawcett. "The world's growing, and the mystery is growing. It's been trickier this year. [Currently], we have a broad three-season arc, but the question is if we go beyond that, do we push the end that we had foreseen, or do we reboot in some way?"
Manson's add-on comment is very reassuring: "We've always said that the mythology can't get so complex that it swallows the whole show. You have to be able to turn on the TV and know exactly what's going on, and if you don't, then you can at least have a good time watching it and not be so lost that all the discoveries are esoteric. What you leave out is as important as what you're putting in."
"Orphan Black" Season 2 premieres on Space in Canada and on BBC America in the U.S. at 9 p.m. ET on Saturday, April 19.