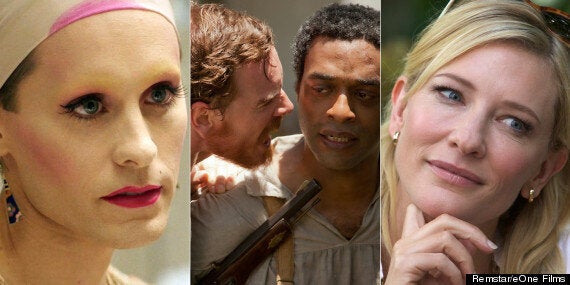 For the 2014 Oscars, there are the obvious winners (Jared Leto for "Dallas Buyers Club") and the not-so-obvious categories (will it be Leonardo DiCaprio getting his long-overdue Best Actor Oscar? Or will McConaughey take it, just like he did at the Globes?). Any way you slice it, the Oscars are going to be like a longer, denser Golden Globes ceremony. Here are my picks for winners in the major categories, with a brief explanation as to why.
** DISCLAIMER: Don't email me with your rage if you lose your office pool because of me. Feel free, however, to disparage me on Twitter if you must.**
"American Hustle"
"Captain Phillips"
"Dallas Buyers Club"
"Gravity"
"Her"
"Nebraska"
"Philomena"
Pick: "12 Years A Slave"
"The Wolf of Wall Street"
Why: There are a lot of great movies in this bunch, with "Her" being my favourite of the year and "Dallas Buyers Club" breaking my heart. I also fully enjoyed the vice-laden trip of "Wolf Of Wall Street" and the suspense of "Captain Phillips," but none of these films will beat out "12 Years A Slave." "12 Years" is heart-wrenching, and at times unbearable to watch. It is truth, it is history, and this is a year of volatile race relations in the United States -- there isn't a better time to honour a film that so directly addresses the ugly reality of slavery. The Academy loves to be "relevant," too, and that'll weigh into their decision for Best Picture.
Christian Bale, "American Hustle"
Bruce Dern, "Nebraska"
Leonardo DiCaprio, "The Wolf of Wall Street"
Chiwetel Ejiofor, "12 Years A Slave"
Pick: Matthew McConaughey, "Dallas Buyers Club"
Why: This race is the closest, but I think McConaughey is going to take it. It's been his year, with performances (thankfully) deviating from the rom-coms and cheesy dramas. He's taking serious roles and showing us all that he can play someone other than David Wooderson from "Dazed And Confused." Ejiofor and DiCaprio are runners-up in this race, and I would gladly accept the former as victor here -- he is absolutely electric in "12 Years A Slave." DiCaprio, if he won, would be winning for the wrong role; while his turn in "Wolf Of Wall Street" is charismatic and over-the-top, it doesn't have the same gravitas as Ejiofor or McConaughey.
Amy Adams, "American Hustle"
Pick: Cate Blanchett, "Blue Jasmine"
Sandra Bullock, "Gravity"
Judi Dench, "Philomena"
Meryl Streep, "August: Osage County"
Why: Despite all the Woody Allen backlash at the moment, it's still Blanchett's to lose. Her performance is stellar, and even though the movie is relatively unknown, it's enough for her to win. Adams and Bullock each stand a minute chance, and they're both as mainstream as you can get. If the Academy wants to lean towards public favour, then one of these A-list ladies might take the Oscar.
Barkhad Abdi, "Captain Phillips"
Bradley Cooper, "American Hustle"
Michael Fassbender, "12 Years A Slave"
Jonah Hill, "The Wolf of Wall Street"
Pick: Jared Leto, "Dallas Buyers Club"
Why: Anyone other than Leto would be a shock. His performance is deserving, and his long absence from acting has only helped his cause. There have been some last-minute rumblings for Hill to win, but again, it would be a surprise.
Sally Hawkins, "Blue Jasmine"
Pick: Jennifer Lawrence, "American Hustle"
Lupita Nyong'o, "12 Years A Slave"
Julia Roberts, "August: Osage County"
June Squibb, "Nebraska"
Why: Just as I argued with my Globes predictions, Jennifer Lawrence is pretty much a lock. The only way she'll lose is if the popular current has fully swayed over to Lupita Nyong'o (which it may very well have). We all know this isn't necessarily about the best performance, but more who's dominating pop culture at the moment. Squibb is a dark horse, but methinks she's too under the radar (for now) to win.
David O. Russell, "American Hustle"
Pick: Alfonso Cuaron, "Gravity"
Alexander Payne, "Nebraska"
Steve McQueen, "12 Years A Slave"
Martin Scorsese, "The Wolf Of Wall Street"
Why: "Gravity" is what all action movies should aspire to be: a white-knuckled, intense film, with just enough levity to keep it -- pardon the term -- grounded. The balled-up napkin in my clenched fist at the end of the movie is testament to the suspense generated on-screen. Cuaron also has an amazing back-story that makes him all the more deserving. You can forget Russell or Payne taking home the prize, and McQueen is a long shot. Scorsese winning isn't a huge stretch, since we know how much the Academy likes its older veteran directors, but the "Wolf Of Wall Street" subject matter might hurt it.
"The Croods"
"Despicable Me 2"
"Ernest & Celestine"
Pick: "Frozen"
"The Wind Rises"
Why: I can't see any other animated movie taking this from "Frozen." Disney really hit the jackpot with this movie, which has been getting rave reviews from nearly every critic. Everything from the music to the plot to the characters is fun, so expect "Frozen" to take it home.
Best Foreign Language Film
"The Broken Circle Breakdown" (Belgium)
Pick: "The Great Beauty" (Italy)
"The Hunt" (Denmark)
"The Missing Picture" (Cambodia)
"Omar" (Palestine)
Why: This is based strictly on momentum, and at this point, Golden Globe winner "The Great Beauty" -- a tale of Italian decadence -- is the front-runner. As of late, "The Broken Circle Breakdown" has been garnering more attention, so it stands an outside chance, and "The Hunt" was released very early in the year and that might hurt its chances.
"American Hustle," written by Eric Warren Singer and David O. Russell
"Blue Jasmine," written by Woody Allen
"Dallas Buyers Club," written by Craig Borten and Melisa Wallack
Pick: "Her," written by Spike Jonze
"Nebraska," written by Bob Nelson
Why: This is probably the one category where my personal bias is leaking in. "Her" is an absolutely spectacular film, and since there's only this one opportunity to reward Jonze's amazing script and not-too-far-fetched concept, he has to win it. The only thing(s) stopping him are the "old white guy" effect: "Her" might be too "out there" for a mainstream audience. If that's the case, expect "American Hustle" to win this, even though the story is about as deep as a wading pool.
I hope I wasn't too wrong -- enjoy the ceremony, folks!