That's right: instead of conforming to the "best and worst" dressed formula, we're going to take a look back at the award show's most controversial outfits. Why? Because in retrospect, most were brave, unique, and interesting, and they deserve praise instead of condemnation.
So here's to originality over safe bets. These are 10 outfits we're happy to defend.
Story continues below slideshow: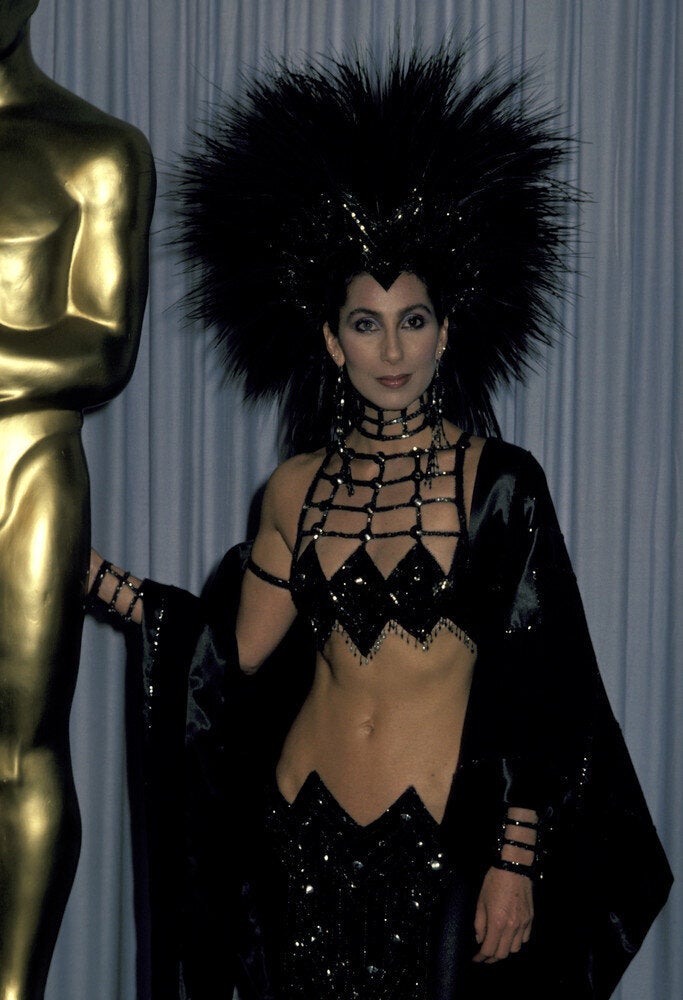 In Defence Of The Worst-Dressed Oscar Outfits
Well, first and foremost: if we had abs like Cher, we'd show them off when we won an Oscar, too. Second, what did everyone expect? The singer's Academy Awards debut in the '70s saw another two-piece style, but because it was in-step with the trends of the decade, she wasn't harped on it the way she was in 1986. Cher isn't a boring person, so her state of dress shouldn't be, either. After all, who else can pull off a Vegas-style feather headdress and balance it flawlessly?
2. Who: Hilary Swank, 2003
Movies give us permission to pretend for about two hours, and actors pretend for a living. So why wouldn't, on a night that celebrates pretending, Hilary Swank pretend to be a ballet dancer? (Or a princess. Whatever – it's her choice.) Exactly. Yet apparently there's no room for pretending at an award show that celebrates pretending. Even though we all pretended "Shakespeare In Love" deserved Best Picture.
3. Who: Lizzy Gardiner, 1995
If you're going to make a political and/or social statement, you might as well make one during a ceremony that broadcasts to millions of people around the world. Also, this is arguably a dress you'd find today at Forever 21 – or at least as part of an art installation that would be hailed as "brilliant."
4. Who: Uma Thurman, 2004
Was Uma Thurman's 2004 Academy Awards dress a little bit much? Absolutely. But a) that's never a bad thing, and b) the actress had just come off the "Kill Bill" extravaganza, so we can probably go ahead and excuse her for wanting to wear the exact opposite of what the film's costume department offered. Thurman is also tall, and can carry off copious amounts of fabric. And even if she couldn't, kudos for trying something critics didn't know how to handle.
You want 1989? You've got 1989. The stuff of "90210" dreams, Moore showed up wearing exactly what the late '80s and early '90s epitomized: spandex shorts, gold, sleeves, and an extravagant jacket to remind viewers that being a young actress is less about right/wrong fashion choices, and more about having fun for heaven's sake. And let's face it: she was probably more comfortable than anyone else thanks to wearing bottoms that allowed her to move.
6. Who: Kim Basinger, 1990
Frankly, Kim Basinger looks every bit the part of "Batman's" Vicki Vale in her one-sleeved floor-length number, and for that, we salute her. Besides, interpreting Tim Burton's infamous film aesthetic for the red carpet is genius: not only did she prove that she was the right actor for the part, her dress is still not forgotten 24 years later. (Team Basinger for life.)
7. Who: Kate Winslet, 1996
How dare a 20-year-old actress wear a pink gown to the Oscars (thought critics of Winslet's '96 red carpet choice)? Well frankly, how dare the Oscars be so conventional and boring? Frankly, considering she was 20, critics should be lucky Kate Winslet didn't show up in ripped jeans and belly tops like the rest of us would have. And even if she did do that, congratulations on the lack of pretentiousness that's defined your legacy and fashion choices, Rose Dewitt-Bukater.
8. Who: Celine Dion, 1999
Celine Dion wore pants on the red carpet and that was controversial. (Let's face it: the backwards-style jacket would've been totally fine had it been attached to a skirt. Case in point: Hilary Swank's backless gown she wore while winning the prize for "Million Dollar Baby.") But in retrospect, she merely predicted the trends for 15 years later: now, gentleman-inspired fashion and hats are everywhere. Then, she merely had the guts to try it before the industry said she could.
9. Who: Kate Hudson, 2001
It may have not been like the dresses we've seen on Kate Hudson in recent years, but the actress' 2001 Oscar choice was a terrific homage to her "Almost Famous" character, Penny Lane, as well as her mom Goldiw Hawn (who donned similarly risky pieces in the '60s and '70s). Thanks to the shimmer, fringe, and jacket, Hudson looked like a dressed-up version of a classic rock star, which made sense: only somebody with presence would wear a chandelier jacket so confidently.
Popular in the Community