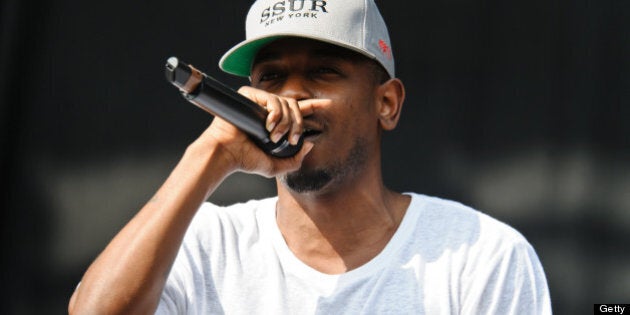 This past weekend, Montreal's Osheaga Festival continued its steady ascent from plucky young indie music gathering to one of the premier outdoor summer festivals in North America, and certainly on the East Coast. The three-day event was a complete sellout, with 135,000 well-tanned and tatted music fans taking la ligne jaune to Parc Jean-Drapeau to catch over 120 bands on five stages while munching on complimentary beef jerky. Not bad for a festival that's only eight years old.
It was the biggest Osheaga ever, but was it the best? Hard to argue, given the abundance of quality acts, representing pretty much every genre and era imaginable. Here's a taste of how Osheaga 2013 went down.
1. Kendrick Lamar's star-making set: as crisp and clean as his white t-shirt, the 26-year-old Compton rapper kept his stage setup to the basics. There was a DJ who doubled as the hypeman, and a thunderous low-end that spared no one among the throngs of dedicated acolytes. Lamar handled the verses without blemish, while the transfixed crowd took care of the hooks, and there was little in terms of overdubs or canned choruses. Lamar had a commanding presence, and was able to intently stare into a few people's souls near the front
2. The Cure played every hit: whenever you're dealing with experienced acts, one always hopes they're generous in terms of reaching into their back catalogue, and that they're still capable of playing those songs. Robert Smith's crinkly coif may be mostly grey at this point, but sonically, The Cure's two-plus hour performance sounded as though they'd been encased in 80's amber beforehand. Obviously Disintegration got its due, but how great was it to hear "The Caterpillar" or "One Hundred Years," exactly as you remember them?
3. K-os redeemed: There was a bit of an incident regarding the Canadian rapper. Originally set to play on Friday at 1:30 p.m., K-os came on late, said he couldn't hear himself and quit after one song, saying he "loved music too much" to play through the technical difficulties. After Miguel pulled out of Saturday's lineup, K-os got a chance to redeem himself, and play a better slot. This time, he brought his A-game, and what may have been a sceptical crowd at first were clearly won over by the end. All's well that end's well
4. Beck played a bunch of covers: Beck was the day two headliner, and while he likely disappointed a few fans by not playing anything from Midnight Vultures or Mutations, his set was highly entertaining nonetheless. His banter was nonsensical, he made references to R. Kelly's Trapped in the Closet, and he played a few covers as intros to his own songs, including: "Billie Jean," "Tainted Love" and "Everybody's Gotta Learn Sometime", from the Eternal Sunshine of the Spotless Mind soundtrack. Bonus Montreal note: Elephant Stone's Rishi Dhir played sitar during Beck's rendition of "Loser"
5. That Arcade Fire teaser: so before Beck's set, a mysterious symbol flashed on the screens next to the main stage. Turns out it was a teaser for the new Arcade Fire album, rumoured to be called Reflektor. Upon viewing it, there wasn't much to indicate that it was a preview for the Montreal band's new, James Murphy-produced album, set for release on Oct. 29. To see the symbol, check out www.thereflektors.com
Article continues after slideshow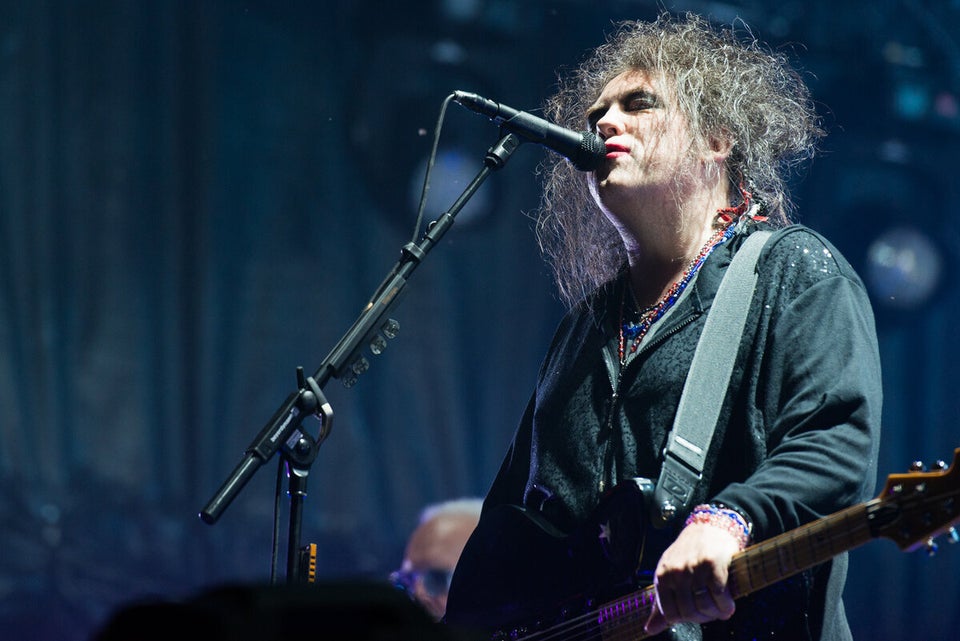 Osheaga 2013 Photos
6. Piknic Electronik stage was its own universe: for the past few years, there's been something of a festival within Osheaga in the form of the Piknic stage, devoted to electronic acts (Piknic Electronik is a weekly electronic music residency held during the summer at Parc Jean-Drapeau). Some of the bigger names who played there were: A Tribe Called Red, Disclosure, Baauer, Pretty Lights, Azari & III, Rudimental and Bonobo. Even if you went to Osheaga and never left the Piknic area - and there were certainly some sun-drenched patrons who went that route - you probably still got your money's worth
7. Tricky played a 20-minute version of Ace of Spades: The Cure were timeless, New Order dipped into the Joy Division songbook and Bob Mould was the talk of the fest for the fortysomething set. Trip-hop legend Tricky, though, did not turn back the clock as well as his peers. His backing band did most of the heavy lifting on his questionable opening number, a 20-minute cover of Motörhead's "Ace of Spades," a typically blunt song that felt bloated in Tricky's hands. Tricky invited a gaggle of fans to dance with him on stage, but it lasted way too long and killed the vibe
8. The worst cover of the festival was: The Lumineers taking on CCR's "Have You Ever Seen the Rain?" driving home the point that it had been raining earlier in the day
9. UK dance hits Montreal: all too often Montrealers have had to wait patiently for hyped UK acts to eventually hit our town, so to have a pair of young, acclaimed dance acts in Disclosure and Rudimental perform at the festival was a veritable treat for Montreal music lovers. Disclosure's set was an odd mix of programmed and live instrumentation, but the energy in the pit was electric throughout (and Jessie Ware made a cameo on "Confess to Me"). Rudimental had live vocalists, and a trumpet player to go along with their dubstep-R&B hybrid sound
10. Free stuff: there's a direct correlation between the quality of a festival and the abundance of free stuff. This year, patrons were treated to beef jerky, yogurt drink and banana popsicles. During Hot Chip's festive Sunday night set, shadowy figures were tossing glow sticks and Subway coupons into the crowd. Also, the wi-fi station was a nice touch