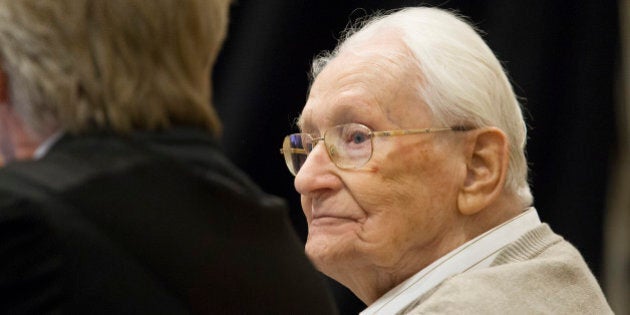 Recently, a court in Germany found Oskar Groening, nicknamed the Bookkeeper of Auschwitz, guilty of being an accessory to murder. He was convicted for his activities at this notorious concentration and death camp during the Second World War.
The trial, though, was not without its controversies. Of specific significance was the fact that Groening was only discovered to have been at Auschwitz and to have participated, to whatever extent that he did, in the activities at the camp, because of his subsequent open challenge of Holocaust denial. It was his own statements of self-incrimination in confronting those who wished to deny what occurred at Auschwitz, which led to his prosecution. To some, this was seen as enough reason not to try him. Yet, as the trial commenced, Groening still told the judges, "For me there's no question that I share moral guilt...but whether I am guilty under criminal law, you will have to decide."
One was not drafted into the SS, the branch of the Nazi armed forces that was assigned to Auschwitz. Such an individual had to demonstrate a commitment to Nazi principles -- and indeed Oskar Groening, upon his enlistment into the SS, was proud to be a member. He knew of the Nazi party's racist ideology and celebrated it as he participated in book burnings that the Nazis staged. While his later request to be transferred from Auschwitz (which was eventually granted) indicated that he did have personal difficulties witnessing much of what was happening at Auschwitz, he was still not fundamentally at odds with the Nazi principles. There was reason to find Oskar Groening guilty for his actions at Auschwitz.
Yet, life is complex and the person one is one moment may be very different than the person one is in a different moment. Does the person of one moment just disappear in the reality of the person in another moment? Oskar Groening -- the same Oskar Groening -- also deserves to be commended for standing up against those who would claim that the travesty of the Holocaust did not happen. His feelings and thoughts have changed over his lifetime. He now condemns Nazi ideology -- but this individual is still also the one who served in the Nazi process at Auschwitz. Can a part of a person be simply ignored? Justice would seem to demand that we see the whole human being. That, though, would often be problematic to see and perceive.
The noted Jewish philosopher and Talmudist of the previous century, Rabbi Joseph B. Soloveichik, noted that "sin and its punishment are born together."
"The very definition of sin is that it is an act that entails paying a penalty. If punishment exists, it is because sin does too," Soloveichik continued.
He concluded, however, that "[atonement] means forgiveness or withdrawal of claim. [Atonement] removes the need for punishment." The path to atonement, however, is not necessarily easy. It is the weight of these various ideas that confront us in this case.
There were Holocaust survivors who attended the trial who felt that, while it was proper for Groening to stand trial, at the same time, they also did not want him to actually serve his sentence. One survivor said that what would be best would be for Groening, rather than serving jail time, to perform community service continuing to tell people about the truth of what happened and challenging those who would deny the Holocaust [LINK]. This person maintained that, with consideration for his age, he should continue doing what he was already doing for, as a former SS member, he is in a unique position to further elucidate and confirm the truth. These perspectives make sense to me. There is within them a sense of the whole.
Life is about growth and in order to accept the value of growth, we must also accept and celebrate the necessity of forgiving. Growth demands that one must improve and to accept the value of improvement demands also the acceptance of the prior reality of weakness and even failure. We can only celebrate the values of growth and improvement if we can accept the prior weakness and calamity. Forgiveness, however, is not forgetting. The whole must still be recognized with all its complexity. Oskar Groening is one life, one whole life. He is to be commended for making his life one of growth. In fact, though, to truly mark this growth, his full whole life must still be seen and recognized.