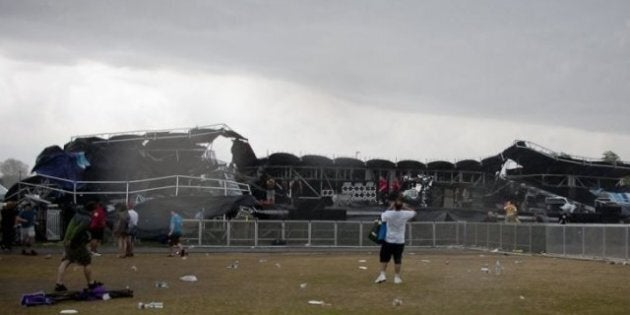 Investigators from the Ontario Ministry of Labour are currently looking into the causes of the stage collapse at the Ottawa Bluesfest, festival organizers told reporters at a Monday morning press conference.
At least four people were injured when a stage collapsed during a storm at the festival on Sunday. The injured have since been released from hospital.
"We're extremely happy that what happened didn't result in any other injuries," said festival executive director Mark Monahan.
Monahan said the sudden storm surprised organizers.
"It was a very unusual situation," he said. "The fact that it brought that stage down and nothing else came down in the park was just a freak situation."
He did say that the festival would try to work closer with weather forecasters in the future.
"Definitely, it's something were going to be looking into," Monahan said to media.
He said the festival routinely monitors weather conditions.
"We were monitoring the weather and what was a watch turned into a more severe situation and when that happened we called it immediately," he said.
The festival can't stop every time the weather deteriorates, he said.
"We deal with weather every day and we don't automatically call a show because we have weather we see coming in, because if we did that we wouldn't be able to run a festival."
The festival said that it would be offering ticketholders the option of a full refund or a day pass to the Ottawa Folk Festival later this summer.
More details also emerged about the stage itself. The festival said that it belonged to Groupe Berger, a Montreal company that specializes in stage and concert equipment. The festival also said that they've used that stage or similar stages for the last five years. The stage was also checked by engineers after it was built on site, organizers added.
The Ministry of Labour is surveying the site and will produce a report on the incident.
"Once the ministry gives us their report we're going to evaluate that," Monahan said.
Dramatic footage of the stage collapse has been posted by a number of people who were at the scene.
The band on stage, Cheap Trick, was able to get off the stage.
Everyone is okay and we are so lucky to be alive and hope that all the fans are okay too," the band, best known for hits including "Surrender", "I Want You to Want Me" and "The Flame", said in a message posted on Facebook.
Without elaborating, Cheap Trick lead singer Robin Zander ended the band's Internet posting with the words, "And all the best to our truck driver Sandy."
The festival wasn't the only thing affected by the Sunday evening storm. The windstorm caused major power outages across the Ottawa region. Police said they received more than 300 emergency calls in a two-hour period.
WATCH: Several fans captured the mayhem on video during and after the collapse:
With files from The Canadian Press