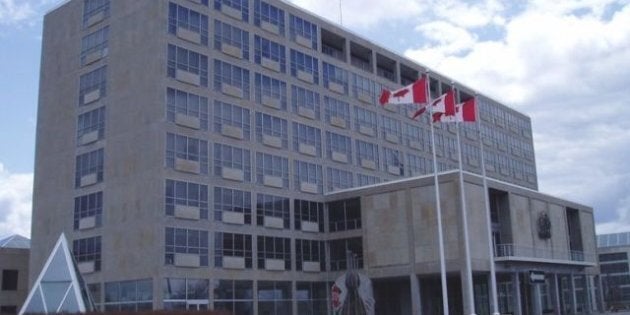 The Conservatives found another way to recognize former Progressive Conservative prime minister John Diefenbaker Monday when it announced Ottawa's old city hall building will be named after Canada's 18th head of government.
Foreign Affairs Minister John Baird and Public Works Minister Rona Ambrose announced that the site adjacent to the Lester B. Pearson building, which is home to the Department of Foreign Affairs and International Trade, and houses bureaucrats will now be called the John G. Diefenbaker building.
"This iconic leader was chosen for his many contributions in shaping our country, such as extending the Bill of Rights to allow Native people to vote and appointing the first woman to federal cabinet," Ambrose is quoted saying in a press release.
Diefenbaker was Canada's prime minister from June 1957 to April 1963. He led the Tories to three election victories in 1957, 1958 and 1962, although only one (1958) was a majority government.
Previous to his entrance in politics — one notable for his numerous unsuccessful attempts to win his seat and then the leadership of his party — Diefenbaker was a lawyer who defended 18 men against the death penalty.
The Tories announced in February of this year that they would create a human rights award after Diefenbaker that would highlight the "exceptional courage and leadership" in defending human rights and freedom. Award winners were not restricted to Canadians and the minister would personally select the recipient.
The Harper government also announced plans to name its $720-million massive polar icebreaker CCGS John G. Diefenbaker.
In 2009, the Prime Minister traveled to the University of Saskatchewan to announce federal support for the rejuvenation of the Diefenbaker Building at the university's Diefenbaker Canada Centre.
Former Progressive-Conservative prime minister Brian Mulroney also created a Diefenbaker award in 1991. The John G. Diefenbaker Award grants a German scholar, in either social sciences or humanities, $75,000 to do research or teach at a Canadian institution.