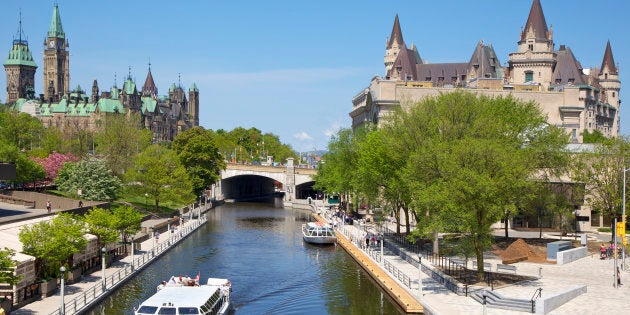 There is a joke that capital punishment in Canada is spending two weeks in Ottawa.
Well, homebuyers these days disagree.
The somewhat sleepy government town with pretty canals and gothic government buildings is now a real estate juggernaut, with rapidly rising prices, supply shortages, bidding wars and growing interest from foreign buyers.
Canada's capital now has a higher share of foreign buyers than Greater Toronto, Royal Bank of Canada said in a report released this week.
During a three-month period ending in mid-February, foreign buyers accounted for 2.5 per cent of home sales in Ottawa, compared to 1.6 per cent in Greater Toronto.
Some of that has to do with there being fewer foreign buyers in Toronto these days, in the wake of the province's Fair Housing Plan introduced in April 2017, which slapped a 15-per cent foreign buyers' tax on properties in the Greater Toronto and Greater Golden Horseshoe areas.
But the share of foreign buyers is on the rise in Ottawa, RBC noted.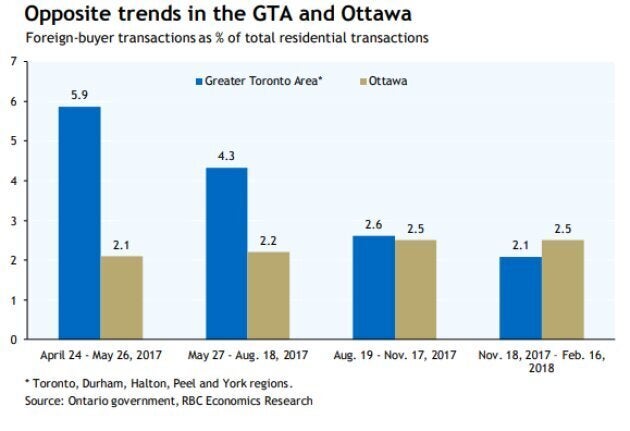 "Did the tax send foreign buyers Ottawa's way? It's hard to know," RBC senior economist Robert Hogue wrote.
"That being said, it may well be the case that the overall Fair Housing Plan ended up diverting a number of foreign buyers toward the nation's capital." But any effect would have been "minimal," Hogue suggested.
(That trickle is unlikely to become a flood. Ottawa's economy is focused on government and high tech, and doesn't have the diversity that Toronto does. Many Torontonians simply wouldn't find work in their field.)
Watch: The best places in Canada to buy real estate, according to MoneySense
With all this increased attention, Ottawa's housing market is heating up. Existing home sales were up 12.3 per cent in March, according to the Ottawa Real Estate Board, and prices were up 8 per cent, to an average of $447,561.
But some more desirable neighbourhoods are seeing much stronger price growth. Realtors say trendy Westboro has seen prices spike as much as 50 per cent, according to a report at CBC News.
That's quite a change for a housing market that typically saw price growth of 2 to 3 per cent annually, and even some price declines, in recent years.
And it's happening despite new mortgage rules, put into place at the start of the year, which Royal LePage estimates reduced first-time homebuyers' maximum price by 16.5 per cent.
Realtors are reporting a growing shortage of housing supply in Ottawa, and homes are staying on the market for shorter periods of time.
"I've been in real estate since 2004 and I've never seen such a listings-starved market," prominent realtor Paul Rushforth told the Ottawa Citizen in March.
With demand growing, bidding wars are breaking out. The share of houses sold for above asking jumped to nearly 22 per cent in March of this year, up from 8 per cent two years earlier.
"Inventories aren't getting a chance to build because we're selling them as soon as they come on the market," OREB president Ralph Shaw told CBC.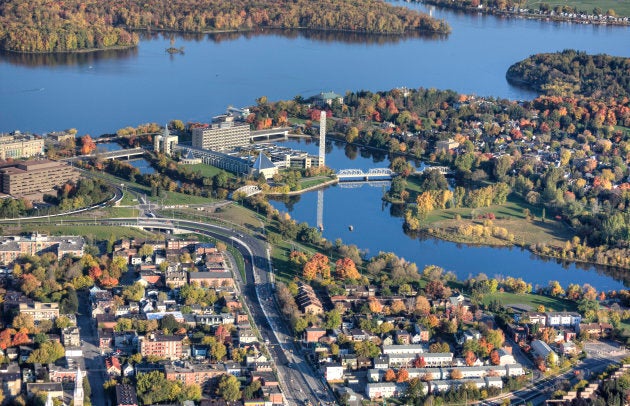 All of that is putting pressure on the rental market as well. The average going rate for a one-bedroom apartment in Ottawa was $1,150 in April, up 8 per cent in a year, according to data compiled by rental site Padmapper. Two-bedroom apartments jumped 10 per cent, to $1,430.
"There is less rental inventory available because some of the rental inventory is being bought up," former OREB president David Armstrong told CTV News. "There are affordable rentals available out there in the marketplace, they are just becoming more competitive."
All of which proves that the sort of real estate frenzy that has overtaken Toronto and Vancouver in recent years can certainly spread to Canada's other cities. Buckle up.