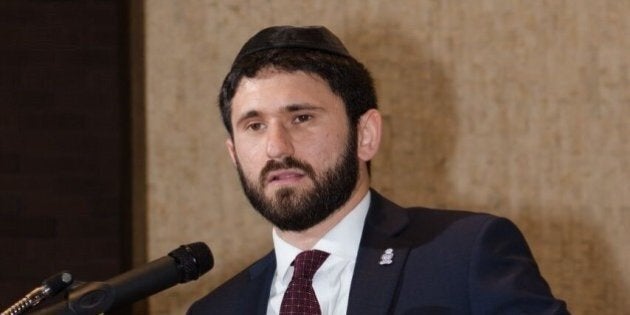 Last Thursday I arrived at my synagogue to find it vandalized. It was heartbreaking to see blatant anti-Semitism and racism displayed in our nation's capital.
But after a difficult week, far more than a silver lining has emerged. Ottawa has united to send a clear message to anyone who would target communities based on their faith, race, or other characteristic: your hate is not welcome in our city.
On Saturday, with barely a days notice, almost a thousand local residents filled the Congregation Machzikei Hadas Synagogue in an extraordinary statement of solidarity together with Reverend Dr. Anthony Bailey and Imam Samy Metwaly, whose respective church and mosque were vandalized the day before.
As my predecessor and mentor, Rabbi Dr. Reuben Bulka, exclaimed to raucous applause and cheers, those who gathered at our synagogue represent 'the real Ottawa,' a city defined by our shared values of acceptance, respect, and love.
The overflow crowd included 40 faith leaders representing nearly every religious community in Ottawa. At one point, Rabbi Bulka asked every member of the clergy present to come up onto the podium and, together, lead a prayer, a manifesto of togetherness, that he had written in honour of the occasion. (Please see the congregation's website or Facebook page, for a copy of the manifesto).
Standing on that podium united with my colleagues, leading a community standing together, was an electrifying experience that touched me to the core. That powerful image and everything it represented was a moment no one in that room will soon forget.
In a world in which messages of division and intolerance unfortunately receive too much attention, we were proudly declaring our deepest-held values of love, acceptance, and respect.
When I took to the podium, I spoke of the clear legacy we would be leaving our children through the momentous act of solidarity that day. Just as the cards and flowers and the complimentary cleanup offered by Goodbye Graffiti were tangible acts of solidarity, the unity we demonstrated on Saturday was the real deal too.
Because we live in an age of social media, of sound bites, of ever-churning Facebook feeds, I could not stop thinking that, soon, this will be a forgotten news story like so many others. I felt responsible to come up with some creative way to make this magnificent celebration of humanity continue.
But that was not necessary, as it has now been a week and the celebration has not stopped. Our synagogue continues to receive a steady stream of cards. I am still receiving emails and phone calls, and walking on the street I am still greeted with wishes of support. But most telling is the number of people who've told me that the incident and the community's response impacted them deeply, in a way quite unlike most news stories.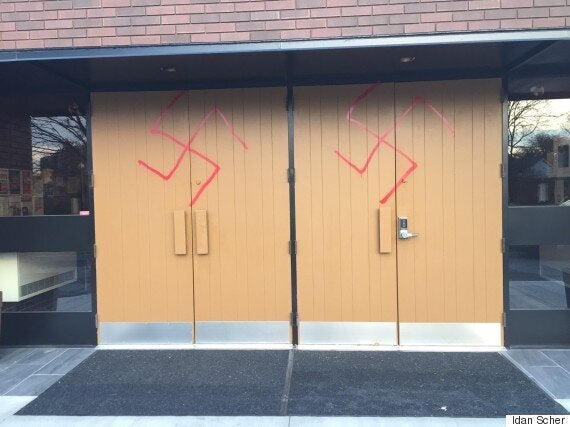 Anti-Semitic vandalism is seen on the doors of Machzikei Hadas Synagogue. Photo courtesy of Rabbi Idan Scher.
So why has this outpouring of support continued? Why, in the age of the 24-hour news cycle, do people continue talking about this story and expressing their support for the targeted communities (even a local radio host mentioned how frequently he's heard this topic discussed!)? Why, from what I have experienced and heard from so many others, has this become the hockey "locker room talk" across the city (and not just in the locker room yesterday when I had the pleasure of playing with Reverend Bailey)?
I believe it's because the unity we demonstrated on Saturday was far more than a response to a series of hateful incidents. It is who we are, as a community and as a nation.
In a world in which messages of division and intolerance unfortunately receive too much attention, we were proudly declaring our deepest-held values of love, acceptance, and respect.
These values are simply who we are as a country, and when expressing who we are, that's not something that dies away quickly.
This is not to say we can be complacent about living our values. We must consciously strive to live up to them. As Reverend Bailey eloquently pointed out on Saturday, this requires never turning a blind eye or waving a dismissive hand when we hear a racial slur or bigoted "joke."
I feel so blessed to live in a community where the values we claim to hold dear are the ones we defend at all times, whether convenient or inconvenient.
Consider Nepean MP Chandra Arya's bill that was introduced in the House of Commons on Tuesday. His bill will strengthen hate crime laws to protect religious institutions like our synagogue from the hateful vandalism of last week. MP Arya wrote this legislation before the recent vandalism, which reminds us of how proactive Canada really is when it comes to fighting hate.
While it's easy to talk in op-eds about pluralism and respect, it's more challenging to live by our espoused principles when they are tested -- privately, or in the public square. I'm so grateful that the people of Ottawa responded publicly. We loudly proclaimed -- together -- a message our world so badly needs to hear.
Our enduring legacy will not be a rally at a synagogue on a Saturday morning in November. Our enduring legacy will be a world filled with the love and acceptance that results from staying true to the values we hold dear.
Follow HuffPost Canada Blogs on Facebook