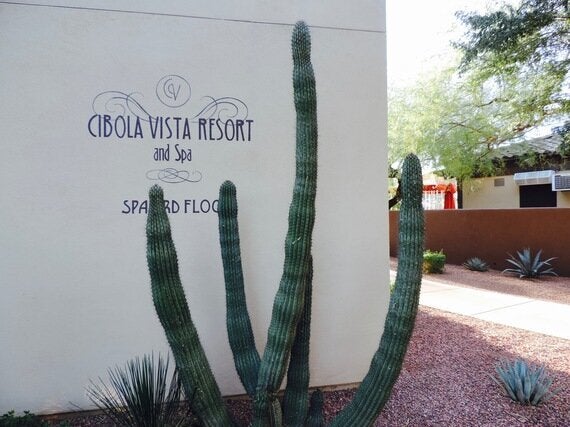 If you had told me even a week before it happened that my ten-year-old son would be sitting next to me sipping sparkling juice out of a champagne glass while we got side by side pedicures I would have thought you were kidding. Yet there we were clinking our tall glasses while our pale Canadian feet were scrubbed to perfection. Sure, I have had my share of pedicures, but my son Noah always said "No way!" when I suggested he join me at the spa. I am still not sure what changed his mind in Peoria, perhaps it was the crisp mountain air, or perhaps he just wanted exfoliated feet like his mamma. Regardless, there we were at Cibola Vista Resort And Spa enjoying Chocolate Pedicures together.
We are both vegan, so Noah immediately asked the friendly staff if the "feet chocolate" contained dairy - and was happy to learn it was void of all animal ingredients. Upon learning about our love of animals they brought us a copy of The Dog Bed Fairy book to flip through. This furry tale about shelter dogs by FarmHouse Fresh, an American skincare company dedicated to animal rescue, purchases dog beds for homeless dogs from book sales. We were off to a good start in Peoria - happy feet and happy souls.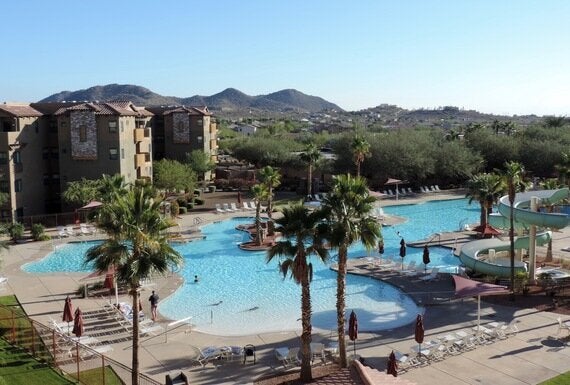 The stunning view from our balcony
Peoria is tucked away between Phoenix and Lake Pleasant and surrounded by rugged cactus and the Sonoran desert's breathtaking mountains. But despite being secluded there is plenty to do when traveling with kids. It was Noah's first time in the desert so of course we took endless smiling selfies with every unsuspecting cactus we encountered.
Here are four other activities that made us smile in Peoria.
Scorpion Bay Marina in Lake Pleasant was the first time I was surrounded by both water and cactus. To the delight of my hockey-loving son, our friendly boat captain, Daemion, is also a hockey coach. Needless to say within minutes the two were discussing famous hockey players and memorable hat tricks. It turns out Auston Matthews of the Toronto Maple Leafs grew up in Arizona and attended Phoenix Coyotes games as a child. Their excited hockey banter became muffled by the wind as we glided along the lake and left the marina behind us. You can rent boats by the hour, half day, or full day - all you need is a valid drivers license. This area is part of Lake Pleasant Regional Park and includes over 10,000 acres of water, hiking trails, camping and wildlife viewing opportunities. Either pack a picnic lunch to enjoy on the water or dine at the Scorpion Bay Grill. I glanced back to see Daemion giving Noah a boat-driving lesson and was thankful there is no traffic on Lake Pleasant.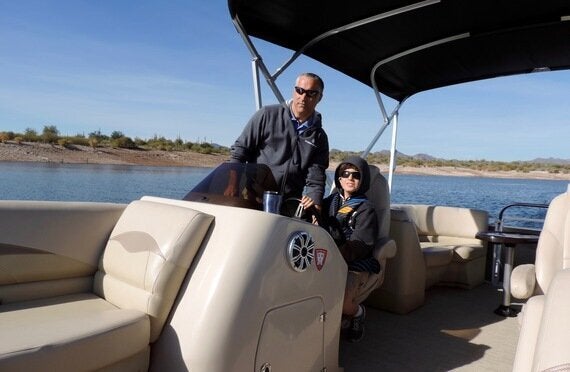 Zooming along Lake Pleasant
Golfing With The Big Kids
Aside from playing multiple games of mini golf when golf balls are shot through dinosaurs and glow in the dark pirates, neither Noah nor I have ever played a real game of golf before. But you definitely don't need to be all grown up to play at Trilogy Golf Club at Vistancia. Located on Golf Club Drive in Peoria they offer family golf instruction for beginners like us to help get your put-put in place. Locals and visitors flock to this peaceful green desert oasis. First lesson Noah learned? Don't hold your golf club like a hockey stick, despite wanting to take a swinging slap shot on an empty net (tiny hole). Luckily Scott, our patient instructor, was used to flying golf balls disappearing under cactus, in ponds, and seeing bits of grass fly through the air like baby birds hopping for the first time. Of course riding around on a desert golf cart was equally as fun as trying to score a hole in one.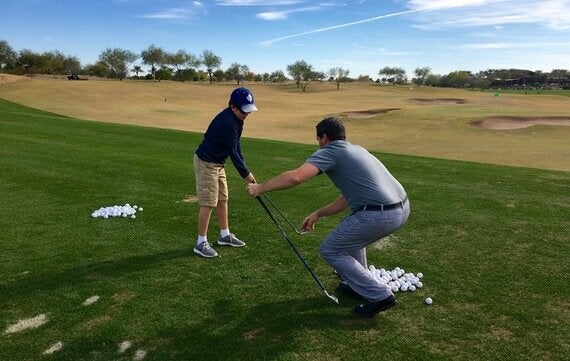 Learning how to golf like a pro
Who would have thought a quiet desert oasis like Peoria is also home to a thriving arts and culture scene? But it's true; Peoria's vibrant culture comes through in the many art galleries, historical museums and theatres around town. Noah and I met up with local friends and attended the Arizona Broadway Theatre. We enjoyed our specially prepared vegan meal (upon request) just as much as the performance. The theatre has restaurant style dining and features professional Broadway productions. Upcoming shows include Oliver!, the story of famous orphaned Oliver Twist in Victorian England playing between April 28th - May 21s; and from June 2nd to July 2nd Disney's Beauty and the Beast will be live on stage in all it's glory.
I was a child when NASA's space shuttle Challenger accident occurred in 1986 resulting in the very unfortunate deaths of seven brave astronauts. I remember being shocked and really sad. Although Noah and I have explored planetariums on our travels, I haven't had the opportunity to tell him about the Challenger astronauts. Peoria's Challenger Space Center tells the story of these famous astronauts through photos, artifacts, and exhibits. We walked through the space hallway in awe and learned about what it's like in space by exploring satellite displays, checking out real landing gear, and reading about items from previous space missions. It was more than a history lesson because the center provides an interactive learning environment. Noah and I were able to talk about the events of 1986 to help keep memories of the seven astronauts alive.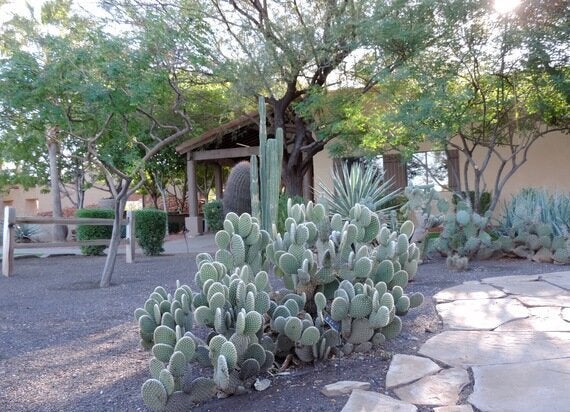 Back at the Cibola Vista after a fun day of adventures Noah sneaks in a few twirls on the three-story waterslide before the glorious sunset behind the mountains signals the day is almost over.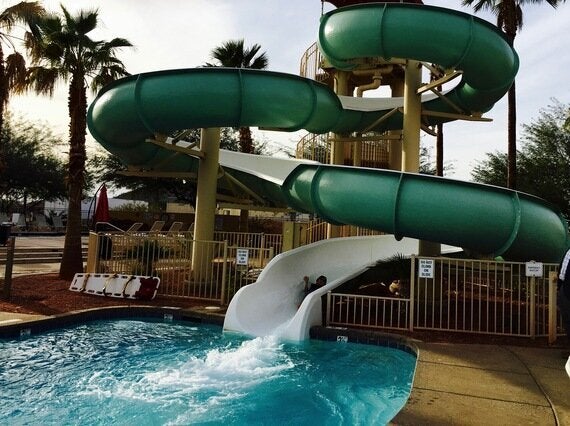 It's one thing to find a hidden gem resort, but quite another to discover an entire desert town just waiting to be discovered. That night we walked barefoot with our pedicured toes for a final cactus selfie in Peoria.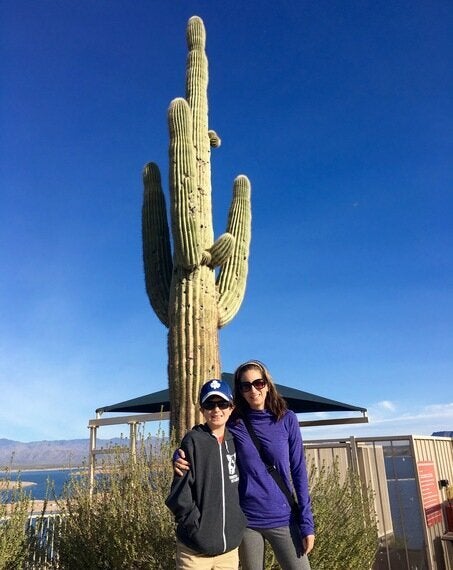 All Photos Property Of Miriam Porter
Popular in the Community