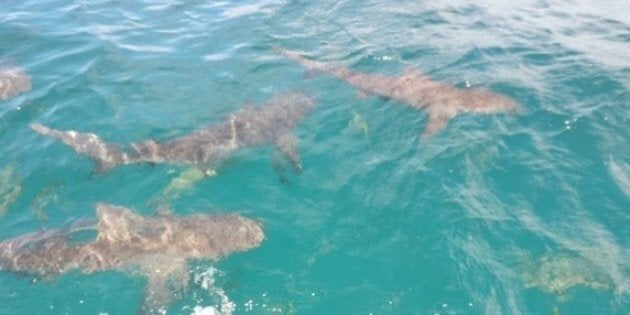 Nassau Bahamas is one of those destinations you want to return to again and again. It's my third time visiting the island and the second time going with my son Noah, age nine. I carefully plan our itinerary to maximize our four-night stay -- one adventure per day! It's the perfect destination for an extended long weekend.
When I travel I want to learn about the culture and individual people that surround me in the destination I have suddenly landed in. Hopefully this curiosity is something my little traveler will also grow to appreciate. I was eager to participate in Bahama's People To People. This free program allows visitors to experience Bahamian culture and learn about the history of the land directly from the people, in this case a volunteer ambassador. The program provides visitors with a rich cultural experience off the beaten path. Noah and I are vegan and are fortunate to be paired up with a veggie family -- in fact, they own a veggie restaurants in Nassau called Better Living. From the moment we meet our extremely kind host we like her. She happily teaches us about the 700 islands; the many dialects of the approximately 32 that are inhabited; the new farming agriculture; her personal family history; incredible beaches; cuisine; and the generosity of those that live here. We are invited to her mom's house for lunch where we meet her extended family; she is one of eleven children. It's like visiting long lost relatives and getting caught up. Noah and I eagerly devour a delicious authentic Bahamian meal including vegan corn bread! We sit around a large wood table and learn about each other's lives. Noah interacts with the kids and I speak with the adults about life in Nassau. We are sad to leave but Noah is comforted with a parting gift -- scrumptious corn bread to bring home -- and the promise that we are welcome back another time.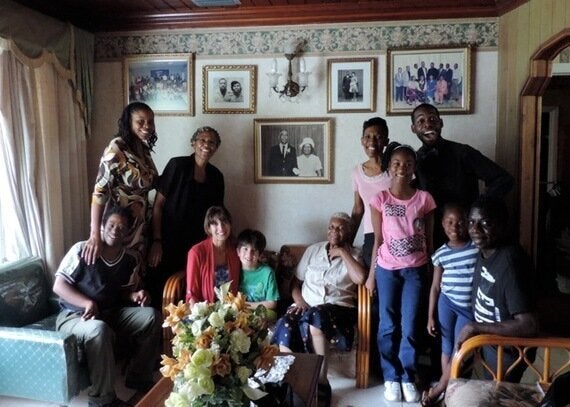 Simply hop in a cab and ask for the straw market. It's world famous and known throughout the island. Located on popular Bay Street in downtown Nassau, it's ironically smack in the middle of high-end shops. But Noah and I prefer authentic Bahamian crafts, baskets, bracelets, straw hats, and woodcarvings over diamonds, Gucci and Prada any day. We walk up and down the aisles as everyone tries selling us their merchandise. It's Noah's first time in a market like this but he quickly gets the hang of it -- if you look at anything for longer than a few seconds someone will try to sell it to you. We meet a kind jolly man making woodcarvings and he offers us a massive wooden fish that would never fit in the airline's carry on baggage allowance. I politely decline but talk to him instead. The straw market is a great place to purchase gifts and support the local industry. Noah selects homemade treasures for everyone on our list. But I am a nervous and shy negotiator so chances are you can get a better deal than I did on our colorful Bahamian woven bracelets and straw baskets.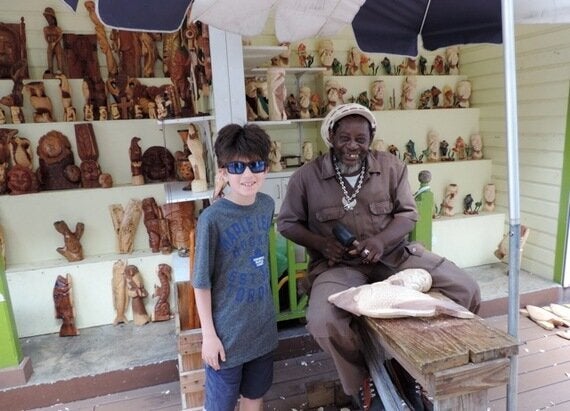 Lets face it, pirates are cool, especially if you are a kid. Eye patches, swords, hidden gold, and stories at sea are captivating. The Pirates of Nassau is an interactive museum for kids and adults. It reveals the history of the golden age of piracy starting in 1690 and the legendary pirate Blackbeard that impacted Nassau's past. We begin on a moonlit dock, board a replica ship called "Revenge," explore lower decks, catch glimpses of artwork and life like images recreating pirate history, and check out real objects on display relating to piracy. The self-guided tour takes 30 to 45 minutes, or faster if your child is scared of pirates and very dark hallways that resemble "the scariest haunted place ever." Ahoy Mate!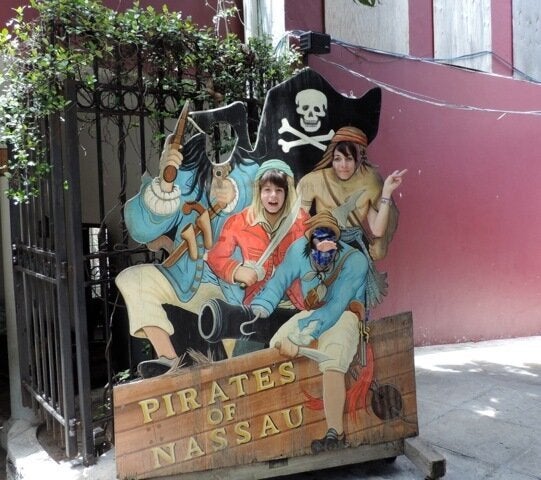 On our Bahamas trip in 2012 my little guy could not be persuaded to dunk his head underwater, let alone venture into the ocean without desperately holding onto me. But now with three years of swimming lessons behind him Noah is ready to dive in. Stuart Cove's Aqua Adventure is a great option for water-based activities. This family operated company believes in sharing the underwater world with others and offers free hotel pick-ups from all Nassau resorts. (Tip: Bring towels, change of clothes, sunblock lotion, snacks, and a waterproof camera!)
As animal lovers Noah and I never attend Marine Parks or Aquariums so we are excited to see fish in open water -- the humane alternative. Before stepping onto their custom snorkeling boat appropriately called the Zambezi I am asked to sign a release form. I start sweating when I see the word "Sharks!" I ask Noah if he still wants to go but he's already on the boat. (He is the only kid of 23 passengers). To ease my worries I tighten his life vest.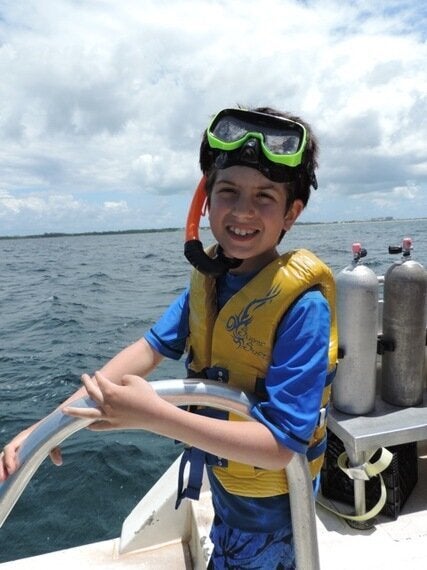 The tour makes three stops; a shallow reef, another shallow reef or shipwreck, and yeah, you guessed it, a shark location. With my waterproof camera dangling from my wrist and our toes peeking out of our flippers we flop along the deck towards the welcoming ocean. The other passengers dive in like pros. We linger cautiously. The captain is super cool and helps us adjust our masks and snorkels. I ease into the water and it's another ten minutes before Noah dunks in his first flipper, then his second. Finally we are both holding onto the yellow rope attached to the boat and bob along in the majestic Atlantic. When Noah eventually dunks his face in and sees the gentle fish swimming his expression says it all. "I am breathing underwater!" he gurgles excitedly through his snorkel. We hold hands and watch fish swarm around us. Blackies with neon blue strips, aqua greenies, orange fins, and coral -- we invaded Finding Nemo! Our next snorkeling stop is equally as magical and before I know it we are heading to the final destination, and hopefully not our last on earth!
We have every intention of snorkeling with sharks, but truth be told once we see they are actually, um, sharks, we kind of chicken out. Noah sits on the end of the boat and I "risk my life" leaning over the side snapping photos of the Caribbean Reefs looking for their next meal. Of course these small sharks and even the bigger ones have no intention of eating human flesh, all they want is their natural diet of fish. It is the humans that threaten sharks existence on this planet, not the reverse. I am thrilled that Noah has the opportunity to see them in the ocean where they belong, not in a small tank.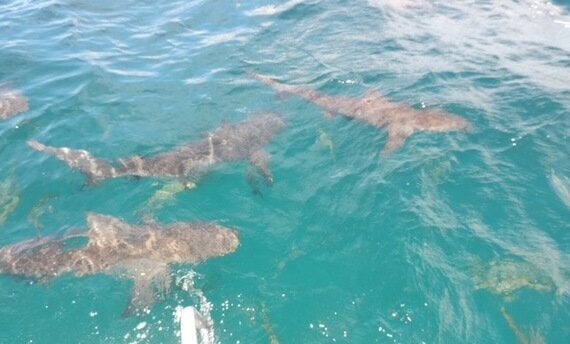 We already want to go snorkeling again! Maybe next time we will be more daring. Or if I get my wish we'll visit Exuma and swim with wild pigs in the waters surrounding Bahama's Pig Island. As least their snouty teeth are not as sharp.
Popular in the Community