 I will never forget the look of calm determination in my mother's eyes when she and my father sat down with our family to tell us the horrible news. "Mummy had been diagnosed with stage three ovarian cancer." In that moment my mother looked up at us and said "alright, now everyone needs to pull themselves together, I don't know why this is happening, but I do know one thing, we are not going to run from this, we are going to embrace this as a family and see where this takes us."
Notwithstanding her calm words of reassurance, the reality of the situation weighed very heavily on my shoulders. I recognized instinctively that we were embarking on a new journey and that, as a young 15-year-old girl, I was going to experience something with my family that could be potentially devastating. My mom's attitude was not the least bit surprising to me. Looking back now, with the benefit of hindsight, I realize that where we are today, what we are doing and accomplishing through our charity, is a direct evolution of that attitude.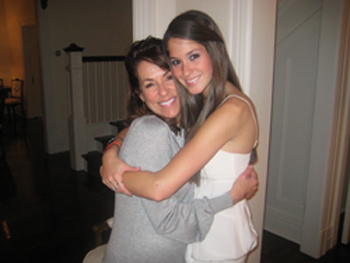 In the first week of October 2006, a five-hour surgery was performed to remove the many tumours. I was relieved because, according to the surgeon, he was able to "get the cancer" and we were fortunate that it had not spread to any soft tissue organs, including her colon. When she finally opened her eyes, unable to move because of the tubes, and strapped into her hospital bed to allow for IVs, my dad quietly whispered into her ear while kneeling beside her, "they didn't need Dr. Gordon." My mother knew immediately that meant she had stage three cancer and not stage four. A tear slowly fell from her eye as she realized there was hope.
Chemo started immediately after, and by late spring of 2007 my mother was in total remission, the hair that she shaved pre-emptively grew back, her strength increased, she regained her weight and life as we knew it was back to "normal." Our family enjoyed a wonderful summer of health until the fall of 2007 when her diagnostic testing showed a recurrence of disease.
That was the last time my truly optimistic hope of beating the cancer was present. Over the next two years my mother went through different cycles of chemo with different successes, "wins and losses," of what too often is a losing battle.
By early winter of 2009 my mother's condition worsened when she developed shingles and a serious cough. I felt the walls closing in around me. A diagnostic lung biopsy was scheduled and my family was hoping for a diagnosis of pneumonia. Unfortunately, our worst fears were confirmed, and disease had spread to my mother's lungs. However, it was during this trip to the hospital that our cancer-fighting movement was crystallized.
The lung biopsy that was performed on my mother was a terribly invasive procedure that is extremely painful and creates an enormous amount of stress on the respiratory system. My father sat outside the treatment room in a chair by himself, listening to what can only be described as torture, and wept quietly for what seemed like an eternity.
When my dad was finally allowed to enter the room and be with his wife, he watched as my mother struggled courageously to try and breathe. "It was one of the lowest points in our almost four-year battle," he remembers. Totally helpless, he silently prayed for her breath to return.
Several minutes later a nurse entered the room and asked them simply, "How are you doing?" Given the circumstances of their situation, and what they had just endured, the banality of the question was almost absurd. My father recognizes today, with the benefit of time and context that she meant no harm, and was just "doing her job."
My mother looked up at her, managed to catch her breath, and compose herself. With strength, resolve and anger that my dad had never seen before, and cold steely eyes, she responded, "How am I doing? This is a walk in the park...FUCK CANCER!"
This courage and determination was a beautiful testimony to my mother's desire to live, her fight against cancer and her passion for life. My father knew, at that moment, that the emotions embodied in that two-word offensive attack on the torturous disease would be a mantra at some point in the future to galvanize and motivate support to continue the fight.
The next four weeks were a blur and we went from intensive care to palliative care. We braced ourselves collectively to deal with impending death. My dad, older brother, younger sister and I were grateful to have had those several weeks in palliative care to say our goodbyes. Nothing was left unsaid. The openness, honestly and sincerity of my mothers words to all of us in every different dynamic is a part of my mother's legacy and love to her family. It is something we all cherish so very much.
Saturday morning, January 9, 2010 at 8:15 a.m., my mother said goodbye to my father who had spent the night at the foot of her bed, as he always did, and quietly slipped into a coma. At 4:15 p.m. that afternoon surrounded by her husband and three children she took her last breath and passed away, ending her suffering.
It has been two and half a years that my family has walked that journey together. Through some very tough times, we have come out the other end and are on our way to healing. Not a single day goes by that my mother is not in my thoughts, but the sting and the pain has been deadened slightly by time. What can never be erased will be the privilege of having the most incredible mother in my life for 19 years. Her wisdom, understanding and deep respect for life and love can never be dulled by time. My mother had the most incredible ability to share her love with so many people. I know the example she has set will stay with me forever and continue to shape the person I become. In that sense, she will live on.
What we are accomplishing through Fuck Cancer INWYKIWYK™, our efforts, the parties, the money raised for cancer research, are all key ingredients, not only to our healing but also to maintaining the solid family ties amongst us all.
Our goal is to throw events all over North America to give young adults who have, in any way, been affected by the disease, a completely unique bonding experience. Entrance to the event is in the form of a t-shirt, rather than a ticket, that reads "F*CK CANCER" in different colors, representative of various cancer ribbons. Money raised goes directly to major cancer research facilities, including, thus far, Segal Cancer Center of the Jewish General Hospital, in Montreal, Canada, and UCLA's Jonsson Comprehensive Cancer Center.
INWYKIWYK inc.™ an acronym for It's Not What You Know, It's Who You Know, embodies the notion that, in life, we gain strength from the people we know and the relations that we establish around us. By throwing charity events we create an opportunity for people to connect and gain support through meeting other individuals experiencing the same fight against cancer.
It is so clear to me, in speaking with the people I meet at our charity events, that all who battle this horrible disease and suffer loss are an extended family. I know that my mother did not die in vain and that by reaching out and being proactive, our loss and her suffering will not define her life or her legacy. That will be defined by ultimately finding a cure for cancer by selling one T-shirt at a time.