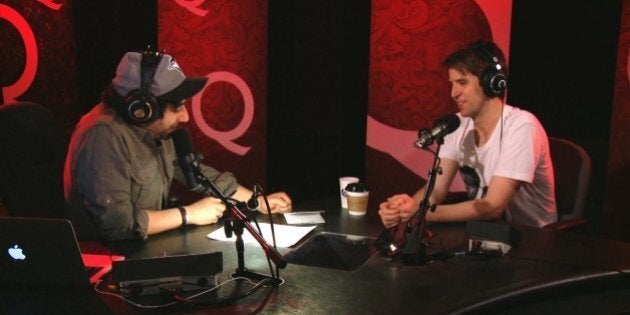 The Canadian music world has been rocked in recent days by a startling Toronto Star report detailing anonymous allegations against Jian Ghomeshi from three women who say he physically attacked them without their consent.
The Star published their story after the CBC announced Sunday it was parting ways with Ghomeshi, the host of their music-centric cultural flagship "Q." Within hours, Ghomeshi posted an emotional message on Facebook, saying he lost his job "as a result of a campaign of false allegations pursued by a jilted ex-girlfriend and a freelance writer."
Today, a very different reaction has been posted by indie star Owen Pallett, who works with Arcade Fire and says he considers Ghomeshi "a friend." Pallett was recently nominated for an Oscar and first rose to prominence by winning 2006 Polaris Music Prize, which was hosted by Ghomeshi. Pallett has also appeared on "Q" multiple times.
On Facebook, Pallett details his powerful, complex reaction to the scandal that is continuing to unfold. He discusses their friendship, even noting that he helped Ghomeshi find musicians to perform at his father's funeral "just ten days ago." But Pallett also writes that there is "no grey area here" and that "at no point here will I ever give my friend Jian's version of the truth more credence than the version of the truth offered up by three women. Anonymity does not mean these women do not exist."
Pallett says he is skeptical of "Canadian journalism" and "sensitive toward shaming of people who are so-called sexual deviants," but goes on to say that he does not believe the three women's characterizations of their relationships with Ghomeshi can be called BDSM.
"BDSM and choke play is a subversion of male violence. To hear that anybody has been abusing the BDSM power relationship for the purpose of engaging in non-consensual violence-against-women is horrifying."