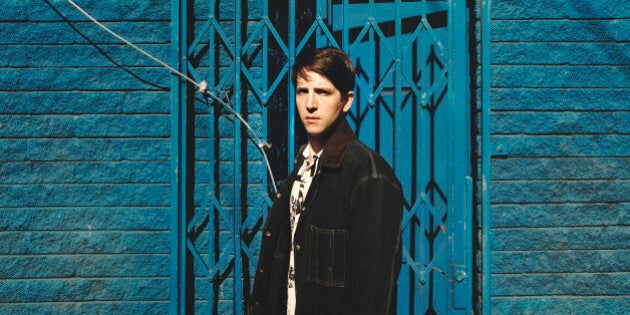 Owen Pallett wants it known that while new album 'In Conflict,' out May 27 via Secret City, is his most revealing and personal collection of songs yet, he doesn't always identify with the content within them.
Take album opener "I Am Not Afraid," for example. It's the first of many instances where Pallett, who is in a longterm relationship with his boyfriend/manager, sings about kids — sons and daughters, parenthood, even specific ages on "Song for Five and Six" turn up in his lyrics — and also the most jarring one.
"I'll never have children," Pallett sings mournfully, which is odd and sad to hear from a guy who has told me how much he appreciates seeing the occasional photo of my own child on Facebook.
"Well, first it's really important — especially with my songs — to remember that what I'm singing in my songs isn't necessarily the whole truth or the actual opinion of me personally," Pallett says over the phone from Columbus, Ohio where his other gig, as a touring member and composer in Arcade Fire, has brought him for the day. "But that song is meant to be a sad, tacit acknowledgement of the impossibility of me to have what you have with the tools that have been provided to me.
"It's not at all meant to suggest that an adoptive parenthood is any less loving, productive, or meaningful than a biological one. It came at a moment when I was frustrated that such an arrangement would have to begin with administration, as opposed to drinks, or whatever?" Pallett chuckles. "However you guys did it. So, there's a certain level of sadness but more of an acknowledgement of the biological imperative. It's meant to be a statement of support and sympathy and compatriotism to other people who, by choice or for biological reasons, have decided upon a childless future."
When asked if he himself has a longing for children of his own, Pallett pauses, protects himself, and proceeds to unpack the question.
"It's getting a little personal," he says with a nervous laugh in his throat, "but I certainly have found myself very much enjoying the nieces and nephews that are in my life. There are some days too where, I can't lie, I might be feeling a little low and then just the thought of the children and husbands and wives who are my friends has really pulled me out of that low place. I think kids are awesome."
When people hear the stirring and complex sounds and songs of "In Conflict," they'll have every right to feel taken aback, perhaps even displaced, by Pallett this time round. The vibe is heavy with swirling, contradictory notions and narratives and it's like that for good reason.
"One of the things about this record is that I noticed when I was writing these semi-autobiographical or self-referential songs, was I wasn't necessarily agreeing or identifying with the person who was writing everything all of the time," Pallett explains. "I might write something one day and then come back to it a week later and neither recognize the person who I was writing about or the person who was writing it.
"I would feel very disassociated from different mental states and points in my life. And this disassociation is meant to be the topic of the record; these songs are coming from very different places and very different people despite the fact that this is ostensibly the first record that is semi-autobiographical.
"Or actually, basically autobiographical," he corrects himself.
See Owen Pallett live Friday May 9 at La Sala Rossa in Montreal and Saturday May 10 at the Danforth Music Hall in Toronto as part of Canadian Music Week.
Popular in the Community