A great horned owl has a second lease on life after it was rescued from inside the front grill of an SUV last week in Central Alberta.
A teacher at Camrose Composite High School was driving to school the morning of Dec. 13, when she heard a thud.
She got out of the car to have a look, and could see feathers in the grill. She thought the owl was dead.
However, when she returned to her vehicle a few hours later, she could see big, round eyes staring back at her.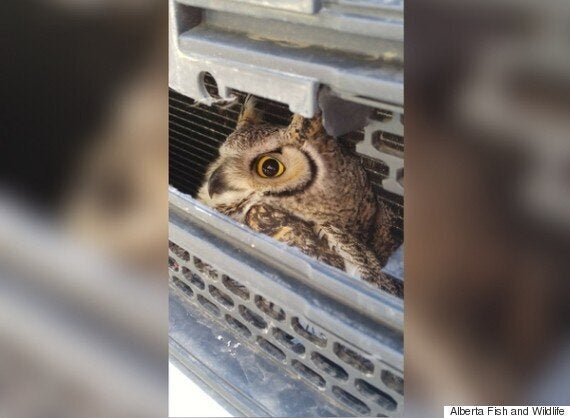 She called Alberta Fish and Wildlife, and Officer Lorne Rinkel was dispatched to the scene.
"The students with the high school automotive or shop class had rolled the vehicle into their work bay, so I was able to deal with it inside the school," Rinkle told 660 News.
Thomas gave the shop teacher the ok to cut away part of the grill, and Rinkle was able to reach in — with his protective gloves, of course — and grab the frightened owl.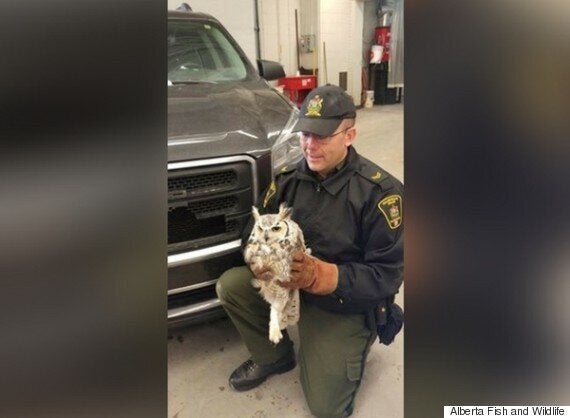 "It had a small amount of blood on one of its legs, but the legs and wings were fine," Rinkel told The Canadian Press, amazed the bird wasn't injured further.
"There were a lot of happy students taking videos and pictures, almost cheering, you might say."
The owl warmed up in a box for the next 10 hours and then Rinkel took the owl out to a rural area. When he opened the box, Rinkel says the owl flew off toward the full moon.
"It was almost like a fairy tale, it's quite amazing that it survived the impact," Rinkel said, clearly getting a hoot out of the rescue.
"I've seen, unfortunately, lots of dead birds of prey in front grills, but I've never seen one survive."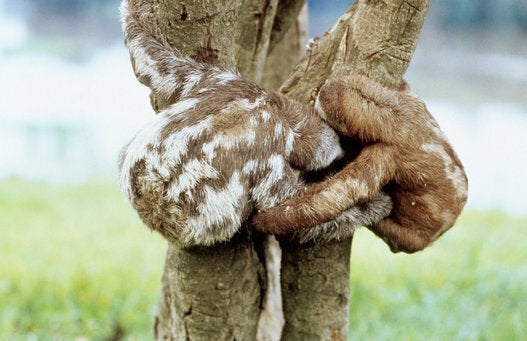 Animals hugging animals