Parents deal with a lot on a daily basis that others might consider gross.
We scrub yellow poop out of onesies (why is it always yellow??!), puke out of car seats, curdled milk out of long-lost sippy cups (always. check. the. play. kitchen. microwave.), and crusty spit-up out of our own hair, usually without blinking an eye.
No joke, we even suck the snot out of our babies' noses when they're sick.
This effect could be due to transferring "health-promoting microbes" from your mouth to theirs, researchers noted.
"We know that exposure to certain microorganisms early in life stimulates development of the immune system and may protect against allergic diseases later," allergist Eliane Abou-Jaoude, lead author on the study, said in a news release.
"Parental pacifier sucking may be an example of a way parents may transfer healthy microorganisms to their young children."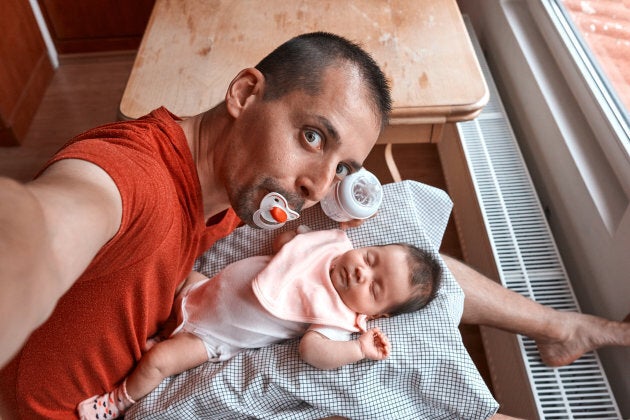 Researchers interviewed 128 mothers over the course of 18 months about their paci-cleaning methods. Of those whose babies' used soothers, 41 per cent said they sterilized them, 72 per cent said they hand-washed them, and 12 per cent said they sucked them themselves.
(A previous widely-cited study in Pediatrics touted the benefits of parental soother sucking, in case you're wondering why some parents might already be doing this).
The babies whose moms sucked on their pacifiers had suppressed IgE levels (a type of antibody related to allergic responses in the body) beginning when they were around 10 months old, and that continued through to 18 months, researchers noted.
"Although there are exceptions, higher IgE levels indicate a higher risk of having allergies and allergic asthma," the press release explained.
But the researchers cautioned that the study was correlative — meaning they're not sure that pacifier sucking actually causes lower IgE, but the two are simply linked — and that "it is unclear whether the lower IgE production seen among these children continues into later years."
Not all health experts recommend parental soother sucking
The best way to clean a pacifier is with hot, soapy water after each use, according to the Canadian Paediatric Society's handout on soothers. They also recommend sterilizing a pacifier in boiling water before your baby uses it for the first time.
"Don't 'clean' the pacifier by sucking on it yourself because it can spread germs from you to your child," the society said.
The American Dental Association also cautions parents not to pop their babies' pacifiers in their own mouths, explaining that the bacteria that can cause dental decay can be transferred to children, making them more at risk for cavities.