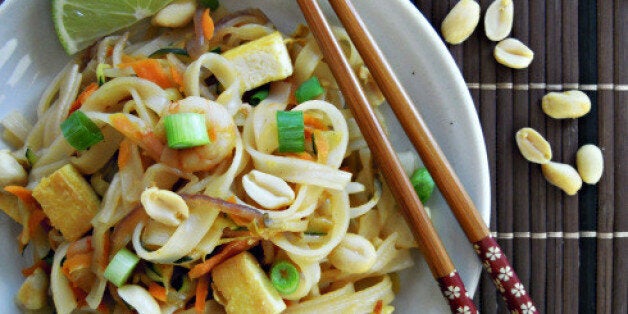 Pad Thai, Thailand's most famous noodle dish, is the perfect balance of salty, sour, sweet, and spicy. It's really tough to beat!
When I go out for Thai food, I always order it. But after thoroughly enjoying every bite...crumb...speck on the plate, I usually end up with a stomach ache and am guzzling water for the rest of the day a result of the rich, creamy sauce and mounds of sodium. That is why pad Thai is one of my favourite food makeovers!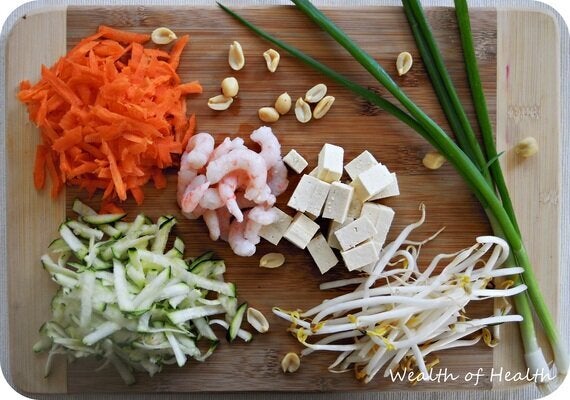 First, I only used a very small amount of oil (a bit for sautéing the onions and garlic, and a bit for the sauce). I used brown rice noodles instead of white rice noodles, and of course my favourite trick: I added plenty of vegetables!
You can swap the shrimp or tofu for a different protein like chicken or eggs. And those who can't tolerate gluten would just need to modify the sauce, as the noodles are naturally gluten free.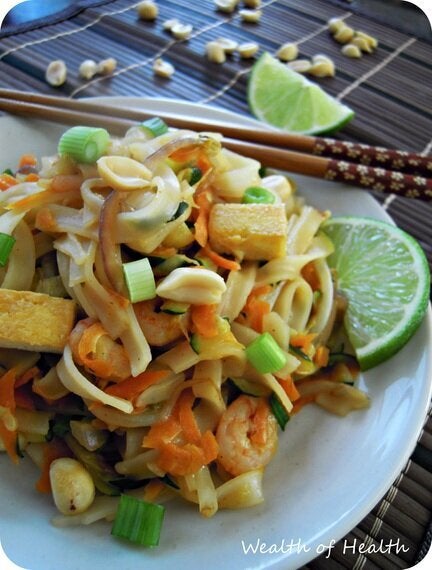 200 g (8 oz) dried wide brown rice noodles
1/2 red onion, thinly sliced
1 cup extra-firm tofu, cut into 1/2 inch cubes
10 uncooked medium shrimp, peeled and deveined
2 medium zucchini, grated
1/3 cup peanuts (unsalted)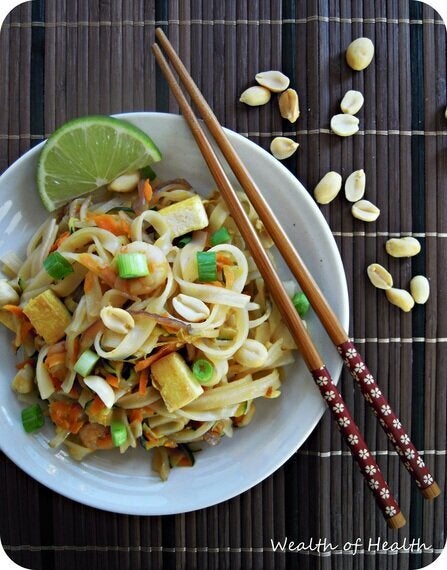 -In a small bowl, combine all sauce ingredients and set aside
-Place rice noodles in a large bowl and cover with boiling water. Let soak for ~7 minutes. Drain. (Be careful not to over soak)
-Heat cooking oil in a wok or large frying pan over medium-high heat
-Add onions and garlic and sauté until onions are tender
-Add tofu and shrimp. Cook shrimp until no longer pink. Cook tofu until each side is light brown and crispy
-Add noodles, sauce, carrots, zucchini, bean sprouts, and green onions
-Continue to sauté until mixture is hot
-Sprinkle with chopped peanuts, fresh lime juice, and serve