I write this piece sitting in a cafe a few kilometres from Gaza and Jerusalem. Gaza is witnessing chaos surrounding its border, its hospitals are overwhelmed by casualties and Palestinians are burying their dead. The latter city is having an event of a different nature: United States president Donald Trump's decision to move the state's embassy from Tel Aviv to Jerusalem has provoked anger among Palestinians, and led to protests in all parts of the West Bank.
Meanwhile, May 15 marked the 70th anniversary of the Nakba, an event that would forever change Palestinian history and become the root of immense conflict and turmoil that continues today.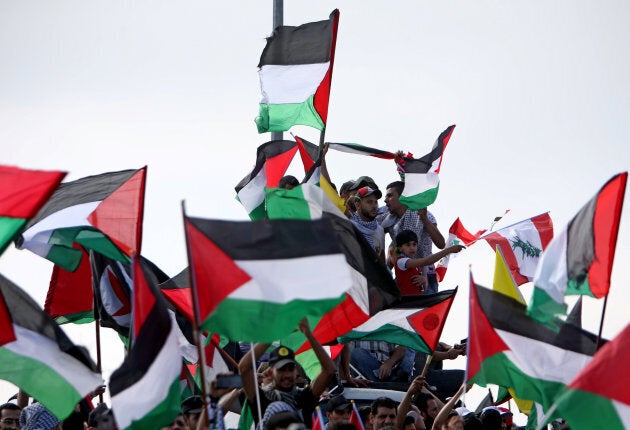 It's a monumental task to seek out hope these days, but I hope my story might provide that in some small way.
Catastrophe for my grandfather and all Palestinians
Nakba translates to "catastrophe." It was a result of the Arab-Israeli War in 1948, which led to a massive erasure of Palestinian culture along with the displacement of more than 700,000 Palestinians.
My grandfather, Ragheb Kiblawi, was among those forced from their homes. He was a teenager at the time. His village, Tarshiha, had been overrun by Israeli forces following hours of aerial bombing and artillery fire. He and the other villagers had no choice but to flee north and seek refuge in Lebanon, becoming the first of four generations to date living in refugee camps.
These camps were meant to provide temporary shelter for those awaiting the day on which the conflict would end and they could return home. That day never came.
For as long as I knew him, my grandfather dreamed of returning home. He spoke almost only of Tarshiha on his deathbed in 2002. His dying request was to be buried in the beloved home of his childhood.
It was impossible to make this happen, as Palestinian refugees are barred from travelling into Israel or any of the Palestinian territories.
I was crushed by the fact that I couldn't grant my grandfather his wish. To honour him, I promised myself that I would return. I would follow the path he walked the day he was forced to leave his village forever.
Returning home
Two years ago, I arrived in Tarshiha for the first time. My Canadian citizenship made it possible for me to be the first of my family to return.
Upon arriving, a new friend introduced me to a man who knew all about the long history of Tarshiha. He knew not only my grandfather, but my great-grandfather too. He spoke about the cafe my great-grandfather owned, and my grandfather talked abut. I was stunned.
On the morning of May 15 this year, I returned again.
I spent part of the early hours simply watching Tarshiha and surrounding towns come alive. As I stepped into the streets among the strangers going about their daily business, I tried to see it as my grandfather might have all those years ago. I took my time observing every street and building. I sought out places my grandfather had spoken of, such as his favourite part of the street, and the roads lined with beautiful olive trees.
I knew Tarshiha had changed dramatically since my grandfather lived there, but somehow, I recognized many locations from my grandfather's fondest memories that he loved to share. I would get a strange feeling, suddenly certain I was standing somewhere my grandfather had once been. I would press my feet against the soil and feel my hair rise. I felt profoundly connected, walking in the footsteps of my origin. The trees were old and strong, and I was shaken by the realization that these very same trees had surely stood and watched my family walk this path before me.
Then, for about six hours, I walked, travelling more than 20 kilometres, from Tarshiha to the border of Lebanon, just as my grandfather did 70 years ago. I would have walked all the way to Beirut where he lived in Bourj Barajneh, a tiny camp that today hosts more than 20,000 Palestinian refugees, but I couldn't as the border between Lebanon and Israel is closed.
As I walked, I thought of the road people took 70 years ago. Did they suspect their trek would end in displacement that would last for generations? Did they foresee how harsh life would be for them and for the generations to follow?
More from HuffPost Canada:

Ontario Doctor Shot By Israeli Troops While Treating Gaza Protesters

Palestinian Family Says 8-Month-Old Died From Israeli Tear Gas In Gaza Protest Crackdown (GRAPHIC)

Canada Is Abandoning Its Supposed Values By Failing To Condemn Israel
There were times I held back tears, others where I felt an overwhelming joy. I smiled at the same sun that once shone on my grandfather, and in return it warmed me as I climbed hills and crossed through narrow alleys. I imagined my grandfather happy to see his grandson come home.
Near the end of the day, I found myself somber again. I suddenly realized that, while I can always return to Tarshiha, the rest of my family may never be able to.
There are more than 50 million refugees in the world, 7.2 million of whom are Palestinians, the largest and longest standing refugee population in the world. I pray that we find a resolution to the crisis by granting them a safe home and opportunity in life, like Canada provided me, and by supporting much needed programs and services that have been facing financial cuts, like the UNRWA.
In the meantime, I hope my journey will give these refugees some small comfort in knowing it's possible to find home once more.