The diminutive city councillor who was bowled over by Rob Ford at City Hall last month is considering taking legal action against the Toronto mayor.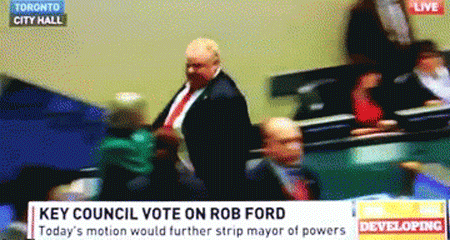 Pam McConnell, who suffered a fat lip in the infamous moment seen around the world, told The Toronto Sun Thursday that she is weighing her options and has a report on the incident being done by security.
"I've spent a lot of time with chiropractors and massage therapists," she said. "The next day (I realized) he had clearly hurt my shoulder and neck, and certainly I've been battling with headaches. But, in general, I'm lucky to be alive, and I'm very thankful I haven't stopped my work."
McConnell was trampled on Nov. 18 during a heated meeting in which councillors debated a motion to strip Ford of his key powers.
At one point, Ford and his brother, Coun. Doug Ford, taunted members of the public who were criticizing the mayor and posed for photos with supporters.
When the mayor saw his brother engaged in a shouting match, he ran to his aid and ended up knocking McConnell down. He later apologized for the incident, at the request of Coun. Paula Fletcher, and gave McConnell a hug.
McConnell told The Sun that things could have been much worse, as she fell inches from a glass divider.
"He just basically mowed me down; I have no idea what was on his mind, it was quite befuddling to me," she told the newspaper. "It felt like and it looked like a raging bull and I don't know quite what that was about but it was certainly someone that was out of control."
The strange moment was posted to YouTube and made the rounds on a number of U.S. late-night comedy shows.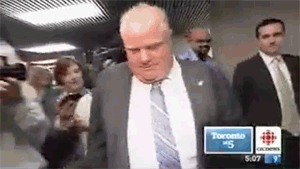 Best Rob Ford GIFs