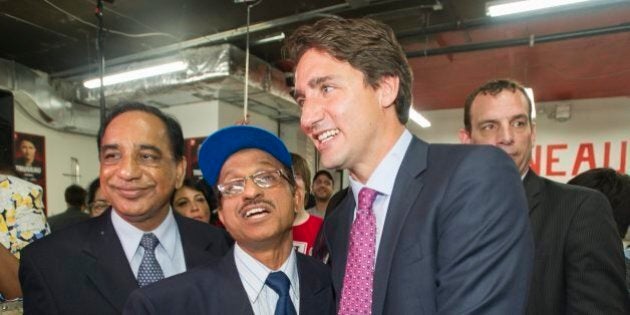 MONTREAL — With Liberal Leader Justin Trudeau rarely seen in his Papineau riding since the start of the campaign, New Democrats charge that he is taking his electors for granted.
The NDP said it believes it can unseat the Liberal leader, who has held his Montreal seat through two elections by relatively slim margins.
Former CBC journalist Anne Lagacé Dowson steps into a small hair salon on Villeray street. "If you want change, vote for the New Democratic Party!," she says, shaking hands with the Colombian owner of the salon. A few minutes later, she asks him if she can install her election sign in the window.
"You can feel it on the ground," Lagacé Dowson told The Huffington Post Québec. "The NDP is taken seriously, and it's related to the Liberal Party of Canada losing steam. They tried to 'rebrand' themselves, but underneath the varnish, it's the same party…. We can beat Justin Trudeau."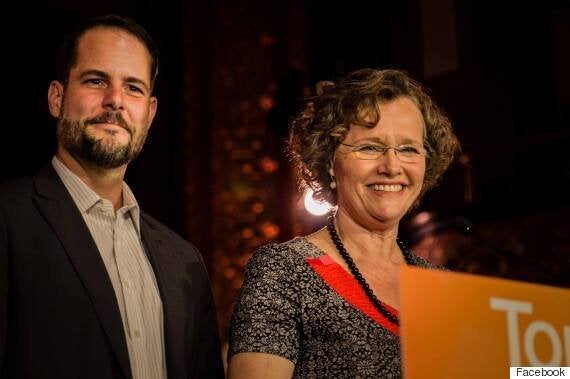 NDP candidate Anne Lagacé Dowson, left, stands with Rosemont-La Petite-Patrie candidate Alexandre Boulerice, at a party event on Sept. 6. (Photo: Facebook)
On Sunday, the party suggested if Trudeau can't hold his own seat, how can he overcome the Tories?
"Eleven points. According to the polls, that's how much Justin Trudeau is down by — in his own riding," read a fundraising note signed by NDP party president Rebecca Blaikie.
"Papineau, Quebec used to be a safe Liberal seat, but the tides are turning," she went on. "If Justin Trudeau is at risk of losing his own seat, how can he possibly defeat Stephen Harper on October 19th?"
Blaikie was referring to a CROP poll released last Thursday — which was commissioned by the NDP and roundly criticized for its methodology — that suggested Lagacé Dowson was leading in the riding with 46 per cent compared to 35 per cent for Trudeau.
The poll of 375 voters, had a stated margin of error of +/- five per cent, 19 times out of 20. But the Liberals noted that it vastly undersampled past Liberal voters and oversampled NDP supporters.
On Friday, the polling firm Mainstreet released a survey suggesting Lagacé Dowson was running neck-and-neck with Trudeau, 28 per cent compared with 33 per cent with 21 per cent of respondents undecided. The pollster surveyed 783 voters and has a margin of error of +/- 3.72 per cent, 19 times out of 20.
Among decided and leaning voters, Trudeau leads 41 per cent to 36 per cent for Legacé Dowson, with the Bloc at 12 per cent and the Conservatives at 11.
Lagacé Dowson has tried to beat a Liberal before. In 2008, she tried to unseat former astronaut Marc Garneau in Westmount–Ville Marie. She lost badly.
This time, though, things could be different, she suggests.
In 2011, she notes, the NDP candidate came in second in Papineau by "only 4,000 votes." By picking up support from "disappointed Bloc voters" and second-generation immigrants who won't automatically vote Liberal, she said, she believes an NDP victory is possible.
In August, the party asked Lagacé Dowson to step in as a parachute candidate in Papineau after their original candidate, Béatrice Zako, had to step aside because of comments she made comparing Quebec to a colonized African country.
Party strategists told HuffPost they only recently began to focus on Papineau after opinion polls convinced them to redouble their efforts. Demographic changes in the neighborhood, which is home to more and more young francophone families, also work in their favour.
Alexandre Boulerice, a high-profile NDP incumbent candidate in Rosemont–La Petite-Patrie, has also been lending Lagacé Dowson a hand, helping with fundraisers to finance her campaign.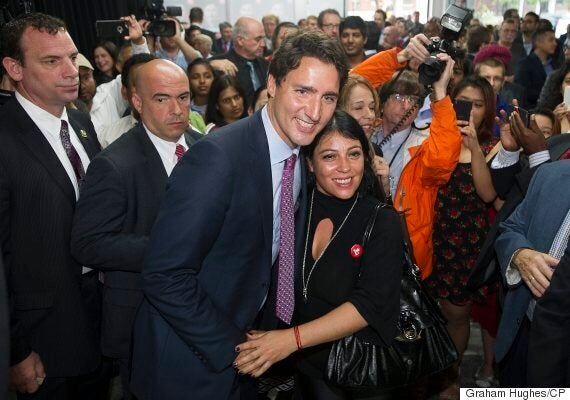 Liberal Leader Justin Trudeau greets supporters during a campaign stop in the riding of Papineau in Montreal on Aug. 11. (Photo: Graham Hughes/CP)
Liberal party spokesman Pierre Choquette defended Trudeau against criticism that he hasn't been in the riding. He said the Liberal leader has campaigned there three times since the election call in early August and would be back again.
"We're not taking anything for granted. One thing for sure is we are working hard," he said. On Saturday, he noted, more than 40 volunteers spent the day knocking on 500 doors.
The riding's boundaries have changed, Choquette said, and there are new constituents to meet.
Papineau's boundaries have moved slightly westwards, towards Outremont, where NDP Leader Thomas Mulcair is the incumbent. Voters in the polling divisions that are now part of Papineau voted overwhelmingly for the NDP in 2011, according to Elections Canada data. Papineau's new boundaries also encroach on territory that used to be part of the Saint-Léonard–Saint-Michel riding, whose voters also favoured the NDP in 2011.
"One thing we are hearing on the ground is that people really want change," Choquette said. "They want to get rid of [Conservative Leader] Stephen Harper, and they are looking towards us and the NDP."
"Despite the boundary changes and the demographic changes, I think we also can't forget that the percentage of undecided voters is extremely high…. We have a very good chance to get re-elected."
Choquette said the Liberals haven't changed their strategy now that the NDP is targeting their leader's seat. They are hoping to increase Trudeau's margin of victory, just as he has in the past two elections.
Journalist Chantal Hébert recently wrote that victory is not assured for Trudeau. Recalling that the Bloc Québécois won 26 per cent of the riding's votes in 2011, Hébert's column in the Toronto Star said that if Bloc voters were to turn to the NDP, "the Liberal leader could be in trouble."
Long-time political analyst André Lamoureux has a very different view. "Justin Trudeau is guaranteed to win," the lecturer at Université du Québec à Montréal told HuffPost.
"Personally, I don't find her (Lagacé Dowson) very convincing. She is not a formidable [opponent] for Justin Trudeau," he said.
Trudeau has worked hard in the past few years to re-establish ties with cultural communities who voted NDP in 2011. Papineau is one of the most multicultural ridings on the Island of Montreal, with 45 per cent of residents having a mother tongue that is neither French nor English.
Results in Papineau in 2011

LPC Justin Trudeau: 38.4% (16,429)
NDP Marcos Radhames Tejada: 28% (12,102)
BQ Vivian Barbot: 25.9% (11,091)
CPC Shama Chopra: 4.7% (2021)
To win back and hold onto this base, Lamoureux said, Trudeau "plays the openness card" by showing, for example, tolerance on the niqab issue. "It's courting the Islamic fundamentalist vote."
The Conservative government announced last week that it would ask the Supreme Court for leave to appeal a lower court's ruling that barring women who near niqabs from taking part in citizenship ceremonies violates the Citizenship Act.
Trudeau has been adamantly opposed to the niqab ban. Mulcair also opposes it but is less vocal about it. The Bloc Québécois sides firmly with the Tories on the issue.
Choquette, the Liberal party's Quebec spokesman, said Trudeau isn't courting the Islamic fundamentalist vote or courting any votes by appealing to certain segments of the population.
"There is no clientelism in Mr. Trudeau's position … as there may be with other parties," he said. "It's based on respecting individuals' rights and respecting the Charter of Rights and Freedoms."
He acknowledged that volunteers are hearing an earful at the doors about the niqab. But people also know, Choquette said, that what's at stake in this election is a lot larger than just this issue.
"People are really focused on what's happening in the economy," he said. "People are worried about their salaries, their children's futures, and their retirement. That's what we're really hearing at the doors. And our plan is really interesting for them, because we talk about lowering income taxes, more generous children benefits and more investments in infrastructure to create these jobs."
People are also not interested in talking about the Clarity Act — the refusal, enacted by Jean Chrétien's Liberal government, to accept 50 per cent plus one as a benchmark on which to negotiate Quebec separation — or on the anti-terrorism bill C-51, he added.
"These are not new positions…. People are already aware and [if they ask] we have the chance to explain our position, but we really feel the interest is towards the economy and jobs."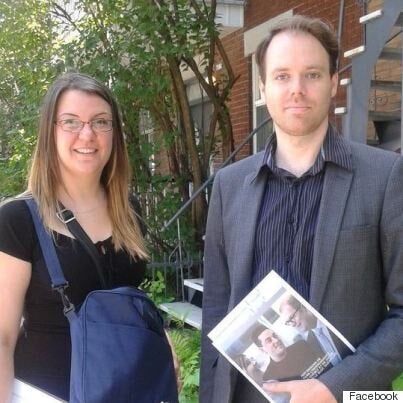 Bloc Québécois candidate Maxime Claveau and a supporter go campaigning in Papineau in June. (Photo: Facebook)
Bloc Québécois candidate Maxime Claveau said he finds it "terrible" that Trudeau is "completely absent" from the district.
"He is not campaigning at all in his riding. As party leader, it's par for the course, but Papineau really needs a representative that is close [to people]," he said.
Claveau has been campaigning since June 2014 to win back the seat that Trudeau won from the Bloc in 2008. (It had been a solid Liberal seat — since April 1957 — until the Bloc won it with Vivian Barbot in 2006.)
He told HuffPost he wants to work towards Quebec's independence. To do that, he said, he has to "battle the financial investment" the Liberal party has made with ethnic communities.
"At this point in the campaign," he said, "it's too close to call. It's going to be tough for everyone. There won't be any easy wins."
Conservatives believe they can make gains
Former journalist Yvon Vadnais, who is running for the Conservative Party for the first time, believes that decreased support for the Bloc Québécois could mean that nationalist Quebecers turn to another party, including the one headed by Stephen Harper.
In his view, immigrants in the riding are reassured by the clear position Harper has taken on the refugee crisis. "People are afraid of terrorism," he said. The government needs to be vigilant and carefully screen anyone who wants to come live in Canada, he added.
"With everything that's happened in France, in Tunisia … that can happen anywhere. Even in Canada, there have been cases of supposed 'lone wolves,'" Vadnais said.
Vadnais said he is waging a strong campaign against all his opponents, including Lagacé Dowson.
"It's not the first time Anne runs for office, and she still hasn't won a seat yet. But she has a good background, and I have nothing bad to say about her," he said.
New attempt for the Green Party
As for the Greens' Danny Polifroni, he is no beginner. He ran in Papineau in 2011 and in the 2013 by-election in Bourassa. With less media visibility than his colleagues, he has nonetheless been a Green Party of Canada activist for several years and is a member of the party's Federal Council.
Chris Lloyd will run as an independent after trying to "mess with" Stephen Harper's party. In February, he was named the Conservative candidate in the riding but had to resign in May after the CBC revealed that his campaign was part of an "art project."
He has already started posting comic-book-style signs in Papineau. His goal? To win more votes than the Conservatives in the riding. "I hope to beat Justin, too!" he added.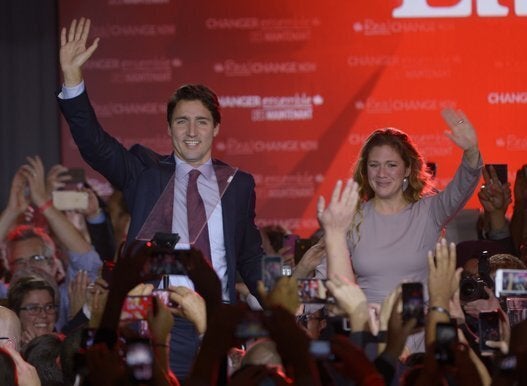 In Photos: Canada Election 2015
Popular in the Community