In his 11 years of experience as a paramedic, Sunday marked the first time Justin Mausz saved a skunk on shift.
The Ontario man and his partner had just arrived at a Peel regional paramedic station around 6 a.m. when they found the critter aimlessly wandering the parking lot.
There was an ice cream cup stuck on its head, causing it to smack into walls and parked cars.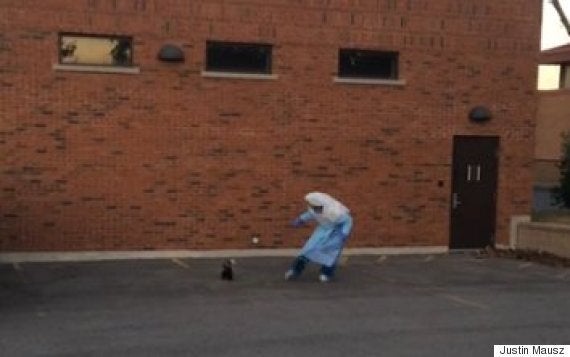 Screengrab of Justin Mausz wearing a partial protective Ebola suit to save a temporarily blinded skunk. (Video: Justin Mausz)
"Of course we felt bad for the poor thing and decided pretty quickly we wanted to help," Mausz told The Huffington Post Canada.
So they decided to start their day with a good deed.
Since their vehicle was equipped with protective Ebola equipment, he decided to put on enough gear to protect him head to toe. Mausz had the rest of his shift to finish and didn't want to smell like skunk for the whole day.
With his partner Ryan filming, and occasional "do it" encouragement, Mausz said he did his best to stay out of the skunk's "line of fire."
"... we both ran for our lives."
Mausz said one "hilarious" part of the video shows him caught between the animal's rear and a wall. Then, after some parking lot ballet, he succeeds in his mission and plucks the cup from the skunk's small head.
"I think at that point the skunk and I were both equally afraid of each other and we both ran for our lives."
After learning about Mausz's efforts, our readers shared their own rescue stories about the measures they took to save an animal known for its defensive foul-smelling spray.
I did this once, without the suit. Poor fella was stuck in a Tim Horton's Iced Cap cup. Pulled the bottom off, then had to go back to get the ring-lid. Skunks are very light, their weight alone will not pull them out of such a predicament. I (unfortunately and inadvertently) flung the poor skunk into a cedar tree. He bounced down, got himself situated on all fours, shook his head, turned to me (I swear it), nodded his head, and ambled off.
I did this without a suit and in my pjs at 5 a.m. when a skunk had my two dogs run after it and it had a salad dressing bottle on its snout so put a recycling box over it did the board underneath and transferred to a wheelie bin took the jar off with a big pull and let it go across the road in the graveyard.
I did it also without a suit. Don't take any chances if you don't want to. But just having a stick and cautiously following it around, then smack the tip off can help. Just run for your life afterwards when you see the tail rise up.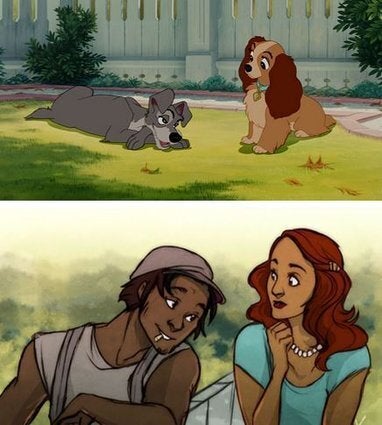 What Disney Animals Would Look Like As Humans