After visiting a refugee camp in Lebanon, Mohamad Fakih, CEO of Paramount Fine Foods, felt it wasn't enough just to sponsor a couple of Syrian families to Canada.
"That's cutting a cheque, but we can do more by [making a] real, hands-on effort," he said to the Huffington Post Canada.
On Monday he announced on CBC's Metro Morning that he's committing to hiring Syrian refugees across his franchise. "Every store would try between three to five [refugees] by the end of the year," Fakih said. And with over 20 locations open in Ontario with more to come, that's more than 100 potential new hires.
Fakih is the first to admit it'll be a challenge, but one, he says, is worth it. "It will require 10-15 per cent more training than a Canadian employee but our team is excited because they feel like they're doing something good," he said.
"They come with a lot of knowledge, education and experience. If we really take our time to communicate with them, I'm sure a lot of Canadians can learn from the Syrians," he said.
"Now they're in Canada and we need to support that. The bottom line is get these people on their feet. We can try to employ them and they pay taxes… then they're an asset," he said in the same interview.
Ryerson University, as part of their partnership with Lifeline Syria, contacted Fakih requesting help to pay the salary of a human resources specialist who would connect job-ready Syrians to employers.
Volunteers at Ryerson are committing to get Syrians job ready by helping them write resumes, train them on labour laws and posting ads. The HR rep will then match the job seekers with employers in their database based on expertise.
Paramount Fine Foods' CEO Mohamad Fakih stands with Prime Minister Justin Trudeau in his restaurant earlier this year.
Fakih this week hired a refugee as an assistant manager. "He was a hotel manager back home, so he's not lacking in business experience. He needs training on anti-racism law, labour law, how to deal with the consumer -- what's right, wrong, offensive," Fakih says -- things that are already part of Paramount's training, just an elongated version of it.
Now he's calling on other businesses, big and small, to do the same. "Put your name on list of how many employees you're committed to taking."
According to Fakih, having the list of potential employers first is important because the workforce is ready to be matched up. He started by reaching out to his own personal network. "Some of my friends say 'yes we are looking' and some say 'not right now.' But I'm already receiving lots of emails."
As for why he wanted to take on this initiative? "That's what people did for me when I arrived to Canada," Fakih said. "I feel like I owe Canada a lot. And you're never big enough in business to forget about the community."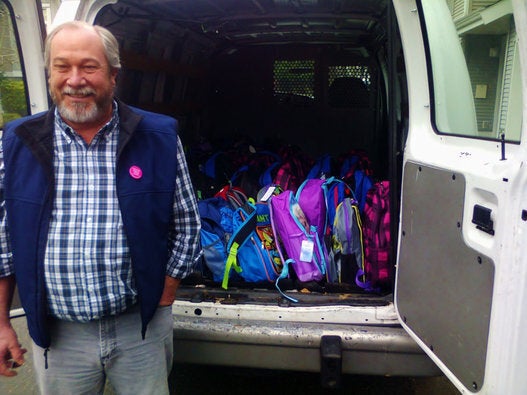 Great Things Canadians Have Done So Far For Syrian Refugees