I recently had a home run day. There was a big dump of packing snow, and rather than sit in front of the TV or do chores, we had the kids get on their snow gear and head outside to play. Even I, who might normally use that time to finish up a chore in the quiet of the house while the kids and their dad frolic and shovel the driveway.
But on that day, at the request of my oldest, I put on my snow pants and went outside. There was a crazy snowball fight, a nine-foot-tall snowman built and the kids stayed out and played long after I had to come back in to restart my chores. As I worked away I thought to myself, I slayed this parenting thing today. The fresh air, the exercise, the family time. Everything that makes me feel like I'm doing it right.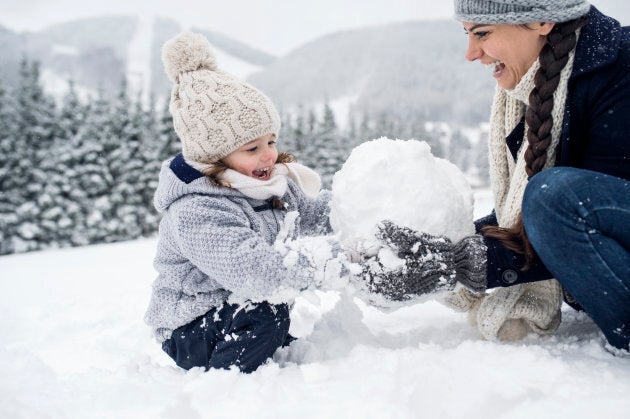 But that's not always the case. Sometimes we sit inside on our tablets and watch the snow falling from the coziness of the couch. While I'm fairly certain that I'm grounding out to shortstop in a way, I don't feel like those times are any less valuable to us as a family.
In reality, there are certainly times when I do actually ground out. In the morning when I've asked the kids to brush their teeth before school for the 20th time and I start to use my outside voice.
When I forget to sign a permission form for school, or that it's "wear a team jersey" day or popcorn day. When I don't remember to order the school photos in time.
When I have no energy at the end of the night to enforce picking up the clothes that the children have tossed on the floor beside their laundry basket.
When I find a wrapper from an afternoon snack on the couch, and rather than go get the kids from whatever it is they are doing to put it away properly, I just throw it out.
When I look at my phone when my kids are talking to me. Sometimes I'm just so dang tired that I can't fully listen. It's not often that way, but it happens.
Life to me seems to be a series of home runs and grounding out to shortstop.
When I let my kids play on their tablets longer than they should.
When I let my kids have "treats'" instead of "snacks" more often than they should. When I only recently explained to my kids the difference between a snack and a treat (although I'm pretty sure they inherently knew.) Heads up shortstop! Ground out.
But then my daughters will decide to put on a show for me using the karaoke machine and gymnastics mat. We will giggle until we can't breathe, and I can tell they are storing some beautiful memories. And wham! We're back to home run status.
Life to me seems to be a series of home runs and grounding out to shortstop. But the funny part is, I would shudder to think what our life would look like if it was all home runs. I've come to realize that the times that we fail in parenting, or the times we don't give 110 per cent, are also necessary in creating character in our children and helping them to be self sufficient.
We can't always be perfect for our children, otherwise who will teach them how to say "I'm sorry," or "I screwed up?" Who will teach them to amuse themselves when Mom and Dad aren't the entertainers they were in those perfect home run situations? Creativity grows from situations where children need to figure things out for themselves, particularly as they get older.
So it's time to cut ourselves some slack. We are not always going to be the perfect parents. Not every day has to contain some monumental experience for the family. Sometimes we can just be. Some days we might hit a home run, but there will be many times where we will just ground out to shortstop.
It takes both experiences to build well rounded happy kids. Do you love your kids? Check. Do you strive to do what's best for them in spite of making mistakes sometimes? Check. Then relax. You're probably doing ok. And so am I.