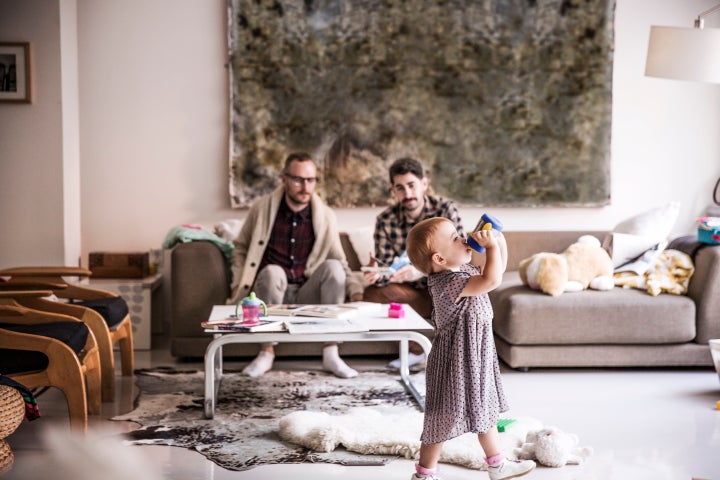 In the journey to becoming parents, most couples decide if they want kids, and if so, when. There are often preliminary parenting discussions; what values and skills they want their children to acquire as they grow up in that family.
Yet few parents work out the specifics of how they will accomplish these goals. Then, when a baby arrives and has needs beyond feeding and diaper changing, differences in parenting styles can begin to appear, and one parent may strongly disagree with the other's methods.
WATCH: How to avoid parenting fights with your partner. Story continues below.
Halifax psychologist Dr. Elizabeth Church told HuffPost Canada most parents generally agree on what character traits and morals they'd like their kids to learn. Even if they do have differing objectives, it doesn't have to be problematic if couples have ongoing, in-depth discussions and respect one another's differences enough to make detailed strategies on how to accomplish joint parenting goals.
"Parents need to continuously have conversations about their parenting approach," Church said. "They need to keep asking one another 'What do we want for our kids? What kind of people do we want our kids to become?' And most importantly – 'How do we get there?' They just shouldn't have these discussions in front of the kids."
There's a difference between parenting style and personality
It's important to distinguish between parenting style and an individual parent's personality, though. One parent may be playful and humourous in their personality and parenting approach, while the other is more serious, but that isn't a negative parenting style difference if both parents are delivering the same core messages and similar consequences when needed.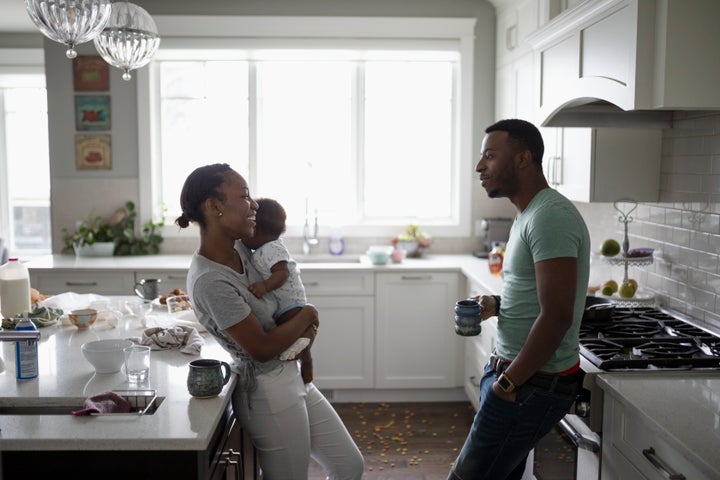 In a busy world, it can be hard for parents to find free time away from kids for regular parenting discussions. While it may not seem romantic, couple time alone can be an opportunity to touch base on shared parenting concerns.
Parents can also schedule a "parenting touch-base" appointment each week – Sunday morning coffee in bed with the door closed and kids occupied in some way, for example – to review the state of their parenting nation. Even texts or emails can keep parenting conflicts private from children.
Oshawa, Ont. mom Heidi Grant-Roberts told HuffPost Canada she and her husband may disagree occasionally in front of their four kids, aged nine to 20, but expands, "We have a rule that if one of us gives a consequence the other doesn't agree with, we will not mention or discuss it in front of the kids. We don't want to undermine the other parent."
Church endorses this wholeheartedly and says parental expectations of discipline and core values are probably the two most important discussions to hold away from kids.
Again, it's critical to discuss in specific terms what family rules and boundaries should be, and find a compromise on discipline if there is a wide gap between ideas for consequences.
"All parenting styles are not equally good; harsh parenting is a problem, as is an overly-permissive style," Church said.
When to seek professional help
Despite efforts to work out conflict privately, it's not always easy finding that middle ground with your spouse or co-parent. Church notes professional assistance from a family therapist or parenting support group is warranted in the following scenarios:
Marital problems, separation and divorce

Blending families

If a parent feels the other's style is abusive in any way

If cultural differences aren't being respected by both parents

If parents can't agree on a child's diagnosis or treatment plan for developmental, emotional or medical concerns

If a parent is undermining the other, especially with a child's involvement. (i.e., asking a child to keep a secret from the other parent.)

If parenting disagreements are consistently spilling into family life (i.e., parents are openly hostile towards one another with kids around, or short-tempered with children from residual anger over unresolved parenting disputes.)

If either parent feels it's necessary or that kids are being adversely affected.
Nobody wants that outcome, so an extra effort to communicate and compromise in private has valuable payoffs in the end.