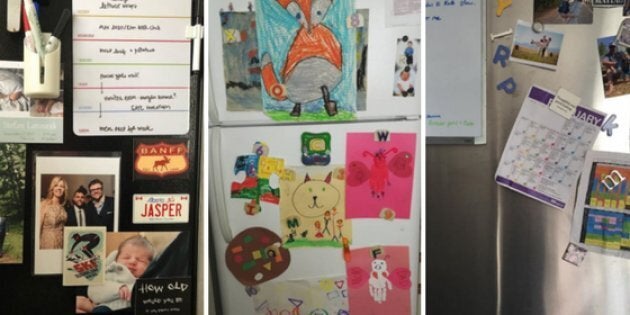 Endless doctor's appointments. Detailed grocery lists and meal plans. Handprint art (sometimes just handprints, to be honest).
For anyone wondering what life is really like once you have children, look no farther than a parent's fridge door. Between the clutter, calendars, and cuteness (we're looking at you, birth announcements!), the fridge is so much more than just a place to store the milk your kids drink at an alarming rate (why is there never enough milk, though?!)
A parent's fridge truly is a metaphor for life with kids, and all the pride and planning that goes along with it.
HuffPost Canada asked parents to post photos of their fridges in all their messy, beautiful glory. Your responses made us LOL, raise our fists in silent solidarity, and tear up a little as you showed us how your fridges tell your families' stories.
And one of the most poignant posts came from a family still waiting to be complete.
"(HuffPost Canada) was doing a story about what's on people's fridges and how that tells the story of their lives. When I looked at ours I realized just how much ours has come to subtly scream WE'RE ADOPTING," one woman wrote on Instagram.
"1 year of paperwork down, 152 days of waiting down. Two save the dates for weddings are up there, and we don't know if we'll be with those friends or flying to meet our son or daughter," she wrote.
We truly hope it's the latter (and thanks for making us cry).
From handprint art to just plain handprints, here are some more of our favourite fridges:
1. This family holding on tight to life before kids
"Our fridge is an attempt at meal planning, lots of magnets, but mostly a place celebrating family and friends, and holding tight to that time when our life looked a lot different and we met The Weeknd," Kimberly Paterson wrote on Instagram.
2. This family who's all about lists, schedules, and clearly has little helpers
"Here is my fridge door. A meal plan to keep the family fed, a list of groceries to buy, pictures of my adorable family, and a pool and library schedule. Add lots of dirty fingerprints and random drips to round it out," Emily Senger wrote on Instagram.
(Don't forget the chili powder.)
3. This family who's killing us with the handprint art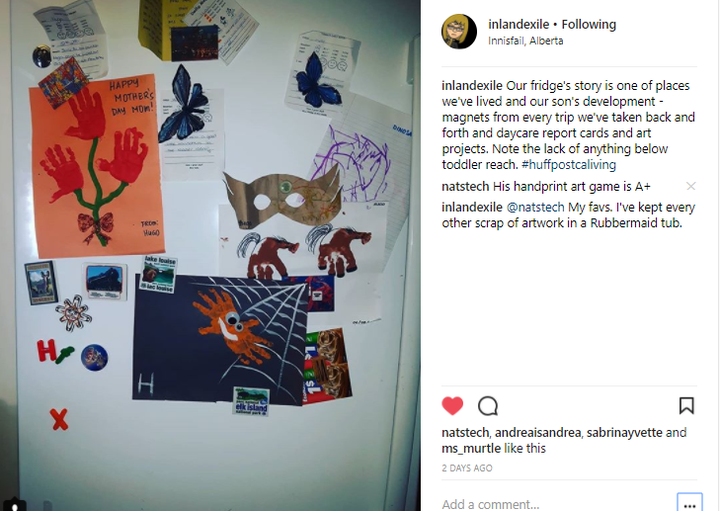 "Our fridge's story is one of places we've lived and our son's development - magnets from every trip we've taken back and forth and daycare report cards and art projects. Note the lack of anything below toddler reach," wrote "inlandexile" on Instagram.
4. This family with an impressive collection of school photos
"We love a lived-in fridge look," Kimberly Haskett-Woerlen wrote on Facebook.
How do they stick them all up there?!
5. This family who could charge admission
"Our fridge is basically our art gallery," Kristyn Vaillancourt wrote on Facebook.
We'd pay good money for that fox.
6. This family who didn't let stainless steel stop them
"Not magnetic doors, but that doesn't stop anyone!" Leonora Bassrei wrote on Facebook.
Nothing a little tape can't handle.
7. This family who celebrates their friends
"Wanna make the fridge? Mail us pics! Friends and babies and outside, that's what our fridge is made of," "SashersValentina" wrote on Instagram.
8. This family giving us photo goals
"Family pics and our kids' birth announcements," Carole Chan wrote on Facebook.
That's some serious cuteness, right there.
9. This family who knows what it's all about
"No kitchen is complete without macaroni dinosaur art (plus weekly menus ... haha)," Avishag Regev wrote on Facebook.
"Macaroni dinosaur art plus weekly menus" is the name of our punk band.
10. This family with some goober decor going on
"We're lucky to have a magnetic fridge, but also unlucky, as our new fridge already has scratches from my toddlers magnetic animals ... and it also features tons of goobers. All proof that he's having fun!" Vyktorya Pollard wrote on Facebook.
11. And this family who didn't need a thing on the fridge (or in a description) in order to say it all
The sippy cup tells us everything we need to know.
With files from Rebecca Zamon, who once gawked at the author's own messy fridge in a video conference call, and said "We should do a story about this."